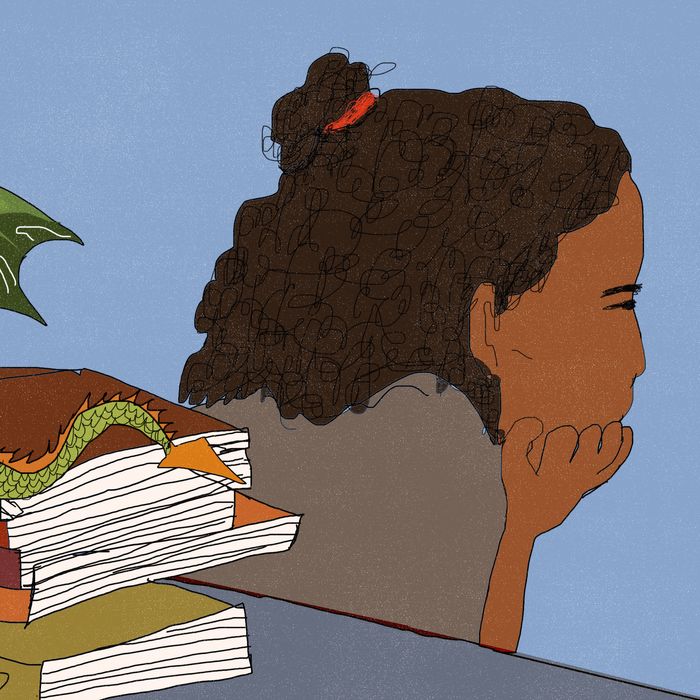 Illustration: Hannah Buckman
I'm the proud parent of two avid readers. I have no shame; I'll brag about it. But I can't take credit for their reading habits, not really. Credit is due to the children's book authors who hooked them in — and one in particular who really got them started: Dav Pilkey. Ever since my kids have been reading on their own, they've been drawn to books that I … don't love. I know my opinion is secondary at best, but I still care. Now that they have consumed all of the blockbuster low-hanging fruit of kid literature, I've been struggling to find them well-written, thought-provoking fiction for the preteen years. The fantasy genre feels like a monolith that it's hard to see beyond, and they've burned out on the dragons, wizards, and myths. Where's the good stuff?
This is not to suggest that books were better back in my day. No. In third grade, I read the entire Sleepover Friends series, which had a promisingly simple premise: A group of girls has a sleepover party every Friday night. You could go anywhere from there! I loved these books, but they weren't great. The potential was never even approached. (I also read Sweet Valley High, which I believe we've determined is canonical.)
My distaste for Pilkey's books isn't just because they contain tons of "cute" deliberate spelling mistakes. The premises are vaguely clever, and there are some amusing details, but taken as a series (a 13th Captain Underpants is coming out at the end of November, and a 12th Dog Man is out next year), they are repetitive and tedious. The meta-narrative (they're comics drawn by the main characters) runs the course of its potential by about book three of Captain Underpants. I don't take pride in sounding like a snob, and I have nothing against franchises — I bow to the Fast and Furious films — but I found the Pilkey journey to be a drag.
My main issue with Pilkey books is that they turn what is initially an entertaining, rebellious spirit into a tedious shtick. It's obvious why kids love this because they fundamentally don't understand the concept of something funny growing tiresome. Pilkey frustrates me because rather than demonstrating to kids how something can be funny in a variety of subtly different ways, his books deliberately hammer the same jokes again and again. If every book contains a lesson, the Pilkey books teach kids that they can exploit the same lazy but cute concept endlessly and expect people to like it. Good training for a career at Netflix, I guess. And yes, I realize that toilet humor is an ancient and rarefied genre of human self-expression. But it's only a 21st-century media economy that would drive toilet humor into the absolute ground.
Unfortunately, the 19 Wimpy Kid books await you on the riverbank with a hand outstretched once you cross over from the Pilkey. Diary of a Wimpy Kid, by Jeff Kinney, ushered my elder son into a habit of reading, so I will forever respect them on a pragmatic level. As works of literature, I have nothing to say about them. Like Dog Man, the Wimpy Kid books are all in permanent hardcover, which is aptly hubristic for juggernaut series such as these.
My kids moved on from the Wimpy Kid to become voracious readers, which is why it pains me to criticize them in public. But then again, why must the bar be at a Faustian-bargain level of low? Now that the habit is established, I find myself wanting them to read expansive, thought-provoking books, and without someone to guide me, these books have been hard to find.
Post-Kinney, my older son read the How to Train Your Dragon series, the Raina Telgemeier books, The Baby-Sitters Club, the Harry Potter and Rick Riordan books, the entire Redwall oeuvre, all-timers like Holes and Harriet the Spy, the big contemporary classics like Wonder and Pax, all of the dubious Cherub series, and the Eragon series, by Christopher Paolini. He also read a series called The Brotherband Chronicles, which, according to him, was full of typos but action packed.
You'd think, with this kind of appetite in the house, we'd be experts on what's good. But every time he finishes a series, we're clueless as to what he should read next. On our most recent trip to the bookstore, standing in front of a wall of new titles, my son observed that the themes all seemed like riffs on what's already popular: wizards/dragons, myths, and kids who are, in his words, "a touch troubled."
Is this scarcity even real, or is it something about the consumer environment that makes it hard to find current books like these? I suspected — and ultimately had confirmed to me — that this situation is comparable to what led me to watch A Bad Moms Christmas because Prime recommended it to me and I couldn't deal with scrolling deeper into the feed. There is an abundance of great books. I just don't know any of their titles because I'm old and out of touch, and my kids don't, either, because they've been readers for a relatively short time.
Unable to blaze a confident trail through the children's section at Indigo, the biggest bookstore where I live, I spoke to a few children's librarians about what I might be missing out on. Not surprisingly, they were full of great recommendations that I am happy to pass along. We are doomed as a species if algorithms ever replace librarians because, in addition to knowing what's popular, librarians can tell you what's actually good.
I learned from several librarians that there are many, many wonderful contemporary children's books out there. They can just be hard to locate amid the onslaught of wizard and dragon books that dominate the displays. In an email, Maggie Levine, the children's librarian at the Boston Public Library, shared her perspective on why it might feel as if we were living in a world of Harry Potter knockoffs. "It's increasingly difficult to make a living as a children's author. Many, if not most, children's authors have day jobs and can't publish at the frequency we'd prefer as consumers. But the current and more recently published crop of authors are doing an incredible job of writing fiction that's relatable to kids and what they're going through as they grow up. It's just that, if you're 35, you didn't read it as a kid yourself, so you may not know how to look for it."
Levine and Wendy Wayling of the Westmount Library here in Montreal sent me wonderful lists of recommendations for "realistic fiction" for kids age 9 to 12, which I compiled in a wishlist for us all to refer to. When I think about the non-transactional way librarians offer help to us — like care workers for information — I get a little emotional. Thanks, Maggie and Wendy!
Saara Itkonen, a children's librarian in British Columbia, added that libraries provide a valuable counterpoint to big bookstores because their displays aren't determined by the marketing budgets of the big publishers, which will inevitably feature the blockbusters everyone already knows about. She said she's seeing hopeful trends in publishing in recent years with more middle-grade books featuring protagonists who aren't white.
Kids' reading habits are different from most adults' because, if they choose to, they can read literally all day long. This makes series extremely appealing. My sons often don't want to read one-offs because they won't last long enough. But, as Levine said, writing a series requires publishing on a regular schedule, and if authors are working second jobs, this probably isn't easy.
A new kid-lit canon is coming together whether parents know about it or not. A trend Levine has noticed is that authors will have their characters read one another's books, building a frame of reference for readers. When algorithms and huge marketing budgets determine much of how we learn about new books, easter eggs like those are valuable gifts.