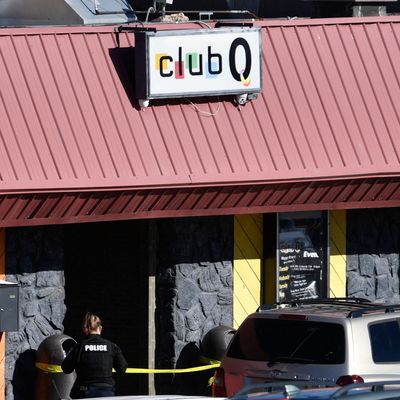 Photo: Jason Connolly/AFP via Getty Images
Editor's note: Details about Anderson Lee Aldrich are still accumulating. In court filings, defense attorneys refer to the suspect as "Mx. Aldrich." The suspect, according to these docs, is nonbinary and uses they/them pronouns. It's worth noting that hate-crime charges would require prosecutors to prove that bias motivated the shooter.
Late Saturday night, a gunman opened fire at Club Q, an LGBTQ+ nightclub in Colorado Springs, Colorado, killing five people and injuring at least 25, per the New York Times. The suspect, 22-year-old Anderson Lee Aldrich, reportedly began shooting shortly before midnight. A clubgoer managed to grab the shooter's gun and hit them in the head with it. Officials and witnesses said that two patrons then pinned the suspect down until the police arrived. The gunman is in custody.
The shooting comes six years after a gunman killed 49 people and injured 53 others at Pulse nightclub in Orlando, Florida. Saturday was the eve of Transgender Day of Remembrance.
A motive has not yet been determined, but police are holding Aldrich without bond on murder and hate-crime charges. "Every person, regardless of who they are, has a right to be secure from fear and physical harm," local district attorney Michael Allen said, "and actions taken to strike fear in specific communities will not be tolerated in our community." The FBI is assisting the investigation. Here's what else we know so far.
The shooting at Colorado Springs is being investigated through the "lens" of a hate crime.
Allen initially said the case was "being investigated" through the "lens" of a hate crime, and in a press conference on Sunday, Colorado Springs Police Department Chief Adrian Vasquez told reporters that local authorities had not ruled out the possibility. Vasquez confirmed that the shooter used a long rifle, though multiple guns were recovered at the scene. (The New York Times also reported that the shooter was wearing body armor and using an AR-15-style assault rifle, but that has yet to be confirmed.)
According to Vasquez, the shooter was subdued by "at least two heroic people inside the club," who "confronted and fought with the suspect and were able to stop the suspect from continuing to kill and harm others," Vasquez said. Meanwhile, in a separate statement, Club Q thanked "the quick reactions of heroic customers that subdued the gunman," calling the shooting a "hate attack."
One of those customers has since been identified as Richard Fierro, a veteran and local brewery owner who was attending a birthday party at Club Q with friends and family. He said his instincts kicked in when he heard the gunfire. "It's the reflex," Fierro told the Associated Press. "Go! Go to the fire. Stop the action. Stop the activity. Don't let no one get hurt." When he saw the shooter in body armor, Fierro said he made a run for them and knocked them onto the ground. He and a second patron, Thomas James, wrested the gunman's rifle away, Fierro continued, and then he noticed that the shooter also had a pistol. "I found a crease between his armor and his head and I just started whaling away with his gun," Fierro told CNN. "I told him while I was hitting him, 'I'm going to fucking kill you, man, because you tried to kill my friends.' My family was in there, my little girl was in there."
Fierro and James subdued the gunman with the help of another bystander, who kicked the suspect with her heels. Fierro believed her to be one of the night's performers, though a drag queen who was present at the time of the shooting has since clarified that she was a trans customer at the club. Fierro told CNN he hadn't wanted to use his combat skills again. "I was done doing this stuff, it was too much," he said. "It lives in you. If you actually do this stuff, it's in you … I'm not a GI Joe, I'm just a normal guy." Fierro's wife and daughter were injured and are recovering.
Joshua Thurman, who was at Club Q on Saturday night to celebrate a birthday, witnessed the shooting and spoke to reporters on Sunday. He was dancing when the gunman began firing and originally thought the gunshots were part of the music. He took cover backstage in a dressing room with a few others. "When we came out of the dressing room, we saw bodies," he said, per the Times. "This is our only safe space here in the Springs," he told a local reporter outside the club on Sunday morning. "What are we gonna do now? Where are we gonna go?"
The suspect, Anderson Lee Aldrich, faces ten "arrest only" charges.
Online court record indicated that police brought ten "arrest only" charges against Aldrich: five counts of first-degree murder and five counts of bias-motivated crime causing bodily injury. According to ABC News, DA Allen stressed in a news conference that these were preliminary and subject to change. "Any case like this, an arrest warrant will be written up that is supported by probable cause affidavit and that will be submitted to a judge for approval of the arrest of a suspect. That has occurred here in this case," he said. "Very customary that final charges may be different than what's in the arrest affidavit."
Anderson Lee Aldrich isn't the suspect's given name.
Aldrich was born Nicholas F. Brink, according to the Washington Post, and successfully petitioned a Texas court to change their name just before they turned 16. Their parents, Aaron Brink and Laura Voepel (daughter of tea-party-conservative California assemblyman Randy Voepel), divorced in 2001, the year after Aldrich was born. According to the Daily Beast, Aldrich's father appears to be a former mixed martial arts fighter and a porn performer who went by the name Dick Delaware. He embarked on the latter career after meeting a producer at a party, and previously told an MMA magazine that he "got into meth" while acting in the adult industry. By that point, though, he had already received a prison sentence in 1996 for importing marijuana. He would face subsequent convictions for physically assaulting Voepel — at one point, earning a protective order barring Brink from contacting her or Aldrich — and failing a drug screening, and was arrested on another parole violation in 2016.
Aldrich's mother, meanwhile, was arrested on arson charges in San Antonio in 2012. Those were eventually dismissed in favor of a criminal-mischief charge. Aldrich, according to the Post, was cyberbullied by their peers, some of whom made a fake Wikipedia entry under their name. (The Post also mentions a YouTube channel with "crude, profanity-laden animation," though it's not immediately clear who was responsible for its creation.) In 2016, few months after the Wikipedia entry went live, the 15-year-old filed court documents, with the support of their grandparents, to become Anderson Lee Aldrich. Per the Daily Beast, the affidavit explained Aldrich's reasoning thus: "Minor wishes to protect himself + his future from his birth father + his criminal history."
The name-change helps fill in holes in Aldrich's biography, though they had already been linked with a potentially violent incident before the Post published its report. As reported by the Times, a person matching Aldrich's name and age was arrested last year after threatening to hurt their mother with a homemade bomb. Local reporting at the time stated that the El Paso County Sheriff's Office responded to reports of a bomb threat in June of 2021, believing that a 21-year-old suspect had a DIY explosive. Ten homes in their mother's Colorado Springs neighborhood were evacuated as a result, but no explosives were found. Aldrich was charged with felony menacing and three kidnapping charges but was never prosecuted.
According to a neighbor who lived down the hall from Aldrich and Aldrich's mother, the suspect also used anti-gay slurs on a regular basis. "There would be times where he and his mom would get into fights, arguments, because he would be saying hateful things about whoever he was angry with," Xavier Kraus, 23, told the Daily Beast. "He said things sometimes that probably should have been alarming to me. He used the term 'f–ggot' a lot. Most of the time it came from a place of anger."
Kraus, who referred to Aldrich as "Andy," also recalled his friend's preoccupation with firearms. "We had this conversation talking about how dangerous these guns are, these weapons are," Kraus recalled. "He had this idea that we would go out at some point to a range and he [would] teach me some gun safety and go out and shoot some target practice. We never ended up getting around to do that. But that conversation just kind of sits with me, because I know how I felt when I saw the gun and he showed it to me. He was like, 'This is all legal. I'm totally allowed to have this.' It was an assault-rifle-type gun." On another occasion, Aldrich allegedly asked Kraus if he would like to hold that weapon; Kraus said he declined because it seemed too dangerous to him. "It's not the gun you've got to be afraid of," Kraus remembered Aldrich replying. "It's the people."
Club Q was preparing to honor the Transgender Day of Remembrance with an "all-ages musical drag brunch" on Sunday.
Established in 2002, Club Q was reportedly one of Colorado Springs' oldest LGBTQ+ clubs (at times, it was the only one in the city). In a 2020 interview with the Colorado Springs Indy, owner Nic Grzecka said he intended the club to be "a safe space," and described how he was hoping to use the pandemic to open Club Q up to the wider community — beyond the clubbing crowd. For Club Q, that meant turning the dance floor into a dining room during daylight hours, where the community could gather and enjoy a meal and perhaps a drag show. "The city doesn't just need a bar; it needs a community," Grzecka said at the time.
On Sunday, Club Q was set to host an "all-ages musical drag brunch" and a show from "a variety of gender identifies and performance styles" to celebrate the Transgender Day of Remembrance. Though no official link has been reported, drag brunches and performances in general have become a particularly popular talking point among the conservative right. As violence against transgender people and LGBTQ+ communities continues to escalate in America, drag events have become popular targets for politicians and, in some cases, the extremist Proud Boys, who have conducted protests — both armed and unarmed — in front of libraries hosting Drag Queen Storytime.
The five victims who died in the shooting have been identified.
Friends and family have identified the five people killed in the attack. They are:
• Daniel Aston, 28, a transgender man who had been working at Club Q as a bartender and entertainer for two years after moving to Colorado Springs from Tulsa. "He didn't just stand and lip-sync," his mom, Sabrina Aston, told the AP. "He lit up a room, always smiling, always happy and silly."
• Derrick Rump, 38, also a bartender, who had worked at Club Q since 2018 and whose mother described him as "a kind loving person who had a heart of gold." He reportedly moved to Colorado Springs about a decade ago and "found a community of people that he loved really much, and he felt that he could shine there — and he did," his sister, Julia Kissling, said. "He made a difference in so many people's lives, and that's where he wanted to be."
• Kelly Loving, 40, had recently moved to Denver and was at Club Q for a night out while visiting Colorado Springs. She FaceTimed her good friend, Natalee Sky Bingham, from inside the venue minutes before the shooting began. "She was like a trans mother to me. I looked up to her. In the gay community you create your families, so it's like I lost my real mother almost," Bingham told the New York Times. "She was going to be at my house for Thanksgiving this upcoming Thursday and, now, it's one less person at my table."
• Raymond Green Vance, 22, was at Club Q as part of Fierro's party. (His girlfriend, Kassy, is Fierro's daughter and was injured in the shooting.) "Raymond was the victim of a man who unleashed terror on innocent people out with family and friends," his family wrote in a statement, per the AP. He was kind and generous, they said, "willing to go out of his way to help anyone."
• Ashley Paugh, 35, lived in a town about two hours away from Colorado Springs and went to the club for a comedy show on Saturday night. Her husband, Kurt, said she had a "huge heart" and worked with kids in foster care, according to the AP. In a statement, he said, "She was my high school sweetheart — and she was just an amazing mother. Her daughter was her whole world."
Political leaders and celebrities offered condolences on social media, calling for increased gun control and protection of LGBTQ+ rights.
Governor Jared Polis of Colorado, the first openly gay man elected as a state governor in the U.S., released a statement early on Sunday, calling the shooting "horrific, sickening, and devastating." The governor added that he had been in touch with the Colorado Springs mayor, saying, "Colorado stands with our LGBTQ community and everyone impacted by this tragedy as we mourn."
President Biden released a statement on behalf of himself and his wife, Jill Biden, writing in part, "While no motive in this attack is yet clear, we know that gun violence has a particular impact on LGBTQI+ communities across our nation." He also called out the "public-health epidemic of gun violence," before adding, "We must drive out the inequities that contribute to violence against LGBTQI+ people. We cannot tolerate hate."
Others who posted include Pete Buttigieg, Hillary Clinton, Hayley Kiyoko, and George Takei.
Conservative Colorado representative Lauren Boebert also offered her "prayers" to the victims of the shooting, though her tweet was met with backlash from people who pointed out her history of targeting the LGBTQ+ community, specifically drag shows. Representative Alexandria Ocasio-Cortez directly challenged Boebert, quote-tweeting Boebert's message. "You have played a major role in elevating anti-LGBTQ+ hate rhetoric and anti-trans lies while spending your time in Congress blocking even the most common sense gun safety laws," Ocasio-Cortez commented. "You don't get to 'thoughts and prayers' your way out of this. Look inward and change."
GLAAD, the Gay and Lesbian Alliance Against Defamation, said in a statement that the attack was "unspeakable."
"You can draw a straight line from the false and vile rhetoric about LGBTQ people spread by extremists and amplified across social media, to the nearly 300 anti-LGBTQ bills introduced this year, to the dozens of attacks on our community like this one," GLAAD's president and CEO, Sarah Kate Ellis, said. "That this mass shooting took place on the eve of Transgender Day of Remembrance, when we honor the memory of the trans people killed the prior year, deepens the trauma and tragedy for all in the LGBTQ community."
How you can help:
Various local businesses, organizations, and individuals have started fundraisers to help those affected by the shooting. GoFundMe has created a centralized page with fundraisers it has verified. Here are a few:
Good Judy Garage: An LGBTQ+-owned auto-repair shop in the Metro Denver area. All proceeds will go to helping victims' families with funeral expenses, medical bills, and other ongoing costs.
Greg Resha: Started by a former employee of Club Q to help families of victims with medical and funeral expenses.
Classroom for Compassion: A nonprofit that is creating five public altars in Colorado Springs to honor the five people whose lives were lost in the shooting.
Those in the Colorado area can also help by donating blood. Vitalant, a nonprofit blood-donation organization, tweeted on Sunday that it had sent more than 70 units of blood products to Colorado Springs hospitals and urged those who can donate to do so. To make an appointment, use the Vitalant app, visit vitalant.org, or call 1-877-258-4825.
This article has been updated.