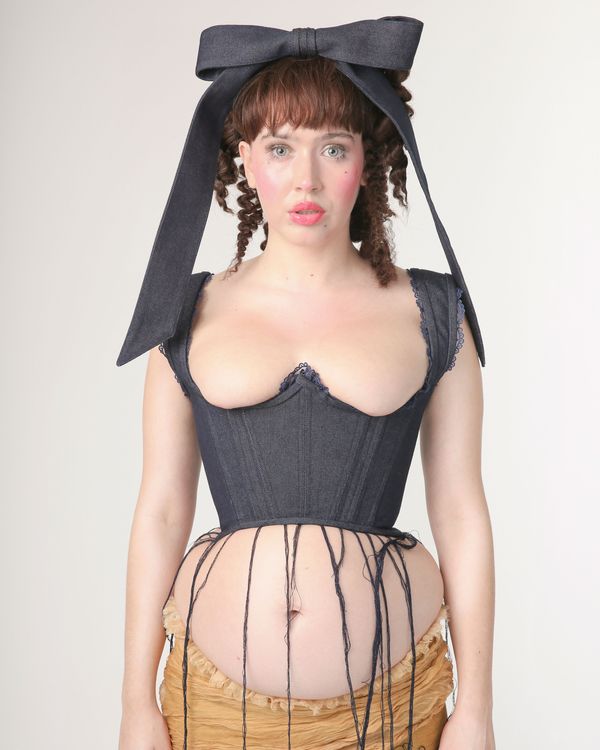 Photo: Courtesy of Michaela Stark
Starting as a seamstress in London and Paris, where she's now based, Australian designer Michaela Stark realized she had only trained to create garments that wouldn't fit her own body. "Even the designers that I'd work with would say things like 'I love this new piece, if only I was skinny enough to wear it,' and they had designed it," she said. "My entire practice was born from my discomfort with clothing."
In response to this, she started posting on Instagram what she calls "body morphing" — reshaping her body using a corset with tight loops and asymmetrical constructions — as an artistic practice in 2018. Gaining over 140,000 followers, her reaction to fashion's exclusion of larger bodies has become the exact reason she's felt pigeonholed as an online artist rather than a designer. She wanted to change that. So she decided to release a namesake made-to-order collection, which includes corsets, silk bloomers, garters, a tutu garter skirt, and silk bows with french barrette clips.
Ahead of Stark's collection release, we sat down with the designer turned artist turned designer to discuss taking her extremely personal and viral body-morphing work into the commercial category.
The corset has a long history of being used to "suck in" or to make people "snatched." What do you hope your corsets do, and is it time we reinvent corsets altogether?
My corsets are really no different from other corsets in terms of construction but they do cut in in a way where your curves can balloon out, instead of concealing your hips or stomach. You are still constructing your waist. I think it's not as important for us to reinvent the corset per se because it has such a relevant place in pop culture, but for all garments in fashion to become less about hiding imperfections or allowing you to fit into the mold of beauty. I think it's time we open that up and start using clothing to celebrate other areas of the body that may not currently be considered beautiful.
Your work showcases beauty in the grotesque. Is this a conversation you feel the fashion world is ready to have? 
We have seen the rise of body positivity in fashion over the past five or so years, even though it was very much one particular curvy shape, but since then there's pressure bouncing back to ultra skinny. We've been fighting to make the fashion industry aware of the beauty standard, and all of a sudden ultraskinny is back again with no accountability for how it will impact young people. Fashion is a huge cultural force and people are becoming more aware of the social and political impact that fashion has, so it's sad to see a bounce back. There's always one ideal shape or one ideal set of beauty standards despite so many people working to dismantle that entirely.
You debuted the collection at PFW. Tell me about that.
I didn't want to launch my collection on a runway because I didn't want comments to come back saying "These clothes aren't wearable." So in my showroom in Paris, I set up a rack and allowed people to come and see the items off the body. This release was all about taking the styles that I've been experimenting with for the past few years and finally being able to try them on so many bodies.
Let's talk about size inclusivity. Your work largely explores body standards in the industry. How have you set your brand up to be body inclusive?
This collection is made to order. You'll give me your measurements and I'll make it for you, no problem. Other pieces in my work have to be made in person because they are pieces that are made specifically for the curves of the individual wearer. You have no idea how squishy someone is or how their body moves and works just from measurements alone. But I spent a lot of time on these styles making sure they can be made for anyone.
The way you wear your piece is extremely (as you put it) "body morphing." How do you expect your customers to wear your lingerie? 
The shapes and styles in this collection are exactly the ones that I've been using in my editorial work, but, in the look book, I wanted to show that you don't have to be trained in corsetry to wear my pieces. If you want to create intense shapes with your body, you can get this through my corsetry, but the pieces can also be more laid back than you think. I'd love to see people wearing my pieces on Instagram in a way that is body morphing but am also interested in how people style them on the streets.
Social media has been a huge tool for your work so far. How do you plan to use your platform with the launch and in the future? 
Social media sometimes feels so beyond my control, and I get a lot of anxiety from it because of the sexualization that I feel from the platforms and how they monitor and unfairly regulate my art. It's really difficult to plan things out on a platform, and I don't feel like social media has my back because even when I stay within their guidelines, they censor me, and yet I get so much abuse and harassment that they deem completely fine. With this brand, I don't intend to take a step back on social media and make a professional page because I feel like a huge part of my brand is me.