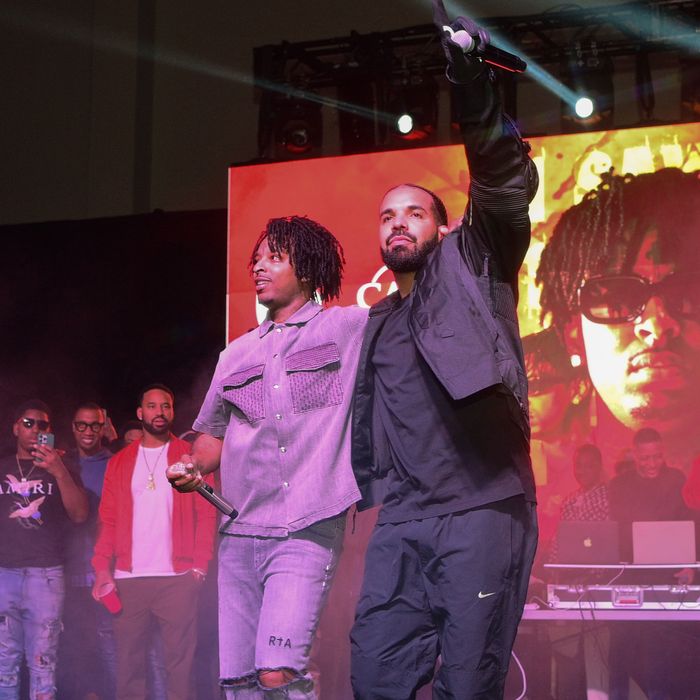 Photo: Prince Williams/WireImage
How does that one Drake lyric go? Ah, yes: "Don't tell me that you model if you ain't been in Vogue." It seems the Canadian actor turned musician granted himself the right to tell people he's a model — or at least duped his fans into thinking so.
On October 30, in a joint Instagram post, Drake and fellow rap star 21 Savage shared a photo of what appeared to be several copies of Vogue with the duo on the cover. The caption read, "Me and my brother on newsstands tomorrow!! Thanks @voguemagazine and Anna Wintour for the love and support on this historic moment. Her Loss Nov 4th," nodding to their new album, Her Loss. At first glance, the cover looked like it could be real. But upon closer inspection, to the trained, nosy eye, recycled copy from Jennifer Lawrence's October Vogue cover planted seeds of doubt: "Marilyn & Me By Lena Dunham" and the "Oct" dateline underneath the Vogue logo were, frankly, dead giveaways that this cover was a farce!
While comments were limited under the post, some users were apparently fooled into thinking this cover was real: "Looking forward to picking this one up! @voguemagazine," one wrote. Meanwhile, several blue-check users, including a few fashion designers, inundated Drake's notifications with fire emoji.
Since its launch via Instagram, the fake issue of Vogue has apparently been distributed across Los Angeles and New York. Upon closer inspection, the inside pages included stories from the October issue of Vogue that had Her Loss graffitied across spreads and advertisements that had been Photoshopped: Tiffany & Co. became Savage & Co., while Bella Hadid, Jennifer Lawrence, and Taylor Swift were reimagined with face tattoos.
Despite Drake posting the cover under the guise of Wintour's blessing, it turns out Condé Nast, the publisher of Vogue, is not happy about the stunt: TMZ reports that the company is now suing Drake and 21 Savage for $4 million in damages. According to court filings obtained by the Cut, "Vogue magazine and its Editor-in-Chief Anna Wintour have had no involvement in Her Loss or its promotion, and have not endorsed it in any way. Nor did Condé Nast authorize, much less support, the creation and widespread dissemination of a counterfeit issue of Vogue, or a counterfeit version of perhaps one of the most carefully curated covers in all of the publication business in service of promoting Defendants' new album." The complaint claims that Condé Nast has been asking the duo to take down their post and cease distribution of the false issue since at least October 31.
A lawyer who represents Drake did not immediately respond to the Cut's request for comment. But needless to say, this sounds like it could be Drake's loss after all.
This post has been updated.