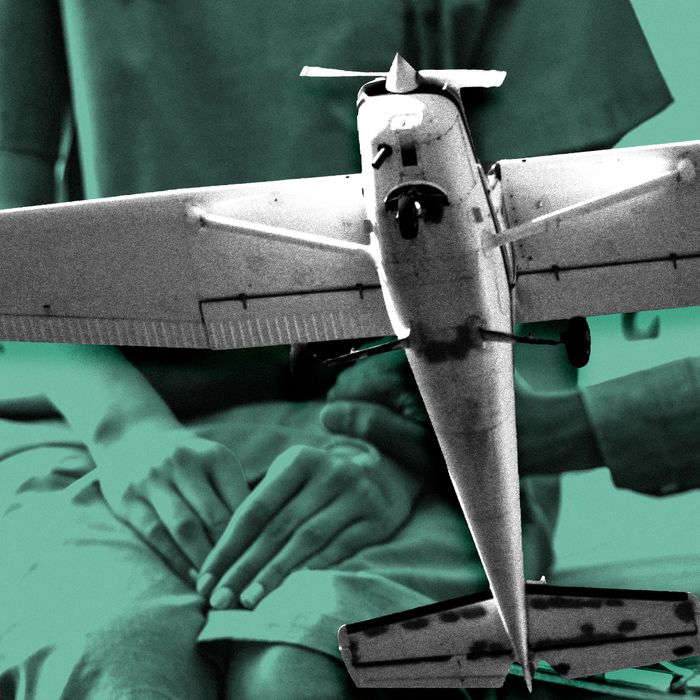 Photo-Illustration: The Cut; Photos: Getty
It wasn't the phone call Laila was expecting. "How'd you like to fly on a private plane?" the upbeat voice on the other end asked. The 23-year-old was nervous. Laila, not her real name, had flown only once in her life. But she was nearing her second trimester and feeling desperate.
The person asking was Allison Dreith. Dreith is the director of strategic partnerships at a small, volunteer-based practical abortion fund called Midwest Access Coalition, which helps cover travel, lodging, and child-care costs related to abortion access. Laila, who lives in Oklahoma and was in her first trimester when she reached out to Dreith, had already made several appointments with Planned Parenthood Great Plains, but they had all been canceled. It was early June, just a few weeks after the public leak of the Supreme Court opinion draft that would soon overturn Roe, and the clinic was bracing for Governor Kevin Stitt to sign the total abortion ban that had already made its way through the state legislature.
The regional Planned Parenthood was able to rebook her — but at a Kansas clinic. A friend agreed to rent a car and drive the 339 miles to the appointment if someone else covered the cost. MAC picked up the bill, and $900 and six and a half hours later, Laila arrived at her appointment ten weeks pregnant. But apparently, she was too late: According to that particular clinic's policy, she was now too far along for a medication abortion. Laila was able to book an appointment at a different Kansas clinic two weeks later, the Overland Park Planned Parenthood, but would again need help traveling there. Through MAC, Dreith was able to cover the costs of the earlier rental car and, now, a second one. Then two days before the new appointment, Laila's friend, her ride, backed out. Laila panicked. There was no bus or train that could get her to the clinic in time for the procedure, and airfare for the trip was another $990. "I thought, This is fucking bullshit," Dreith says. "It's a ridiculous cost, and this person has been jerked around so much." That's when Dreith remembered something a MAC volunteer, Mike, had pitched to the organization's board of directors months before: a private, under-the-radar flight on the sort of small aircraft that hobby pilots fly. She reached out to the volunteer, a pilot himself, to see if he was ready. Geographically, it wouldn't work for him, he told her, but he knew another pilot.
The next day, June 9, Dreith booked Laila a Lyft to the nearest county municipal airport, where the pilot greeted her and led her onto the tarmac where his small, four-seater plane was sitting. He flew Laila to another municipal airport in Kansas, about a three-hour flight, where another Lyft driver picked her up and took her to the clinic. A few hours later, the volunteer pilot flew her home. Dreith remembers how afterward, Laila "was the most appreciative of anyone I've ever worked with, I think because it just went so smoothly." Dreith, who has spent over a decade helping women access abortions, described to me how others in Laila's position are so often made to feel ashamed for needing help. "This client told me she felt kind of like a VIP," Dreith says. Laila's was Elevated Access' first flight.
"I really wanted to do that first flight myself," Mike tells me. "I wanted it to go perfectly." Having seen the threats Dreith has endured, Mike asked to be identified only by his first name and says he began working as an IT volunteer at MAC in early 2021. The idea for Elevated Access came to him shortly after his wife inspired him to attend an anti-racism workshop. "It was a bunch of white people trying to learn about how we could use our privilege to try to change things," he says. When he thought about his own privilege, the first thing that popped into his mind was how his father, a hobby pilot, had been able to take him flying on the weekends when he was a kid. He inherited the pastime, earning his pilot's license nine years ago and joining a local flying club that gave him shared access to a fleet of small planes such as Cherokees, Dakotas, and Piper Archers. "I wanted to use my pilot skills to help people," Mike says.
About eight months before he arranged Laila's flight, Mike pitched his idea to Diana Parker-Kafka, MAC's executive director: have pro-reproductive-rights pilots around the country volunteer to fly people in need of an abortion or gender-affirming care to states where it is safe and legal when more conventional means of transportation are not feasible. Parker-Kafka was receptive and invited Mike to talk to MAC's board. Even before Dobbs, the members of MAC had come to see how, as embattled clinics closed around the country, transportation would become one of the biggest hurdles to abortion access. The board members weren't sure at the time how it would work exactly, but they were intrigued. Soon after, Mike took two members on a demo flight so they could see what it was like. They were sold.
Dreith, a lifelong abortion-rights advocate who works with MAC from her small pygmy-goat farm in southern Illinois, didn't need a demo flight to convince her. As the deputy director at the Hope Clinic for Women, a small women's-health clinic in a strip mall in Granite City, Illinois, she knew "doomsday," as she calls it, was coming. That's why, in 2021, she formed a partnership with MAC to prepare for a then-potential future without Roe. Dreith, dressed in jeans and a gray sweater with her hair casually pulled back, speaks bluntly and has a fondness for expletives. "We knew shit was going to be complicated," she explains, "and we knew we had to have better connections with each other to be able to support clients after Roe." Laila's case seemed like just the sort of situation Elevated Access was designed for. She had already spent weeks traveling across state lines to no avail. She was frustrated and exhausted and approaching her second trimester of pregnancy. Her next appointment was fast approaching, and she had no way of making it there by bus, car, or train.
When Laila's plane landed, Dreith remembers feeling a surge of excitement, a nice change of pace from the post-Dobbs cloud of despair that had settled over her. (Mike had been tracking Laila's flight through an app on his phone and texting Dreith updates.) If, just ten years earlier, when Dreith had been lobbying for Planned Parenthood and NARAL, someone had told her she would end up dispatching a random hobby pilot to surreptitiously transport a woman across state lines in a four-seater aircraft, she would have thought it sounded like dystopian fiction. Now it seemed like just another day in a country at war with women. It was only one flight, of course, and her enthusiasm was tempered by caution at the beginning. She believed in Mike, and what he'd done meant everything to Laila, but was Elevated Access really an operation that could be scaled up to make a dent in what was coming?
Flying women by private plane to get them to abortion clinics may sound too far-fetched, too expensive, and too legally precarious, but that's because you're probably imagining the sort of private planes a Kardashian might fly around in and be tracked by regulators and celeb watchers. Or maybe you're thinking of the small commercial puddle jumpers you get booked on for a very short connection. To get a sense of what Elevated Access is doing, think smaller — much smaller — and much further off the radar.
"What most people don't realize is that almost every county in America has an airport, which means most people in the country live within 30 miles of one," Mike explains. "And when you fly from one of these small airports, there are no tickets, no manifests, no TSA, no long lines or security process." It helps that the planes Elevated Access deploys are tiny: Cessnas and Cirruses with capacities that range from four to six people including the pilot. There's no more legroom than in a row of Greyhound Bus seats. (Though, as one pilot told me, these smaller airplanes are plenty safe, inspected often, as required by FAA regulation, and well maintained.)
As Mike first envisioned it, Elevated Access could develop connections with abortion funds like MAC around the country, beginning in the Midwest. But he would have to scale up. When a fund needs transportation for a client, it's often needed fast, sometimes with only a couple of days' notice, which means Elevated Access needs dozens, if not hundreds, of pilots in any specific region to ensure that at least one will be available for a flight at a particular time. The day Elevated Access did its first flight with Laila, it had only two.
Recruitment wouldn't exactly be easy, Mike figured. "Pilots tend to be conservative by nature, both in temperament and in politics," he says. By his estimates, military backgrounds are common, and women make up a minority. There was one outlier who came to his mind, though: Adrian, a.k.a. @Cheesepilot on TikTok, a reserve pilot for a Midwest commercial carrier. Adrian had amassed a few thousand followers by posting a combination of aviation tutorials and leftist screeds, often wearing his white pilot's shirt and talking directly to the camera from inside his car or while walking through an airport. He posted his thoughts on things as mundane as the joys of being a cat dad and as provocative as the need to raise the minimum wage and implement single-payer health care. He also posted on social issues like abortion. In April, when a commenter wrote, "If you're poor, maybe you shouldn't have kids," on one of his videos, Adrian replied by asking, "What about my mother, who was raped and gave birth to me at 14?" As he later explained to me during a demo flight along the coast of Lake Michigan, he may not know what it's like to carry an unwanted pregnancy, but he knows a lot about how it feels to be trapped in a shitty situation.
Back in May, Mike sent Adrian a message introducing himself and telling him about Elevated Access. Would he be willing to help spread the word to his followers? That evening, Adrian posted a TikTok. His face appears in front of a map of the U.S. "This," he says, "is the projected distance you'll have to travel for an abortion if Roe is overturned." Then he introduces Elevated Access as "a group of pilots donating their time, aircraft, and resources to take people to the care they need." The next morning, he texted Mike that the post seemed to be getting some traction. Then he took a nap. When he woke an hour later, he had gained 75,000 followers, many of them wanting to know how they could sign up to help. Adrian directed them to the Elevated Access website, and within a few days, 800 pilots, with some from every state, had contacted Mike. "About 40 percent of them were women," he says. "Many identify as trans. It's an incredibly racially and ethnically diverse group of people considering they're all in aviation."
Another surge of interested pilots came a few weeks later when the Supreme Court overturned Roe, this time so quickly that Mike had to scramble to get a system in place for vetting volunteers. He came up with a lengthy application that requires interested volunteers to submit their pilot's certificate, a medical certificate, a logbook of flight-training hours, and a list of specific flying credentials, the kinds of planes they can fly, which planes they own or have access to, and all of their social-media handles. Would-be pilots must also provide two personal references from people with knowledge of their views on abortion rights.
During the organization's first couple of months, Mike went through each application on his own. If an applicant had the necessary training and their references checked out, they would get an email reading, "Congrats, you're an Elevated Access Pilot." Their name would go into a database, and they would wait for an assignment, which usually came in the form of a phone call providing the date, time, and location of the departure and destination airfields. "It's important," Mike says, "that volunteers are given as little information about passengers as possible." Pilots don't know if they're flying a client, a support person, another Elevated Access volunteer, or a staff member. "We do it this way to protect clients' privacy but also to give pilots plausible deniability."
During his intake process, Mike is as straightforward as possible about potential risks. "What I'm telling my pilots is that I'm not going to ask them to break the law," he says, "even if it's hard to know what the law is." It can be difficult to keep track when, as Mike explains, "it's chaos right now. I'm interviewing pilots by phone, and in the middle of our conversation, I'll get a news alert about an emergency injunction from a judge in their state." For him personally, it helps to think of it as one more factor that needs to be accounted for but cannot be controlled. "For pilots," Mike says, "risk is risk. It's just like managing the weather."
After every mission, Mike debriefs with the pilot to make sure everything went smoothly and to hear feedback on the flight. "Some of the debriefing is logistics," he says, "but a lot of it is pilots describing passengers' experience of the flight." Most of the clients have spent little to no time in a small aircraft, and some haven't flown at all. One pilot described giving her "extremely nervous" passenger a "mini flight lesson" — showing her how the plane works, what the instruments do — until she seemed more comfortable. Another pilot described an especially chatty passenger who kept talking about how her nephew wanted to be a pilot and she couldn't wait to tell him about this. "He'd be so jealous," she said. On another flight, the passenger hardly spoke a word the whole time but after landing, she hopped onto the runway, walked around to where the pilot was standing, and screamed, "That was so freakin' cool!"
While many of the pilots report nervous passengers, no clients have backed out or panicked in the air. No one has gotten airsick. "The thing you have to understand," Adrian tells me, sensing my own anxiety as I strap in to the passenger seat of his Lake 200 for our demo flight, "is that this isn't like going for a spin in your friend's burnt-out Toyota Camry from the '90s."
Kim, a 42-year-old mother and pilot in Tennessee who asked to be identified by only her first name, says she was thrilled by her first time in the air.
A naturally adventurous person, she always had an interest in learning how to fly, "but I didn't feel like it was attainable. I'm not rich," she says. "It was just something I thought I'd like to do if I won the lottery." When Kim met her husband and learned he was working toward his pilot's license, she realized it wasn't as far-fetched a fantasy as she had thought: "I was flying as his passenger, and I loved it and felt like, I really need to know how to land this thing if you stroke out on me." Kim's husband bought her private flying lessons as a Christmas gift, and she earned her license in 2020 around the time her husband purchased his own small plane.
Like many of Elevated Access' volunteer pilots, she learned about the organization through Adrian's TikTok, and both she and her husband knew it was something they wanted to do.
"Like a lot of women in this country, I was feeling kind of hopeless after Dobbs," Kim tells me, "and really wanted to act and do something to help." The feeling hasn't gone away. Weeks later, she says, when Tennessee's trigger law went into effect and the last clinic in Kim's town closed, "it hit me hard, thinking about the women who had appointments the next day or week." When Kim reached out to Mike in late May, it was around the same time she was transitioning from an administrative job to being a commercial pilot. "Aviation is a very conservative, white, male world, and their views and my views don't coincide," Kim tells me, so she was excited to find a group of pilots who shared her values.
At the end of August, Mike called. She was given the name of the airport where she would meet her passengers (one client and the client's support person), the airport she would take them to, the date, and the time. As a side gig, Kim worked as an Uber driver, and she tells me that in a weird way, it didn't feel that different. "I was basically like an Uber driver in the sky for her," she says.
On September 1, she showed up at a municipal airport to meet her first passenger. She was polite and quiet, Kim says, and maybe a little nervous. She told Kim it was the first time she had been in any plane, ever. It took about three hours to fly to their destination. Kim was using her husband's plane for the trip, and the two of them had paid for the fuel themselves, which came to about $54 per hour of flying. (Elevated Access is hoping to soon be able to reimburse some of the pilots for fuel.)
Kim tells me that once they were in the air, the client and her support person didn't seem to want to talk much, which was fine. "I'm used to driving people around. I just kind of roll with it," she says. It was perfect flying weather, hardly any clouds in the sky and low winds. Nonetheless, Kim admits she was a little nervous given that it was her first time flying for Elevated Access. To stay focused, she would look out at all the municipal airports on her GPS. "It was reassuring because the landscape is covered with them," she says. "My GPS shows me all the airfields in a 30-mile radius, and there were usually three or four on my screen at any time." Just as reassuring was seeing firsthand that clients like the ones she was carrying could take off and land from airports like these all around the country.
I ask Kim if she worries about what would happen if authorities decided to go after the organization's pilots. "Well, I'm a mom," she says, "so I worry about everything. But at the same time, I'm kind of a rule breaker when I feel like I'm on the right side of something. And in this case, I'm just happy I can help, even if there's a risk. And even if I wish my help wasn't needed."
After landing the plane on that first flight, Kim taxied to the parking lot and helped her two passengers step out. She walked them past the hangar and into the building where they could use the restrooms, then out into the parking lot where another woman got out of a car and asked if she was Captain Kim. When Kim replied yes, the woman pulled her into a big hug.
"Who are you?" Kim asked the stranger, who was now opening the car door.
"I'm the next volunteer," she said.
While Elevated Access is fighting on just one front of what will be a long, relentless battle for women's reproductive freedom post-Roe, it's heartening to hear how fast the organization has gone from being a two-person volunteer operation to a staffed nonprofit with a full-time paid director of operations (Mike was recently able to quit his day job to work for Elevated Access), hundreds of volunteers around the country, a steady stream of financial donations, relationships with abortion funds from coast to coast, dozens of successful flights every week, and a full-time publicity director, who asked to be called by her Elevated Access pseudonym, Fiona Delta.
Delta, a successful tech entrepreneur, joined the operation in July. (Mike realized he was going to need more help growing Elevated Access, and Delta seemed to have the experience and vision for the job.) In her first two months as its volunteer director, Delta has fielded interest from over 1,000 volunteers. "It was a very fast ramp-up," she tells me. "The interest has been stunning, and I think it shows how painful Dobbs has been for people. We've had nurses, accountants, lawyers, aviation enthusiasts, everyone coming out of the woodwork saying they want to help. And of course, pilots. Many, many pilots."
Delta admits that all the newfound interest and publicity bring a level of risk, which they are managing. "One of the things we've talked about with Elevated Access' newly formed board is staying off the radar of people who want to stop us, to keep people focused on the big guys," she says. For that reason, Delta won't give me the number of flights Elevated Access has flown to date but instead says, "We have flights going up and down the East and West Coast; the biggest volume is south to north, and the highest concentration is in the Midwest." There are "a lot of flight requests," she tells me, many of which Elevated Access can't fulfill, but the ratio is getting better. "When we first started," Delta says, "we were saying no to funds more often than we were saying yes. Now it's the other way around."
When I ask where she thinks the organization will be in two or three years, Delta hesitates. "Ideally, we will cease to exist. Ideally, people shouldn't have to travel great distances to have an abortion," she says. "A national protection-of-abortion law is passed by Congress. All of us would say that's the goal."
It's an optimistic thought, but something in her tone tells me she isn't counting on it. So what then? "I'd like us to be an alliance builder," she answers. "There are many ways to elevate access besides planes. What about ships? What about other modes of transportation? Other networks?"
As we spoke, I tried to imagine for myself what Elevated Access would be doing in three years, and it felt like staring into an abyss. Maybe in a few years, Elevated Access will be a historical footnote from a troubled and terrifying moment in American history. Or maybe it will be receiving foreign aid to set up abortion-clinic ships along our coastlines, like the one that docked off the coast of Ireland, or flying passengers to Canada and Mexico. Maybe women will still be full citizens, or maybe there will be security checkpoints at state borders performing ultrasounds on "suspicious looking" drivers. Anything is possible, and nothing is certain — except that there will always be people like Dreith, Mike, Adrian, Kim, and Delta who won't go along.
"It's classic economics," Delta says. "Demand and supply. Supply has decreased, but the demand for safe abortions isn't going anywhere. We are the transportation to the supply."