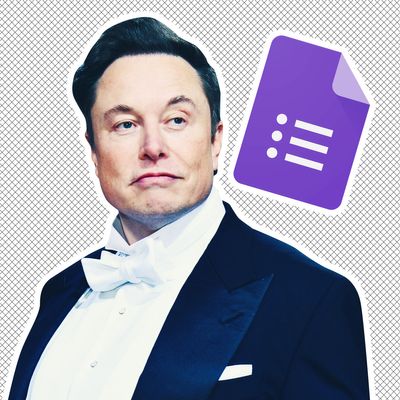 Photo-Illustration: by The Cut; Photos: Getty Images
Since Elon Musk managed to take over Twitter, the state of the company can optimistically be described as absolute chaos. After laying off most of the company's top executives and half its staff, Musk announced his arrival at Twitter HQ by carrying a porcelain sink into the lobby and rambling at length about "gizmos" in his first staff meeting. Many other employees, including the company's chief information security officer, have quit. Those who've stayed and criticized Musk, either publicly or on the company's internal chat system, have also been fired. And, as of Thursday night, it looks like the company may be on the verge of collapse.
Despite the Schadenfreude I would like to feel about the implosion of a Silicon Valley institution, the evil-dictator vibe emanating from this guy's behavior these days makes it pretty painful to watch. Musk reportedly sent out an email to the company's remaining employees late Tuesday night with the subject line "A Fork in the Road." In it, Musk made some characteristically insane comments about his plans for "Twitter 2.0," namely that he intends for the app to become "extremely hardcore." In order to execute this vision, he described his ideal workplace: "long hours" of work at "high intensity," where "only exceptional performance will constitute a passing grade."
Musk appeared to understand that these objectively toxic-sounding working conditions are not for everyone, so he offered his employees a choice: Opt into being hard core or leave the company with severance pay. The most surreal element of the ultimatum is the format in which it was presented: a Google Form that employees must fill out before 5 p.m. on Thursday to indicate whether they still want to work at Twitter. "If you are sure that you want to be part of the new Twitter," the memo reads, "please click yes on the link below," followed by a Google Form link. "Anyone who has not done so by 5 p.m. ET tomorrow (Thursday) will receive three months of severance."
I don't know a lot about coding or working hard, but I know there is nothing hard core about asking your employees if they still want to work for you via a Google Form. This is the workplace equivalent of texting all your friends, "Do you like me? Circle Y/N." And, to nobody's surprise, the answer has reportedly been an overwhelming "No."
As the deadline of on the Google Form approached, reporters began claiming that a majority of Twitter's remaining workforce had either not completed the form or opted out. Almost an hour after the deadline, Fortune Magazine's Kylie Robison tweeted that roughly 75% of the workforce — a little below 3,000 employees as of Thursday morning — had not clicked yes, though exact numbers have yet to be confirmed. Meanwhile, Platformer managing editor Zoë Schiffer reported that the Twitter offices were temporarily shutting its doors. According to Schiffer, all Twitter employees have been told that "all office buildings are temporarily closed and badge access is suspended." According to her reporting, Twitter leadership is apparently "still trying to figure out which Twitter workers they need to cut access for." And Verge editor Alex Heath reported that entire engineering teams had resigned, and that many employees were resigning via Slack. Heath also tweeted that, per sources, "the odds of Twitter breaking in the near future are very high."
Soon on Thursday night, #RIPTwitter, My Instagram, and Before Twitter were trending topics as users said goodbye to the beloved cursed platform.
Thanks for the memories, Twitter.
This post has been updated.