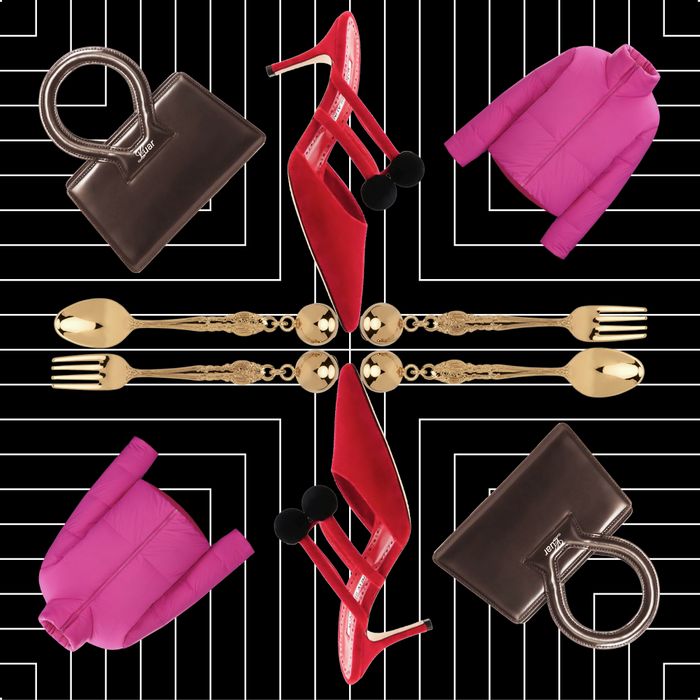 Photo-Illustration: by The Cut; Photos: Retailers
For me, the most wonderful time of the year happens a few months before it supposedly does for everyone else, when gift-guide season begins. I love making gift guides almost as much as I do reading them. (And, of course, shopping them.) Really, they are a gift to me, personally. There's something so satisfying about taking every single tab I've had open for an entire year and organizing them in one place. It allows me to take stock of what I like and what I want and then project those feelings onto other people, making all those hours of scrolling and all those dollars spent feel somewhat productive and maybe even selfless, right? (Don't answer that.)
What was most fun about making this gift guide in particular was that I could pretend that price was no limit. These are gifts to splurge on (for yourself and others) but also gifts to fantasize about. Half the fun of gift guides is just seeing what's out there even if you have no intention of buying anything. Hermès makes ChapStick? Marc Jacobs brought back those incredible platform heels from fall 2016? Wait, that scarf is also a bag? The best gift guides bring out the raging capitalist in you while offering a few surprises. Below, all the links I clicked on this year that made me think, Damn, I wish someone would buy me that.
The Hermès version of ChapStick
This lip balm is so luscious that I only have to use a little bit of it, which is how I justify the price — it will last a lifetime! And the opulent Hermès packaging instantly cures my winter blues every time I whip it out.
The same soap that Nine Orchard carries
Naturally, after staying the night at Nine Orchard, the elegant new hotel in Dimes Square, I stole the soap from the bathroom. It smells amazing, and it's cheaper than a staycation.
Earrings with a personal touch
Jewelry is something that you want to feel personal, and these earrings look like they could be a family heirloom. They also help people remember your name.
A top for the person who never goes into the office
It's not safe for Zoom (NSFZ), but someone could maybe get away with it.
A scarf that isn't a snooze
The classic argyle print gets a cool update with the Marine Serre moon logo.
A button-down they'll never take off
The winter oxfords by this New York–based brand are warm but not too warm, and they've got an extended hem that's just right. They're also made of soft, natural Merino wool in uniquely vibrant colors.
A crowd-pleasing sweater
Toast is a brand that was born in Wales, so I trust it for a good, cozy sweater. This lush green brings to mind the landscape, and the silhouette is nice and roomy.
An "It" bag for an aspiring "It" girl
If you got them a Telfar last year, get them a Luar this year. They'll be impressed.
Earrings for the stylish host
Personally, I'd wear this with the candelabra headpiece that walked the same runway as these earrings, but I imagine that'd be hard to gift wrap.
And something for the chef
The brand run by artist Dan Colen and Daphne Seybold does very cool workwear collaborations in addition to providing funds to nonprofit Sky High Farm in Hudson Valley. The latest is with Tremaine Emory, and it will make you hungry.
If you want to spoil your nieces and nephews
The adult version may be out of your budget, but you can give one to the coolest 5-year-old on the planet for less.
A robe for better snuggling
I suggest this as a gift every single year because I wear it every single day and it makes me feel like a million bucks.
Pajamas for the person who loves a staycation
Instead of booking a room this winter, spend that money on some luxurious pajamas instead. Then, it's like you're doing a staycation year-round.
A turt for the person who wears all black, all winter
I'm now a Muji turtleneck evangelist, but if you want to gift something more luxurious, I really like the cut of this Theory sweater, and it's super-soft. Sometimes elevated practical gifts are the most appreciated.
A hat for the person with curly hair
Hat hair for curly people is really not cute. This one is warm and fuzzy, and it won't crush those perfect ringlets.
Slippers for the person who throws chic dinner parties
Leset is a go-to for night-out styles that you want to wear for a night in, and the brand just launched elegant footwear to pair with your sleek black-satin hostess pants.
A souvenir for the person who left New York
Make them salivate over this realistic-looking cookie and maybe they'll change their mind and move back. (They also probably can't get away with carrying such a bag anywhere else.)
Iconic heels for the fashion nerd
I've wanted a pair of these boots ever since they walked the Marc Jacobs fall 2016 runway, and I can't believe they're finally back — and not sold out yet. So run, don't walk, if you know someone with a similar obsession. (Although be careful if you're wearing these.)
A luxurious wrap for the Taurus in your life
Everyone can appreciate a super-soft Alpaca scarf, but as a Taurus, or someone perpetually in search of peak coziness, I think if I swaddled myself in this one, which is designed to be wrapped multiple times, I might never take it off.
Puffers for the person who only wears North Face
Look, North Face is great, but why not try a fun print for once?
This puffer will actually keep you warm, and it comes in a color no one else on the subway will have.
A festive sweater for the person with a million holiday-party invites
Two whimsical brands join forces for a truly delightful knitwear collaboration.
A bolero-slash-bag for the person who always wants to go dancing
This "look-at-me" accessory has hidden zipper pockets that conveniently fit your phone so you can be hands-free.
Designer sneakers for the person who counts shopping as cardio
Every "fashion person" I know has these and they always make me jealous. They're certainly not part of the "ugly sneakers" trend, but they're not boring, either.
Sweet little things for the person who makes your heart explode
Heart-shaped accessories are everywhere this season, and this ring is particularly sweet. I kind of want to eat it?
I appreciate how these are a little rough around the edges, like all relationships!
More hearts! If you buy this for them they will literally love you forever.
A modern "pearl" necklace for the modern woman
Sophie Buhai's natural-looking pearl necklace was super trendy this year, but I like this one better for everyday wear. It's still a timeless classic.
Shoes for the Carrie of your friend group
I'm pretty sure that if Carrie was mugged again she'd risk it all to try to keep these as well.
If you want all the brownie points
Good luck trying to find the trendiest coat of the season — and beware of fakes! But if you do, you'll be the holiday hero.
Nothing says luxury like a pair of $970 shoes that are basically slippers.
A gift that will (hopefully) become an heirloom (i.e., yours) one day
The leather version of the classic Agnès B. snap cardigan is the holy grail for a certain set of downtown shoppers. The good news is that they only get better with age, so this gift thinks long-term.
For more from the Cut Shop team, follow us on Instagram and Twitter, where we share our best new finds, favorite styling tricks, and more.