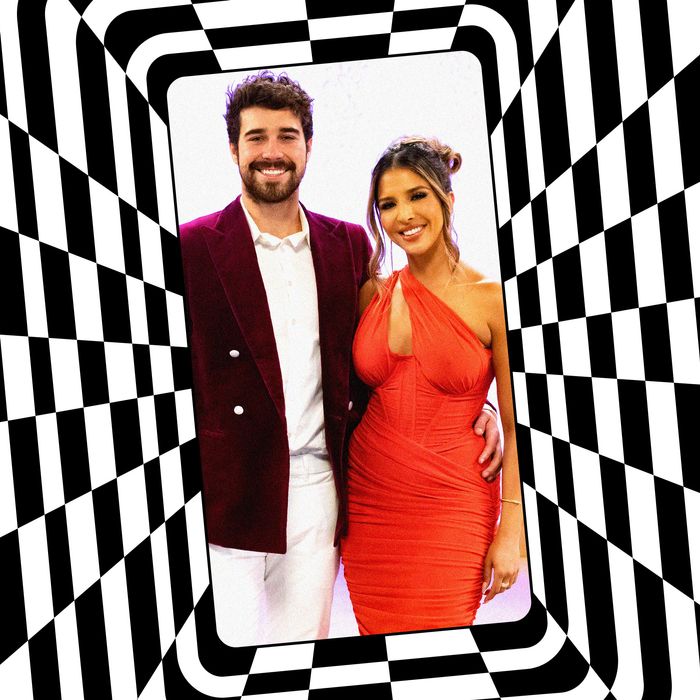 Cole and Zanab.
Photo-Illustration: by The Cut; Photo: Netflix
Love Is Blind is self-flagellation masquerading as a reality-dating show. For ten days, contestants go on a series of blind dates that consist solely of conversation; they never see or even physically meet the other person. Eventually (hopefully?) they find The One, get engaged, and finally meet the person they've fallen in love with in a little over a week. Then they go on vacation, move in together, meet each other's family, plan a wedding, learn about their future spouse's quirks and bad habits and credit-card debt, and walk down the aisle all in a meager four weeks. Watching feels masochistic. I finished all of season three in two days. (Many a spoiler, below.)
There is much to lovingly hate about Love Is Blind. There are the "pods" where the blind dates take place, something that would have seemed more dystopian had the series not first aired during the pandemic. Each 12-by-12-foot room has a "cozy but sexy" aesthetic in a Pier 1 kind of way. Pods are soundproofed, with castmates communicating solely through speakers. There have no phones or internet access. A sensory-deprivation tank for dating, if you will.
Of course, that doesn't stop people from distracting themselves on dates, which, according to Love Is Blind creator Chris Coelen, can last anywhere from ten minutes to several hours. On one such pod date, 25-year-old Bartise, arguably season three's least redeeming contestant, makes an attempt at vulnerability with Raven, a 29-year-old Pilates instructor. While Bartise is talking about the "beginning of the end" of his parents' relationship, showing the most emotional depth he has all season, Raven is … doing jumping jacks.
While contestants on Love Is Blind, like any reality-show contestant nowadays, seem painfully aware of the fact that they are on TV, that awareness clearly has its limits. Take, for example, this season's eye-drop scandal. Andrew, a 30-year-old who touts his practice of "transcendental sex," proposes to Nancy, a 32-year-old speech pathologist/real-estate investor. Nancy says no; she later accepts Bartise's proposal, though their relationship quickly deteriorates. Later, in a talking-head interview, Andrew speaks about how emotionally devastated Nancy's rejection has left him. He is also shown putting in eye-drops, presumably to make it look like he is crying. He uses the eye-drops not one, not twice, but thrice in his post-rejection interview, asking a producer, "Is this okay?" The producer doesn't discourage it, obviously. "I never thought I could care for someone that would bring me to tears," Andrew says, eye-drops running down his face.
And this is just what happened before any of the contestants met face-to-face this season. After getting engaged, couples are allowed to meet for the first time. This 15-minute encounter is mostly spent awkwardly kissing and trying to convincingly say, "Wow! You're even hotter than I imagined!" Then the couples go on vacation to spend time one-on-one … and meet the other engaged couples who, of course, are comprised of the people they also dated in the pods. Sure, they get to go on fun excursions and lounge by a pool with their new intendeds, but they also have to hang out with the people they both just dated and rejected or got rejected by. So, while you're snacking on bacon-wrapped scallops, like Nancy, your fiancé (Bartise) is doing shots with the woman he almost proposed to (Raven). And yeah, you get to luxuriate in an infinity pool, but the view is blocked the woman your future husband can't stop saying is more his type "physically."
Of this season's five couples that got engaged, four were involved in drama surrounding one partner's presumably unresolved feelings about another cast member. Cole, a 27-year-old real-estate agent with the energy of a 1-year-old dog who refuses to stop peeing on the carpet, proposed to Zanab, a 32-year-old flight attendant who seems better suited to a mature dog that's house-trained. After the two got engaged, Cole repeatedly put his foot in his mouth when talking about his "usual type," saying he tends to go for someone like Colleen, the 25-year-old ballerina who he'd had a connection with in the pods. Colleen accepted a marriage proposal from Matt, a 28-year-old who had been married, cheated on, and divorced. However, their relationship wasn't without its rage-fueled hiccups. After learning about a not-salacious-but-not-entirely-innocent conversation Colleen and Cole had by the pool, Matt was so angry that he threatened to leave the show. After Colleen was out past 2:30 a.m. on a weeknight, he threatened to leave again. Despite this and the fact that Matt was actually Colleen's third choice, they are one of two couples who actually get married at the end of the season. Cole and Zanab did not get married. At the altar, she said no and told him "you have single-handedly shattered my self-confidence." But also said she loves him and that he's a good man? All of her friends applauded.
Bartise and Nancy's relationship was even more tumultuous. Not only did Bartise make it clear that he was more physically attracted to Raven than Nancy, he used Nancy's reaction to this information (understandably upset) as an excuse for why he started to withdraw in their relationship. He tried to constantly reassure Nancy and the cameras that he was mature and ready for marriage despite his age, something you really only need to say aloud if your actions prove otherwise. In a conversation about abortion, a rarity on any dating show, Bartise had, to put it gently, a lot of qualifiers. ("I think you get one pass, but you can't do it again.") When meeting Nancy's family for the first time, Nancy's brother Steve asks Bartise if he'd still love Nancy if she gained 400 pounds. (Is now a good time to bring up the lack of body diversity on the show?) Bartise all but says no, explaining that he hopes they'd be emotionally "connected" enough so he could tell her to go on a diet "before it ever got to 400 pounds." It's a shame he said so many terrible things, because it really overshadows the buck-wild story Nancy shared about taking a huge dump and needing to unclog a toilet sans plunger.
Though Nancy inexplicably says "I do" at the altar, Bartise says he does not. When Nancy leaves the ceremony in tears, Steve says what we are all thinking at this point: "What the fuck are we doing this for?"
It's a great question. Were there successful relationships that came out of this season? Sure. Raven, Bartise's one-that-got-away, got engaged to SK, a 34-year-old data engineer whose family was adamant he have a traditional Nigerian wedding. While they didn't get married (Raven said, "I do," but SK said, "I don't"), they confirmed during the reunion episode that they are dating. Alexa, a 27-year-old insurance-agency owner, and Brennon, a 32-year-old water-treatment engineer, managed to escape the season married and mostly unscathed. Only two couples from the previous two seasons are still married. This would be surprising if saying no at the altar wasn't (1) great TV and (2) the best decision for most couples.
The show has yet to "prove" whether love is blind or not. More than anything, it's reaffirmed the things we know to be true: Wives are often expected to be proxy mothers for their adult-baby husbands; conversations about physical attraction are unavoidable despite your emotional connection; dating is terrible; and Vanessa Lachey wants to know which castmates are fucking. If anything, the only love that is truly blind is the one audiences, myself included, have for this show.