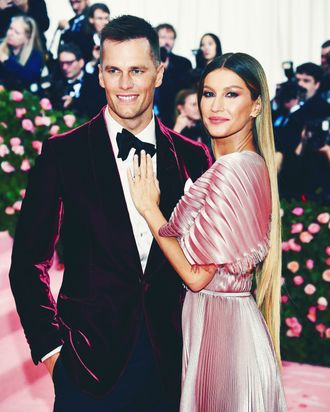 Photo: Dimitrios Kambouris/Getty Images
Someone in Tampa, please check on Tom Brady because he cannot be doing well after Gisele Bündchen filed for divorce on Friday, with the couple having reached a settlement to to split up their multimillion-dollar fortune. Bündchen confirmed the couple had "amicably finalized" their split on her Instagram Stories, adding they have "grown apart" and will continue co-parenting. "My priority has always been and will continue to be our children whom I love with all my heart," the supermodel wrote. Brady also issued a statement on his Instagram Stories, calling the decision to divorce "painful and difficult."
Court records show that both Bündchen and Brady, who did not contest the filing, called their marriage "irretrievably broken." The news — which arrives after the Tampa Bay Buccaneers lost their third consecutive game on Thursday, this time to the Baltimore Ravens — arrives after weeks of divorce lawyers working to finalize the couple's split. Bündchen, who is represented by Tiger Woods's divorce lawyer Tom Sasser, and Brady have reportedly worked with a mediator to sort out property arrangements and child custody, with sources telling TMZ they have "come to terms" on both fronts. The terms of their settlement remain sealed.
Following the filing, Brady called the split "very amicable" during an episode of his weekly Let's Go! podcast, adding that he was now focused on two things: "taking care of my family, and certainly my children, and, secondly, doing the best job I can to win football games. That's what professionals do." He went on to describe his ability to compartmentalize between the game and his personal life. "You focus at work when it's time to work and then when you come home, you focus on the priorities that are at home," he said. "All you can do is the best you can do. That's what I'll just continue to do as long as I'm working and as long as I'm being a dad." A few days after his divorce was officially announced, doing his best at "being a dad" meant taking the two children he shares with Bündchen — Benjamin, 12, and Vivian, 9 — trick-or-treating. (Brady is also a dad to 14-year-old Jack, whom he shares with Bridget Moynahan.)
For many fans, this split has been a long time coming. In September, the supermodel broke her silence on her husband's decision to unretire and go back to the NFL, and she did not sound too thrilled about the development. Speaking with Elle, Bündchen agreed that reports of her wanting Brady to quit for good were sexist, though she didn't flat out deny them. "Obviously I have my concerns — this is a very violent sport, and I have my children and I would like him to be more present," she said. "I have definitely had those conversations with him over and over again. But ultimately, I feel that everybody has to make a decision that works for them. He needs to follow his joy, too."
Just in case Brady wasn't good at reading between the lines, Bündchen continued. "I've done my part, which is to be there for [Tom]. I moved to Boston, and I focused on creating a cocoon and a loving environment for my children to grow up in and to be there supporting him and his dreams," she said. "I feel very fulfilled in that way, as a mother and as a wife. And now it's going to be my turn." It doesn't really get clearer than that.
Rumors of a rough patch between Bündchen and Brady kicked into high gear over the summer when Brady took an unexpected leave of absence from training with the Tampa Bay Buccaneers, which head coach Todd Bowles described as "personal." Brady later addressed his brief hiatus. "Everyone has different situations they're dealing with, and we all have unique challenges to our lives," he said. "There's a lot of shit going on, so you just have to try and figure out life the best way you can."
From there, signs of a separation continued to pile up. A September report from "Page Six" claimed that Bündchen and Brady were no longer living together in Florida. Shortly after that, she was absent from his first game back from retirement, something a source with the Buccaneers told People "seems weird." (She did, however, tweet her support.) The source continued, adding, "Everyone here knows that there's tension, but we don't know how serious it is. So we're just not talking to him about Gisele. It's not a topic anyone wants to bring up to him." Another source reportedly told the magazine that Brady didn't handle his un-retirement well. "They decided together that he would retire, and then he decided by himself that he'd come back," said the source. "She said they'd talk about it more, but then he came back anyway, before they had really talked it all through." Gisele has since been photographed out and about sans wedding ring, and paparazzi caught her and a spiritual healer saging her car in Miami, where she's reportedly been spending most of her time.
As for Brady's retirement, it remains unclear whether he will hang up his helmet at the end of the 2022 season. So far, he hasn't committed to anything. "I'm just going to take it day by day, and I'll evaluate everything as it comes," he said about his potential re-retirement during an episode of his Sirius XM show, Let's Go! With Tom Brady, Larry Fitzgerald, and Jim Gray. As for everyone predicting when he will actually retire for good, Brady added, "One of these days, they're going to be right."
This post has been updated.