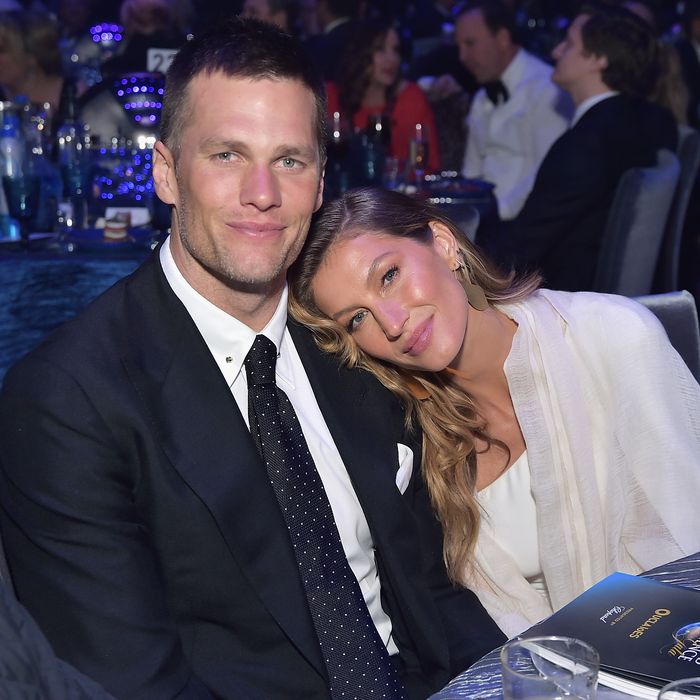 Photo: tefanie Keenan/Getty Images for UCLA Institute of the Environment & Sustainability
Gisele Bündchen and Tom Brady have been brought back together under some pretty unfortunate circumstances. The former couple are just two big-name celebrities named in a lawsuit filed this week in Florida against the cryptocurrency exchange FTX. The lawsuit alleges that FTX and former CEO Sam Bankman-Fried used celebrity endorsements to mislead buyers and names celebrity ambassadors Stephen Curry, Larry David, Shaquille O'Neal, Naomi Osaka, Bündchen, Brady, and even the Golden State Warriors as defendants.
FTX is the latest cryptocurrency exchange to fall apart, after a rush on withdrawals sent the company into an $8 billion shortfall. The $32 billion company filed for bankruptcy last week and is now reportedly being investigated by the Securities and Exchange Commission and the Justice Department.
Prior to its quick demise, FTX was an incredibly popular and powerful crypto exchange, and was marketed as an easy way for newbies to explore cryptocurrency. It kicked off a huge celebrity campaign last year with a Super Bowl ad starring Larry David, and quickly made deals with Bündchen and Brady, who were reportedly given an equity stake in the company in exchange for starring in an ad campaign. (It's unclear who got the crypto in the divorce.)
Other celebrity deals followed, and now they're all being named in a lawsuit filed by FTX yield-bearing account holder Edwin Garrison. The suit alleges that celebrities were used to persuade consumers to put "billions of dollars into the deceptive FTX platform to keep the whole scheme afloat," per Deadline. The lawsuit also claimed that celebrities named in the suit "never disclosed the nature, scope, and amount of compensation they personally received in exchange for the promotion of the Deceptive FTX Platform, which the SEC has explained that a failure to disclose this information would be a violation of the anti-touting provisions of the federal securities laws."