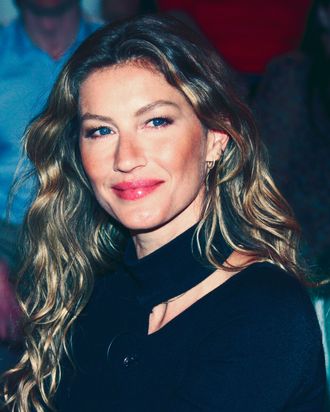 Photo: Tristar Media/Getty Images
Over the past few months, we have watched with more than a little joy as Gisele Bündchen finally cut ties with her soon-to-be ex-husband Tom Brady, for whom (as she's said herself) she moved to Boston. Now with her car saged and her spirits restored, another exciting development has emerged: She may be dating her jujitsu instructor Joaquim Valente.
Two weeks after Bündchen officially filed for divorce, she was spotted hanging out (romantically, I hope) with Valente in Costa Rica. Specifically, they got dinner with Bündchen and Brady's two kids, and though it did not look anything like Bennifer's sexy family dinner date, I remain hopeful that there is something flirty afoot here. An anonymous TMZ source disagrees, maintaining that there's nothing going on between them and pointing out that many friends were also on the Costa Rica trip. Sure, sure.
Valente has appeared on Bündchen's Instagram account a few times in the past year — he has reportedly given Brazilian jujitsu lessons to her and her kids, and she recently did a martial arts–themed photo shoot with both Valente and his brother, who is co-owner of the martial-arts studio. Now that Brady's priorities are, in his words, "taking care of my family" and "doing the best job I can to win football games," Bündchen is presumably free to explore the romantic potential of her jujitsu journey if she so chooses. If Sex and the City's brief foray into sexy wrestling is any indication, she has plenty to look forward to.