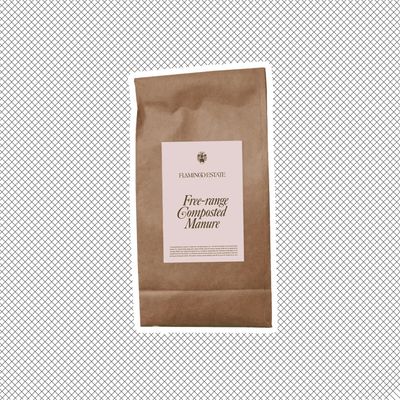 Photo-Illustration: The Cut; Photo: Retailer
What's worse than getting coal for the holidays? Getting literal shit. Now you can make that nightmare a reality courtesy of Flamingo Estate and Goop, the crossover we never knew we needed.
Flamingo Estate, a buzzy natural-goods company whose mission is to "carefully cultivate Mother Nature's wildest, most precious gifts," like its Roma Heirloom Tomato Candle ($50) and Garden Essentials Handsoap ($46), had one of its most natural products featured in Gwyneth Paltrow's Ridiculous But Awesome gift guide: poo. This isn't just any old shit, it's a blend of free-range goat, horse, chicken, and cow manure, "lovingly tended by" the gardeners at Flamingo Estate. The company calls this product, priced at $75, the "finest poop in L.A.," although I feel like some celebrities would contest that statement. On its website, Flamingo Estate also says this manure "pairs better with" its Euphoria candle, body scrub, and pulse-point oil, products I'm sure someone will need after handling feces.
This isn't the first time Paltrow has promoted unique gifting ideas and products. Lest we forget the jade egg, meant to be inserted into the vagina (and landed Goop a $145,000 fine for false claims), and the candle that supposedly smells like a vagina. That's innovation, people.
Just remember, with great poo comes great responsibility. This "potent, precious poop," as Flamingo Estate calls it, is not meant to be sent to someone as a sack of revenge but rather as a means to " bring new life to your soil." Although, whatever you do with this manure is none of our business. But regardless of your intentions, buyers beware: This good shit is only available via local shipping, so if Los Angeles smells a bit more … aromatic through the holiday season, you'll know the culprit.