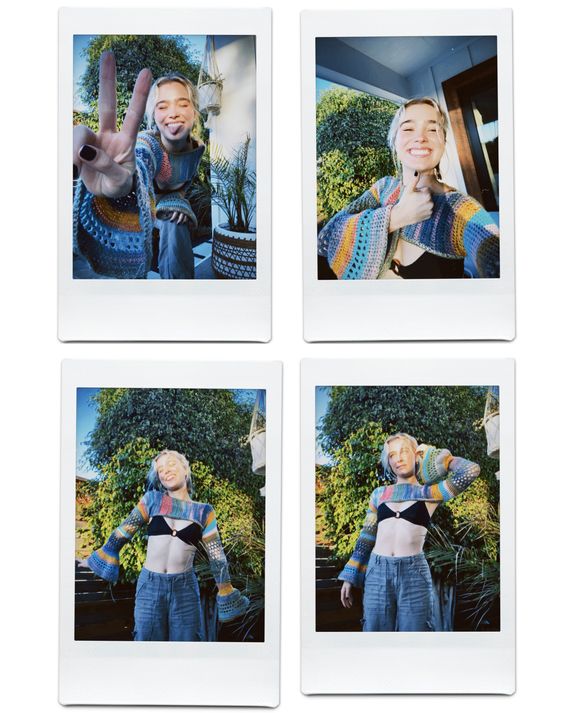 Photo: Haley Lu Richardson
Haley Lu Richardson is too humble to call herself an expert. But after crocheting for 19 years (her mother taught her when she was 8), there's no denying she has mastered the skill of hooking yarn together and weaving patterns that turn into sweaters, hats, and scarves. "I can pretty much crochet anything," she tells me as we settle in over Zoom. Richardson, who stars in the new season of The White Lotus, has agreed to crochet with me during our conversation. She works on her current project — "one of those sweaters that are just on the arms," which she started earlier in the week — as I try to finish knitting a baby blanket I started over a year ago. Neither of us is very good at stitching while talking, but we're both up for the challenge. "This is helping us build more brain cells, for sure," she says through hearty laughter, her shoulders bobbing with excitement. 
Fans of Richardson already know she is an avid crocheter and crafter. She launched her Etsy store, Hooked by Haley Lu, in 2014, right around the time she broke out in the short-lived Pretty Little Liars spinoff, Ravenswood. Since then, she has continued to sell items in her store, from crochet dresses to crop tops and hats. She briefly pivoted to beaded bracelets and mask lanyards during the pandemic. "It's very haphazard and inconsistent and chaotic," Richardson says of her store. Her house is full of wicker baskets where she keeps her various crafts, which also serve as a way to keep her "soulmate," a longhair cat named Darbin, from getting ahold of her yarn. "When I feel like these baskets get full of all this stuff I've been making, I'm like, Oh, maybe I should post some stuff and sell it," she says. "It's fun because I don't feel pressure with it."
That's not to say her Etsy store isn't successful. Over the years, as her acting career has grown with roles in indie films such as Columbus ("Definitely my favorite experience I've ever had creatively"), After Yang, and Support the Girls as well as the young-adult dramas The Edge of Seventeen, Five Feet Apart, and Unpregnant, so has her Hooked by Haley Lu client base. "The last time I posted a bunch of necklaces and scrunchies, they sold out in like a half an hour," she reveals almost reluctantly. Her careers as an actress and a crochet designer have overlapped in other ways as well. She tries to incorporate her crochet pieces into her characters' wardrobes, calling it a "fun little Easter egg." (Keep an eye out for the bucket hat she wears in The White Lotus.)
Richardson is free-form with her crochet. She doesn't plan in advance or follow patterns. "I'm not judging myself with the crocheting. I don't feel like anyone's judging me with my crocheting, and if they are, that's weird," she says. "With dance and acting, I'm so hard on myself that sometimes I lose sight of the pure enjoyment and that pure love and creative expression." Crocheting, like her goofy Instagram, gives her an opportunity to be her true self. "Honest self-expression — whether it's sad, deep, fucking around, whatever it is — being your authentic self is so important. How is there supposed to be true connection if you're not being your true self?" she asks.
If being "authentic" means sharing videos of herself dancing in her living room or doing a quarantine update in a fake southern accent, then so be it. Richardson does not let awkwardness or self-consciousness on social media faze her. "I saw a meme the other day that said, 'I'm cringe, but at least I'm free.' I relate to that so much because I would so much rather be considered cringe by someone — or anyone or everyone — and feel free and feel like I'm being myself than be stifled by these external opinions."
Richardson wasn't always this sure of herself. In fact, she tells me, she spent the first decade of her career building up to this moment of self-acceptance. "I didn't know anything about acting or have any connections," she recalls of moving to Los Angeles with her mother at 16. The first few years of her career were spent dancing in the Rose Bowl parade and backing up Bella Thorne and Zendaya in the Disney Channel series Shake It Up. Now, over a decade and many critically acclaimed roles later, Richardson says she's more confident in her ability as an actor. "I feel like I know what I'm doing. And I don't think I could have said that a few years ago," she says, surprising herself so much she temporarily stops her stitching. "I definitely get nervous. I'm definitely really hard on myself. I definitely have bad days and struggle and don't feel that confidence at all, and I think I'm a piece of shit and that I suck at what I do," she adds. "But I feel that confidence growing."
That confidence came in handy when Richardson flew to Italy to begin working on the second season of The White Lotus — her first television show in over six years and her first time working with a large ensemble cast. In the show, Richardson plays Portia, the personal assistant to Tanya McQuoid (Jennifer Coolidge), a character who carries over from season one. Portia is a rare breed of White Lotus guest because she's on what is essentially a working vacation, setting her apart from the rest of the privileged guests at the resort. Most of Richardson's scenes are with Coolidge ("an icon," she says) and fellow White Lotus newbies F. Murray Abraham, Adam DiMarco, and Michael Imperioli, whom she calls "the most kind, grounded, emotionally aware, self-aware, giving actor." As a performer, The White Lotus gave Richardson an opportunity to learn from some of the best in the business and experience what it's like to be part of an ensemble. But as a person, it gave her some much-needed perspective.
"Portia is a deeply unsatisfied person," the actor says of her character. "She's deeply searching for life to present something that will fulfill her." Richardson, and surely at least a few of the show's Gen-Z viewers, could relate to that 20-something restlessness. "I give so much of my life to what I do, to what I care about, to my relationships, and I do find myself being disappointed sometimes with what life gives me in return," she explains, putting down the crochet needles as if needing both hands to center her thoughts. "I feel thankful for so many things in my life, but sometimes I have those pity parties that's like, Well, what about me?" She adds that Portia reminded her not to hold on to impossibly high expectations because "it's always gonna let you down."
Richardson left Italy in July feeling energized and ready for what's next, and she credits her time on The White Lotus with pushing her to expand her creative horizons. At the moment, she's taking a beat and searching for a chance to "level up" in her career. "I want to be challenged by the stories I'm telling, the characters I'm playing, and the people I'm surrounded with when I'm working," she says. She also wants to take on more responsibilities behind the scenes, something she realized a few years ago after producing her first film, The Statistical Probability of Love at First Sight. The film has yet to find a distributor, but the experience made Richardson determined to collaborate more behind the camera. "I'm not just a puzzle piece," she says. "I'm someone that's putting together the puzzle from the get-go."
As we wrap up, Richardson and I compare projects. She's crocheted a good inch of her sleeve, though she says at one point that her stitches are "very tight" and might have to be redone, while I have barely managed to knit three rows of my baby blanket. "We're not the best at this," she says. Maybe not, but a few days later, I see on Instagram that she has completed her sweater sleeves, while my unfinished baby blanket remains untouched. Richardson may be "rejuvenating" after that grueling White Lotus shooting schedule, but she's still got creative energy to burn — and the confidence to see projects through to the end.