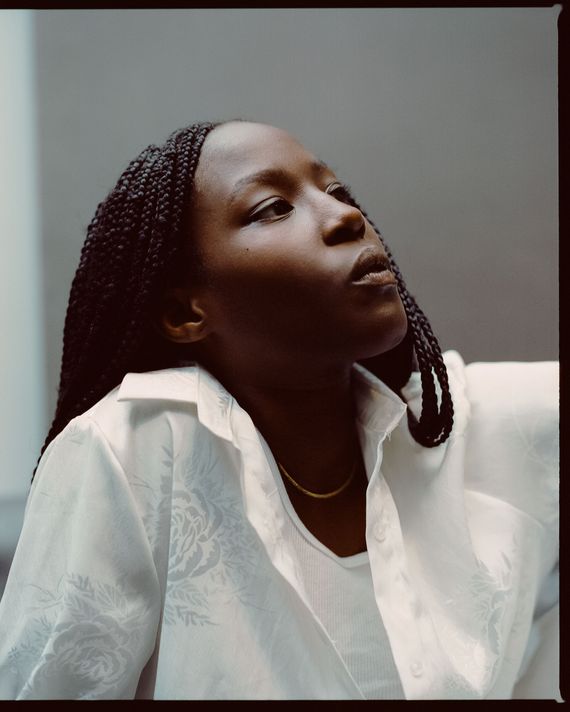 Photo: Myesha Evon Gardner
HAWA, the 22-year-old rapper born Hawa Sakho, is a self-proclaimed workaholic, yet she found herself itching to let loose last summer. "I almost disowned myself. I was getting way too litty for my own good. I had a lot of women angry at me," she says, raising her eyebrows.
The musician doesn't usually set aside time for leisure, but after a year of lockdown — and a few situationships — HAWA allowed herself to have just enough fun to feel inspired to make more music. "This is not my country, so I can't just dillydally and play around all the time; I have to actually make something because to be Black and also be an immigrant, that's a whole other obstacle," she tells me with a very serious edge to her voice on a cool, quiet afternoon at a Nolita café. "No type of work that is gonna make you money is going to be easy. If it is, it's illegal and the IRS is probably coming."
Briefly behaving like a Lothario last summer led her to write and record "Gemini," the first single from her debut album, Hadja Bangoura. It's a bop that pleads with anyone who shares the infamous star sign: "What do you want from me? / I've given you all you need / I've given you all of me / But you just upped and leave." The artist has had her fair share of heartbreaks, but "when I've really gotten my fucking heart broken, like they just like stomped my shit, it's when I've been with a Gemini," she says. Plenty of the songs in her discography came about just because she was in the mood to write them, but this particular track is the direct result of pettiness.
Bundled up in a black Telfar puffer and adorned with some simple gold jewelry, HAWA gives the impression that what you see is what you get. The sun glimmers off her skin; she doesn't do makeup, just shea butter that her grandmother sends through DHL. Her petite frame shivers as we wait to be seated inside. She doesn't do well in the cold — maybe it's the African in her, she muses, as I notice a tattoo of the continent on her hand. Born in Berlin and raised in Conakry, Guinea, the artist moved to New York as a child and was offered a spot in the New York Philharmonic's music-composition program at age 10. Her talent took her all over the world as its youngest-ever composer. By age 15, she had mastered classical music — and she was officially bored.
Her interest in a grittier, more experimental, more urban sound grew, and she felt drawn to rap and R&B. She lists older PartyNextDoor and Brent Faiyaz tracks as influences on her current music, along with her uncle Oudy 1er, a prominent West African Afrobeat artist. As a kid, she watched him sell out stadiums where everyone was shouting his lyrics, and she wanted to feel that for herself. "That's literally the only job I ever knew I was going to do. I remember when my parents would talk about college and I would think, I'm not going to college," she says. "The fuck I need college for when I'm going to be filling stadiums? Come on!"
But her relatives didn't immediately believe she would turn her talents into a job. "They were like, 'Music? That's a hobby. Doctor!'" she says. "But I feel like if I was a doctor, I would be the worst. I'd be in surgery making some beats. Plus, I'm very big on moisturizing. If I had a patient and they weren't lotioning, I'd be like, 'Nah, I really can't fuck with you.'"
Now, HAWA says, her family understands her vision. Her mother in particular is very supportive, but like most moms, she has some hang-ups about her daughter's more vulgar lyrics. "My mom called me one day and she said, 'I just saw your music video. Why don't you think about making music about Allah? You don't have to make it about pussy, kitty, kitty. When are you gonna make something about God?" HAWA politely declined and continued to rap about licking thighs.
After an EP and a handful of singles, HAWA's debut studio album will finally be available on November 4. She wrote and recorded three versions of it before arriving at what would become Hadja Bangoura, which is named for her great-grandmother who passed away last year from complications of COVID-19. "She was a big part of my life growing up. I felt like since she didn't get to see me turn into the woman I've become, I might as well dedicate the first album that I put out in the world to her," HAWA says, looking into the bottom of her cup of drip coffee. "Hopefully, she's giving God some good pep talks up there."
Without losing her musical fingerprint, Hadja Bangoura expands on the sound HAWA conquered in her past work. It's evident on tracks like "Trade," which is reminiscent of her 2020 track "Frick" but feels more pensive. Through her choppy, raspy, electronic whisper, it can be hard to catch the lyrics of a HAWA song on first listen. What's immediately clear is that she has mastered many genres — dancehall, rap, and grime, to name a few — and can create a concentrated sound that makes people want to dance. Her music twinkles and clangs and has a xylophonic heave to it, in which listeners can feel the instruments moving, layering, and building on one another in a lovely, structural clutter of sound.
"This album is very hectic in a sense. I wanted to portray that because that's how I was feeling: very off-balance," HAWA says. The tracks are short, with most clocking in at just under two minutes, but they're long enough to catch a vibe. "En Route" is a lovey-dovey crooner, while "Progression" is a cinematic, piano-laced track with a music video boasting a cameo from her friend the designer Telfar Clemens.
The fashion world can be small, and it's filled with HAWA's friends, so she tries to support them whenever she can. She performed at Telfar's 2020 Pitti Uomo show and recently starred in a video campaign for the brand's collaboration with Moose Knuckles. She has modeled for Burberry, the North Face, and Collina Strada, but as a teen, she never expected to be this deeply involved with fashion. She did, however, have a hunch that she would one day be the center of attention. "I remember thinking, I'm going to be in a place like this, and this photo shoot is going to be my photo shoot. Now, whenever I go to set, it's like the little girl in me is crying," she tells me.
In the studio, HAWA likes her solitude. You won't find bottles or baddies strewn about. If she can help it, she would rather be alone. "I'm boring. You see all of these artist vlogs where they have like 15 people and there's women shaking ass and twerking in the corner and there's a mate in the back doing a backflip," she says with a laugh, slapping her hands on the café table. When she's working, she needs real zen. "We just focus on making the music, we don't make jokes, we don't do any of that shit." Her classical background informs her serious approach to music — the discipline comes second nature to her, but she says starting in the industry at a young age "made her even more of a control freak."
To illustrate just how much of a perfectionist she is, HAWA explains her daily routine. There are no days off from writing or recording. She wakes up at six each morning, which, painful as it sounds, really helps her mental health. If she still needs to declutter her mind, she might do some cleaning around the house. She eats an assortment of mangoes, kiwis, and clementines for breakfast, then works out or goes for a bike ride. When she returns to her Brooklyn apartment, she might call her twin brother. He's a real-estate agent in Miami, and they're very close; they often bond over their love of work. ("He's the responsible one. He's trying to get married already," she says, smirking. "I'm the one that's like, 'Where the bitches at, bro?' But I'm an introvert, so I'm quietly saying it. I'm saying it only in my head.")
Mostly, HAWA answers emails and records melodies and ideas on her voice-memo app to take to the studio later, if she's not on a set somewhere. She tells me she hasn't been on a true vacation in a long time, and even when she visited her mom in the Ivory Coast during the pandemic, she was taking work calls. She's not bitter, though; it's all just part of the job. "There's this saying that I like to remind myself of," she says. "'Pressure is a privilege.' When I think about that, it brings me back to reality because the reason I feel this way is because I'm doing good and I'm moving in the direction that I want to."
HAWA hopes all of this work will lead her to an even more involved role in the industry, whether producing other artists' songs or owning a record label. She's constantly reading about the future of streaming and economics and is thankful that her lawyer taught her how to read her own contract when she was 17. Legalese and dollar signs are littered across the minefield that is the music industry, and she has known since a young age that it's crucial for artists to understand what goes on behind the scenes if they want to protect themselves.
"People think it's all happy-go-lucky, but a label's just a bank. If you don't know what to do with the bank's money, you'll never get from point A to point B," HAWA says, adding that protecting her image has always been top of mind, so she won't do just anything for a check. "It's quality over quantity, especially at this point in my life." Case in point: When HBO reached out about using her song "My Love" in the fourth episode of Michaela Coel's acclaimed series I May Destroy You, HAWA enthusiastically accepted the offer. That episode became one of the most talked about in the series.
Even with her self-imposed career deadlines, HAWA got in the game early, so she still has time to achieve all of her ambitions and, eventually, take a break. The anxiety may never go away, and maybe that's okay; she's happy to make unique work that doesn't sound like what's already out there. "Major labels and executives might not understand the sound because the sound is not what's popping yet," she says matter-of-factly. "But the thing I love about my music is if I were to sit any artist down and say, 'Make the same exact thing that I've made,' they would never be able to do it. That really brings me joy because I know that this is something authentic, so I'm never worried. One day, they're gonna come around, and the fuckers that are coming around already are smarter than the rest."