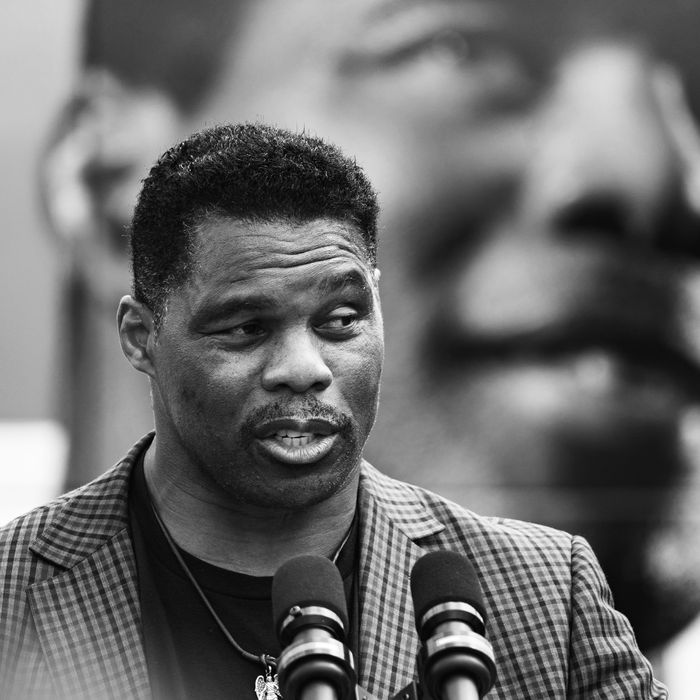 Photo: Megan Varner/Getty Images
Dr. Oz's campaign for the U.S. Senate came close, but the most embarrassing and chaotic Republican campaign right now is that of Herschel Walker, an ex–NFL player turned ultraconservative politician who will face off against Georgia senator Raphael Warnock in a runoff election in December. Walker, who has been endorsed by Donald Trump, styles himself as "pro-life," has likened abortion to murder, and expressed support for a national ban with no exceptions for rape, incest, or endangerment of the mother's life. Following a report that he'd paid for an ex-girlfriend's abortion, Walker's 23-year-old conservative-influencer son unleashed a Twitter rant denouncing his father's behavior. A few weeks later, yet another woman came forward claiming Walker pressured her to abort their child. And now, with just a few weeks to go before the Georgia runoff election, the second woman is coming forward with even more allegations against the politician.
In October, the Daily Beast reported that Walker had allegedly reimbursed a woman, who remains anonymous due to privacy concerns, for an abortion she'd had while they were dating in September 2009. She claims that both of them felt it was "not the right time" to have a child and alleges that Walker urged her to terminate her pregnancy. She provided the Daily Beast with a receipt from the abortion clinic, a bank-deposit receipt that includes a signed personal check from Walker, and a signed "get well" card she claims he sent her after the procedure. The publication spoke with a close friend of the woman, who corroborated the story.
Walker has denied the woman's claims via a lawyer, who accused the Daily Beast of targeting Black conservatives by running the story and asked the publication to reveal the woman's identity. Walker has released a statement calling the woman's allegations a "flat-out lie" and saying he plans to sue the Daily Beast for defamation. He later told Fox News that he didn't know who the woman making the claims was — which led her to reveal in another Daily Beast report that she and Walker later had a child together. While Walker continued to claim he didn't know who the woman was, she shared screenshots with the Daily Beast, allegedly between herself and Walker's wife, Julie Blanchard. The texts suggest both Walker and Blanchard do indeed know who the woman is, and have been in touch with her regularly.
Meanwhile, Walker's son Christian released a lengthy Twitter thread suggesting he'd stayed silent about his father's behavior during the campaign. "Every family member of Herschel Walker asked him not to run for office," he wrote, "because we all knew (some of) his past. Every single one. He decided to give us the middle finger and air out all of his dirty laundry in public, while simultaneously lying about it. I'm done." He accused his father of leaving him and his mother "to bang a bunch of women," threatening to kill them, and having "us move over 6 times in 6 months running from your violence."
Christian isn't just referring to the alleged abortion reimbursement when he talks about his father's past. Since Walker announced his Senate run, his campaign has been plagued by revelations from his life that run counter to his ultraconservative "family values." In June, after he condemned absentee fathers on The Charlie Kirk Show, the Daily Beast revealed that he had three children other than Christian, some of whom he supported financially but didn't see. Walker denied trying to cover up his history, saying in a statement that his children were "not 'undisclosed' — they're my kids." One of them, it seems, is the child of the woman who says Walker reimbursed her for an abortion.
Walker's ex-wife — and Christian's mother — Cindy Grossman has accused him of physical abuse. Grossman told ABC News in 2008 that Walker once pointed a gun at her head and threatened to kill her. In interviews, including one following an attack ad that referenced Grossman's allegations, Walker claimed his violent episodes were brought on by dissociative identity disorder, which he said causes him to black out when he becomes violent.
In two videos following his Twitter thread, Christian referenced the other scandals, claiming he'd initially joined his father's campaign believing Walker had changed his ways — and, perhaps, knew how to spin the conflicting details from his past. "I did one event last year when we were told he was gonna get ahead of his past and hold himself accountable," Christian said. "None of that happened. Everything's been a lie." He continued in a second video:
I stayed silent as the atrocities committed against my mom were downplayed. I stayed silent when it came out that my father, Herschel Walker, had all these random kids across the country, none of whom he raised. And you know my favorite issue to talk about is father absence. Surprise! Because it affected me.
On October 5, Walker released a new campaign ad accusing Warnock of running a "nasty, dishonest" campaign that "doesn't even tell my full story," again referencing his "battle with mental health." After the story broke, he started flip-flopping on abortion, suddenly claiming during his debate with Warnock that he does support exceptions for rape, incest, and the life of the mother — a stark contrast to when he likened such exceptions to "excuses" in June.
On October 26, another woman, identified as Jane Doe, came forward in a press conference with her attorney, Gloria Allred, saying Walker persuaded her to have an abortion against her wishes in the 1990s. According to her account, Walker personally drove her back to a clinic after she'd left in tears and sat in the parking lot while she had the procedure before driving her to a pharmacy to pick up prescribed medication. Describing a years-long affair, she and Allred provided a voice-mail allegedly left by Walker and several love letters, one of which had a signature similar to the one that appears on the "get well" card from the other woman.
Walker called Jane Doe's story "foolishness," adding, "I also want to let you know I didn't kill JFK either."
The effect of these allegations on his Senate campaign remains to be seen. After the midterm election was too close to call, Warnock and Walker headed straight into a December runoff. And on the Tuesday before Thanksgiving, the second woman to accuse Walker of pressuring her to have an abortion (known as Jane Doe) challenged him to respond to her directly. Per People, Jane Doe's attorney Gloria Allred told reporters at a press conference that Walker and her unnamed client were romantically involved for 6 years — from 1987 to 1993. Allred recounted that Walker "caused [Jane Doe] to become pregnant, and then pressured her to have an abortion even though she wanted to have their baby." Allred also said that she and Jane Doe had collected "evidence" of a romantic relationship, including "letters, audio recordings, diaries, cards, notes, photos, and a declaration from a friend."
As reported by The Daily Beast, Doe, who was present at the press conference, alleged that Walker "spoke about threats to me and the baby if I went through with the pregnancy." She then challenged Walker directly, saying, "Do you have the guts to meet with me in person in public, look me in the eye, and tell me to my face that you don't know me and that none of what I said is true?"
Let this be a lesson to us all: If even your conservative TikToker son tells you not to run for Senate … maybe you should listen to him?
This post has been updated.