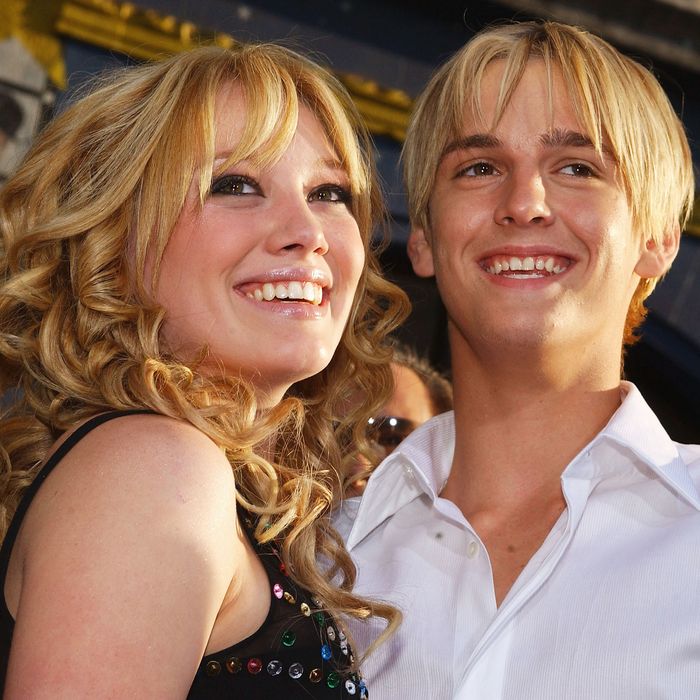 Photo: Lucy Nicholson/Getty Images
Aaron Carter died on Saturday at 34 years old. The singer, who had a history of substance-abuse issues and was open about his mental-health struggles, was reportedly found unresponsive at his California home, but no further details have been confirmed. Meanwhile fans and loved ones have begun remembering the former child star on social media, including Hilary Duff.
"For Aaron- I'm deeply sorry that life was so hard for you and that you had to struggle in-front of the whole world," Duff wrote in part on Instagram. "You had a charm that was absolutely effervescent… boy did my teenage self love you deeply." Duff and Carter dated on and off for a few years in the early 2000s, a relationship boosted by the singer's era-defining appearance on Lizzie McGuire. In the show, Carter played himself, while Duff, as Lizzie, was an adoring fan who snuck on a music-video set to meet him. The episode ended with Lizzie and her BFF, Miranda (Lalaine), dancing in his Christmas-themed music video for "I Want Candy." The two broke up a year later, and Carter went on to date Lindsay Lohan, a fellow Disney star, before reconciling with Duff in 2003. They split for good soon after.
Needless to say, the drama surrounding the love triangle was an introduction to celebrity gossip for many young fans, who have clearly never forgotten how much they loved Carter. Millennials who grew up listening to his early-aughts hits "That's How I Beat Shaq" and "Aaron's Party (Come Get It)," rushed to Twitter, declaring him their first childhood crush, with many specifically reminiscing about his Lizzie McGuire appearance.
Carter's older brother, Nick Carter, of Backstreet Boys fame, also paid tribute on Instagram. The two had recently been estranged, with Nick and his younger sister, Angel Carter, taking out restraining orders against Aaron in 2019. But, addressing Carter's death, Nick wrote, "my love for him has never ever faded." He continued, "Sometimes we want to blame someone or something for a loss, but the truth is that addiction and mental illness is the real villain here."
Carter is survived by his 11-month-old son, Prince Lyric Carter.