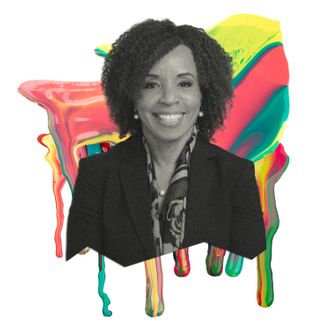 Photo-Illustration: The Cut; Photo: Courtesy of ABC
Fueled by "coffee and cardio," ABC News president Kim Godwin oversees the editorial and business operations of longstanding franchises including Good Morning America, 20/20, FiveThirtyEight, and The View. These days, she's busy preparing for the imminent, highly anticipated midterm elections, which require a high volume of fast-paced coverage. As the first Black woman to serve as a network news president, Godwin has worked to build a diverse staff to ensure that the network's programming reflects the varied experiences of its audience. She found her way to the top of ABC's ladder by working at local news stations in nine different cities, all while bearing the innumerable responsibilities of motherhood. Having just recently hit the one-year mark in her current role, Godwin said, "I feel like I had been preparing for this job my entire career. I've been in the business since I was 18." 
Raised in Queens by her single mother, Godwin is now a fiercely loyal parent herself, to two daughters. Although Godwin's confidence and work ethic are undoubtedly the bedrocks of her success, she expressed her deep appreciation for the "army of people" that helps her get it done. Included in the battalion is her husband, a high-school principal and "terrific partner" who helps her with "everything and anything."
While speaking with us, Godwin was eager to share the acronym "R.O.S.E," that has informed her leadership style and career for decades. R.O.S.E denotes her four superpowers: Resilience, Optimism, a Smile, and Excellence every day. The most important one? "You need that smile," she insisted. "It can warm up even the coldest room."
On her 20-20-20 morning routine:
My alarm goes off at 4:15 every morning. I allow myself a maximum of two snoozes, so the latest I get up is 4:33 a.m. — and I'm not kidding. I walk to the kitchen, make my cup of coffee, and take that cup to a different room in the apartment where I spend 20 minutes in silence and thought. I center myself, and try to focus on things that I'm grateful for. Then I spend 20 minutes learning something. I pick up a magazine or scroll on my phone to look for something off the headlines. After that I spend at least 20 minutes working out. There's a sign in my gym that makes me smile. It says, "Sweat like a pig, look like a fox."
At 6 a.m., I start answering texts and emails for about a half-hour before showering and getting ready. And at 7 a.m., GMA goes on. I watch it until the first break, and then I jump into an Uber or start walking to work while I listen to the show.
On stress management:
That morning workout allows me to exert the anxiety of my calendar onto that treadmill every day. I come off and I'm a lot more chill. If the day is getting really stressful, I walk. I pace the office or walk around the table. Sometimes I'll walk around the building, which helps me say hello to people, focus on what they're working on, and ask them about their family and friends and how their day is going. I might even take a ten-minute walk around the block. It just helps me refocus.
On work-life boundaries:
In general, this is a 24/7 business. Most of my days are at least 12-15 hours of what I would consider "on the clock." On weekends, people know that they can call me. I spend some time on Saturday mornings texting with our crews across the globe — like our teams in Ukraine — to thank them or ask how they're doing, especially if they're in a stressful situation. I do answer and send texts and emails really early in the morning, but I made it clear to everyone very early on that that does not mean they have to answer me that early. I don't want them to get up and think, "Oh my gosh, Kim is texting me!"
At the same time, I emphasize vacation and days off, and making sure they are real. In other words, vacation means not checking your email every day. You really have to allow yourself time to unplug and decompress. It makes us better when we come back, especially given the harsh news cycle that we've been under for the last few years.
On the moment when she felt she'd "made it":
Frankly, it was getting this job. Becoming president of ABC News was the culmination of my entire career. The day I got the call with the offer for this job was a day of extreme joy, and I just said, "Finally, I'm going to get the chance to do what I've been training for. I'm ready."
On slowing down:
When I say "How are you doing?" to people, I actually wait for the answer. Ninety five percent of the time, people will say "I'm great, I'm fine." But five percent of the time, people will tell you the truth and say, "I'm not having a great day and here's why." Often, it's something outside of work — "My kid is sick"; "We're waiting for the college acceptance letter"; "I'm worried about my mom." That's where you make connections with the people who you work with. You wait for that answer, look them in the eye, and connect as a human being.
On reframing self-doubt:
I look at it as an opportunity to learn more. When I left journalism school at Florida A&M and walked into my first newsroom, I felt prepared — mainly because I had been volunteering there for a year — so I didn't doubt my ability to learn. And that's where I think you have to start. Every day is a learning experience, and I may not know everything, but I'm okay with asking questions, being wrong sometimes, and being corrected. You have to be able to take a few risks there.
I specifically remember the first time I was a news director, in Cleveland. I walked into our first executive meeting, and I was the only person of color, and there was one other woman in the room. The room was filled with white males, and that was a little intimidating, but I said to myself, There's a reason you're here. Just be who you are. Your authentic self is your value to any company, corporation, or newsroom. No one else has your life experience, and that's why you're there.
On her motivations:
When I was young in my career, my "why" was that I wanted to give my mother and my grandmother some of the things that they never had. I had seen them sacrifice so much and  it gave me so much joy to bring them things they never asked me for, but that would bring them joy. Eventually, I did that. I got my grandmother her first house, which she enjoyed for about five years before she passed away. I bought my mom her first car, a Mercedes.
When I had my daughters, my children became my "why." They increased my purpose and focus. I also wanted them to see that I was working really hard to make their lives good, that they were capable of doing the same, and that the expectation was that they would do their best at whatever it is they loved. My 24-year-old said to me a couple of months ago, "Mom, I don't know anyone who loves their job like you do. You really love your job."
On taking maternity leave:
Oh boy, I was very old-school back then. For my eldest girl, I think I took off maybe eight weeks. For my youngest daughter, three or four weeks after she was born, I had my management team around my dining room table at home. I had had a c-section and could barely stand up, but I wobbled to that table and sat there. I felt I had to be available and lead in a way that was really visible. I do know now that I wouldn't do the same. I encourage young mothers to take the time that they need. Back then the pressures were such that there were not that many female leaders, and I felt the pressure of having to be available.
As my kids grew up, I protected the time we had together. It was quality over quantity. There were many times that my kids had their sleeping bags and backpacks at the front door and grabbed them to come with me to the newsroom, and slept on my office floor before school if there was a late story developing. Being a mother is my greatest joy.
This interview has been edited and condensed for length and clarity.