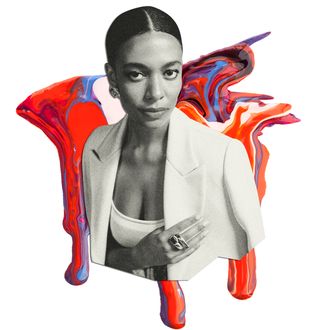 Photo-Illustration: by TheCut; Photo: Christian Cody
Aurora James, the designer behind the luxury label Brother Vellies, first fell in love with fashion in her mother's closet, a space she describes as a "treasure trove." It was in this realm filled with hand-carved Danish clogs and sequined numbers from Tom Ford, that James came to understand fashion as anthropological: "It was like, who is this woman? What is her story? What is she saying about herself, her culture, her dreams or fears when she puts this garment on?" James remembers. "This is how women have archived their own history: through apparel."
Growing up, she turned to thrift stores to satiate her desire for designer clothes. "I wasn't able to afford to participate in fashion the way people think of it historically. I expressed myself that way, and it felt like a more democratic way, a more sustainable way to participate in fashion." She began to foster hopes of working in the industry, but after getting rejected from the fashion program at Ryerson University, now Toronto Metropolitan University ("I failed tenth grade math. I kept going to summer school, and I kept getting beaten up in summer school. So I was like, it's no for me") it seemed her dreams were derailed, or at the very least, on pause. Then, while working the front desk of a gym, she met her "first fashion fairy godmother," Jeanne Beker, a fashion editor and author well-known for her work on Fashion Television.
"You don't go to the gym and see a girl in Issey Miyake," James said. "It was the opening shift at 5 a.m., and there I was, wearing Issey Miyake and scanning her in. She was like, 'What are you doing?' 'I'm scanning you in.' And she was like, 'No, with your life.'"
James went on to intern for Beker at Fashion Television, officially launching her into the thick of things. In 2013, James founded her brand with just $3,500 at a flea market. Since then she's also established the Fifteen Percent Pledge to help advocate for and fund Black-owned businesses (and is hosting a pop-up in Soho in partnership with CitiBank featuring 100 Black-owned brands this winter), received the CFDA Founder's Award, and has a memoir, Wildflower, slated for release next year.
The multi-hyphenate splits her time between New York and Los Angeles, where she lives with her boyfriend, stepson, and dog, Mr. Chow. She spoke to the Cut one recent morning, and told us how she gets it done.
On her morning ritual: 
The first thing I do when I wake up is reach for this mason jar next to my bed. I fill it up with water the night before and I chug it before I stand up. It's just about the data. We need eight cups of water a day, so I need to get in two and a half in the morning. Sometimes that's at 5:45 a.m. I usually have my first call at 6:30 a.m., because I'm in Los Angeles and no one cares. New Yorkers are on Eastern Standard Time.
On work-life balance:
I used to be a master of work-life balance, back in 2019. I'd be telling you about the friggin cordyceps I was boiling. Since 2020, it's a no. Like it'll be 6 a.m, and I'll have a call with another person. I work 60 to 80 hours a week. I make lists. There's no time for cordyceps. There's no time for meditation. I'm gonna get back there. For right now, it's just a mad dash. There aren't very many days where I get to have an "after work."
On handling stress:
If I was just working for myself, on behalf of myself, I probably wouldn't be stressed. In 2019, I was focused on Brother Vellies exclusively. It felt more intuitive. Now that I have the pledge, I really am advocating on behalf of a whole bunch of Black entrepreneurs that don't have the same assets and opportunities. So that level of stress feels very different. Sometimes managing it means letting it exist. Me owning it to you right now is the management. It's also a temporary thing, and I know it's going to pass. But as of right now, I have an opportunity to create impact and affect change for some people. And I need to take full advantage of that and do as much as I possibly can. I love celebrating amazing entrepreneurs. You're stressed, but then there's the joy part of it where you're like, wow, like this is amazing.
On what keeps her grounded:
I love to be at home. I love to cook. I love my dog, he's so cool. I used to color a lot, and I would actually share some of my coloring on social. It sounds so silly and juvenile, but sometimes you need these little things that are low stakes, creative activities off the screen. I don't want to be playing a game on my phone, I'd rather do something physical.
On the moment she felt she'd "made it" professionally:
Being named one of the optimists of the year in Time Magazine was a pretty big deal to me. I love the idea of being known as an optimist, and I believe that passion is contagious. Next, it'll be when there's a bunch of women that look like me, that started their businesses after me, that are way more successful than me and that I had a hand in. That would feel great.
On resilience:
I've had a lot of different failures, but I tried to keep a white guy hat on and say "It's not a failure, it's a pivot." I would rather put something out there and fail at it than regret not trying.
On bad advice she received (and thankfully ignored):
Somebody once told me that I shouldn't sell things online.
On the people (and the things) who help her get it done:
There's a bunch of amazing women I work with every day. The executive director at the Fifteen Percent Pledge, LaToya Williams-Belfort. I wouldn't have been able to do this without her. It's always team. At Brother Vellies, our artisan community, the people on social media who uplifted the Fifteen Percent Pledge. Those are the people who are making these movements possible. People always ask, why didn't you name "Brother Vellies" "Aurora James?" It's not about me. It's really about everyone.
And Mr. Chow has a Chow-sitter once a week. And Instacart, Instacart, Instacart, Instacart, Instacart.
On what's next:
If I could choose just one thing to focus on for the rest of my life, it would be about creating opportunities for people to actually feel empowered in their ability to affect change, instead of overwhelmed by the scope of the problem. I really want to create opportunities for people to be directly involved in changing the narrative.
This interview has been edited and condensed for length and clarity.