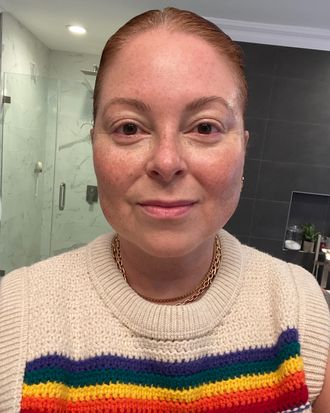 Joanna Vargas became an esthetician in the late '90s, a time when most working facialists took a "Oh my god, your skin is so horrible, I'm going to fix it" approach. That was never her style. She'd much rather give her clients steps to implement in their routine. And this has paid off for her. Celebrities like Maggie Gyllenhaal, Gwendoline Christie, and Mindy Kaling frequent her spas in New York City on Fifth Avenue and Los Angeles in West Hollywood's Sunset Tower Hotel. She's also made a line of skincare — masks, serums and even a glow wand — to allow customers to do it at home (of course, nothing beats having Vargas herself give you a facial.)
Vargas is big on finding joy in other parts of her life too: "A big part of my happiness is waking up extra, early, every morning before my family wakes up just so I can go play tennis," Vargas says. When she says "extra early," she means 5:30 or 6 a.m., so she can be on the court by 7. It's the only time of the day she has to herself, so she prioritizes it.
Before heading out to the court, she drinks a glass of water, since she has read that it's good for digestion, as well as green tea, which has a long list of health benefits. Vargas has a quick two-step pre-tennis skin-care routine and more in-depth steps once she's off the court. As far as her afternoon routine, it's surprisingly simple — her only nonnegotiable ingredient is retinol.
Vargas's skin-care routine:
Before tennis, there are two products she always lathers on no matter what. The first is her very own hyaluronic acid, the Eden Rejuvenating Serum, a plant-based formula with ginkgo-biloba-leaf extract — an inflammatory ingredient ideal for soothing the skin. Vargas loves using it for its light feel that leaves her skin extra-hydrated before she gets active.
Next is always SPF. "Even if I'm just driving to the tennis courts, you get a lot of morning sun through the windows of the car," Vargas says. She loves the Japanese brand Suqqu and uses its nourishing sunscreen with SPF 50. It's lightweight and doesn't have a talc texture (which is known to be thick and not as easy to blend), so it easily spreads all over her face and neck. "It doesn't bother my eyes when I'm playing tennis either, so I even use it in the summer."
When Vargas returns from tennis, she starts her morning skin-care routine starting with vitamin-C face wash. "It's gently exfoliating and really makes the skin feel clean and ensures I'm getting the combination of sunscreen and sweat from the workout off of my face." The vitamin-C cleanser is formulated with antioxidants, like açai and goji berries, that revitalize and balance the overall texture of the skin.
Next, she goes in with a white-tea toner from Lori Harvey's brand, SKN, as she swears it gives her skin a little boost of moisture. Made with hyaluronic acid and aloe, the toner is meant to plump and hydrate. Vargas follows this with her Eden serum.
Vargas likes to "seal the hydration in" with her rejuvenating serum, a restorative blend of oils that's soothing and full of antioxidants. "Oils are very anti-inflammatory for the skin," Vargas says. The serum is formulated with argan oil to prevent fine lines and wrinkles and neroli oil to improve the skin's firmness and elasticity.
To complete her routine, she uses this recovery cream as an extra layer — mostly just on her cheeks (the driest part of her face, she says). She swears this cream thoroughly moisturizes the skin while restoring the barrier with a thick texture that is perfect for colder temperatures.
Instead of using a regular SPF before she walks out the door, Vargas covers her face in Ilia's skin tint, a lightweight serum with SPF 40. With the help of ingredients like niacinamide and hyaluronic acid, it plumps and refines the skin. She loves it for how glowy it makes her skin look all day long.
And for her lips, she keeps this lip-treatment balm. "It honestly goes with me everywhere. I keep one in my purse, one on my desk at work, and one in the car, because it is essential to preventing dry lips throughout the season," Vargas says.
Vargas on aging
Vargas is 52 years old and feels really good about it. "I have a belief in myself that I didn't have in my 20s," she says. "I can make decisions and move ahead with my life without being concerned about what people think or what's going to happen, because I have confidence in my capabilities of making the right decision for me. There's a little bit of not giving a fuck." And she wants the beauty industry to be more sensitive to everyone's viewpoints and to stop profiting off of people's insecurities — like aging. "I think it's okay to want to look your best for you, but I think it's important to remember what makes you the most beautiful is what's unique about you and not trying to fit into the mold of an ideal of beauty that doesn't fit your DNA," she says. Nothing is going to change the fact that she's in her 50s, and she makes choices in her life that make her feel good.
On the current treatment that excites her
Vargas likes Morpheus 8, a treatment said to tighten skin and that addresses more common complexion issues like fine lines and wrinkles. She has used it in her spa for the past couple of years, and Kim Kardashian has made it really popular in the last few months. "It is a combination of microneedling with radio frequency, and I call it the 'twilight treatment,' because we do cryotherapy and a stem-cell mask on your face," she says. "We do the LED light and oxygen in addition to the Morpheus. It's the best tool for increasing collagen production that I've seen."
On what makes a perfect sheet mask
Vargas says her secret to creating the mask is "an opulent amount of serum," so that you can bring it down to your neck, chest, and even arms. (I've used it and agree, there is a lot of serum.) "You want to look for sheet masks that have amazing key ingredients that give you the activeness that your skin needs at the moment. My twilight sheet mask is really soothing with an epidermal growth factor in there, and my dawn sheet mask has mandelic acid, so it's super brightening for the skin."
On having hobbies outside of work
Vargas believes in hard boundaries, and diving into arts and crafts has saved her life in her most stressful moments. "I do embroidery, I do art journaling, and I paint," she says. "I just do something that is different from what I do during the day to really help me wind down and be something else and not be defined by just one thing. I think that those things are really important for anyone to pursue. And I read a lot." She says she reads four books per week. Yes, four. She likes to keep herself informed and doesn't spend nearly as much time in front of the television as some of us do. Her most recent read was Sutton Foster's memoir, a book that talks a lot about having hobbies.