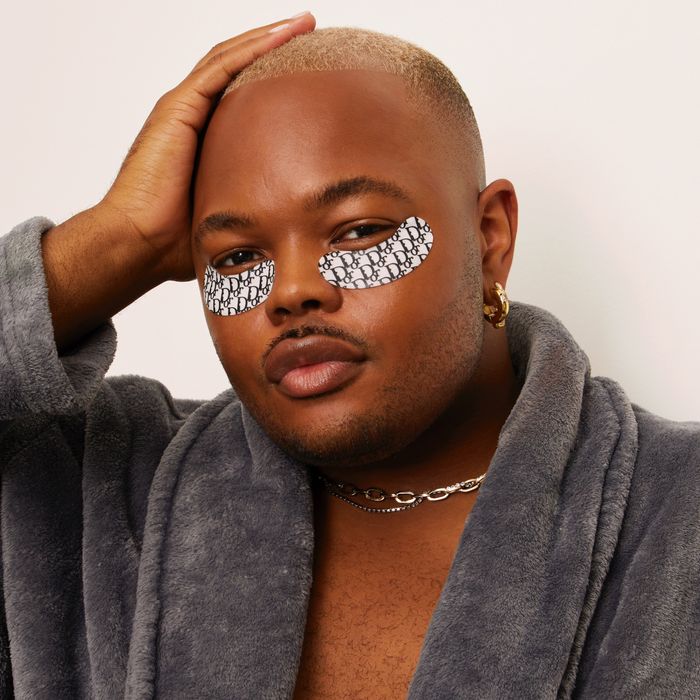 Photo: Tone Woolfe/@tonewoolfe
Baltimore-born esthetician and Dior skin-care expert Sean Garrette spends basically all his time immersed in the world of skin care. On any given day, that can look like testing products, creating educational content, and teaching his 91,000 Instagram followers about all things beauty. Garrette is a proud product maximalist. "I have, like, eight cleansers in rotation right now," he says, confirming that each one serves a different purpose. "When it comes to my skin, I really just don't play."
Before being named ambassador for Dior skin care in April, Garrette had been tapped by Rihanna to work alongside the Fenty Beauty team to help launch Fenty Skin. He was simultaneously an expert content creator, growing a community of beauty enthusiasts and becoming one of the most trusted skin-care authorities in the industry. He graduated from esthetician school in 2018 and uses his skilled hands for facials, which he calls a "holistic experience." He enjoys relieving clients' stress and allowing them to vent about their lives.
When it comes to his own stress, he's still working on managing it. As a perfectionist who is juggling a lot, he's always trying to outdo himself and improve. Wondering what the skin-care aficionado does in his spare time? "I love to cook and take care of my home," he says. Entertaining and feeding guests is the closest thing to stress relief that Garrette knows. He admittedly drinks too much caffeine and enjoys going out. "Sometimes going out, coming home at 7 a.m., and not washing our face is a part of our wellness," he says, laughing. But it's about balance, right?
As a frequent partygoer, Garrette takes both his morning and nighttime routines seriously. He's more of a night owl and dubs his night routine the gold standard of his skin care overall. After he wakes up, checks his phone, and chugs a few cups of coffee, he jumps into his morning routine.
Here is Garrette's morning, post-partying routine:
Garrette likes to be out, so this is what he calls his "morning after, hungover, we had a time last night" routine. On those days, he makes sure he wakes up to an intensive morning routine, and it all starts with a full steam shower before going in with a deep cleanse. His go-to is Dior's Off/On foaming face cleanser. "I love a cleanser that doesn't strip my skin and still gives me a deep cleanse with the moisture and nourishment that I need," he says.
Next, he likes to mask — preferably with something detoxifying. "I love the new Tatcha mask," he says. "It's like a thermal mask that goes on with a clay-like texture, but as you massage it, it warms up." He then jumps in the shower and lets the mask marinate.
After masking, he applies Dior's Super Potent Serum, one of his all-time favorite serums from the line. Garrette calls this an "all-in-one serum," as it's packed with superstar ingredients like niacinamide, vitamin C, and hyaluronic acid. "If you have oily skin, you can use it like a light moisturizer in the summer," he says. "But I have dry, dehydrated skin, so it's a good barrier-repair serum that feels lightweight enough, like a lotion, and I usually apply a thicker moisturizer on top of it."
Alternatively, he loves epi.logic's Master Plan serum, a unique formula of peptides, growth factors, and hyaluronic acid. This serum supports skin's firmness and elasticity. It was created by Dr. Chaneve Jeanniton, a board-certified oculofacial plastic surgeon, whom Garrette sees for cosmetic treatments such as filler.
Next, Garrette goes in with even more moisture: The first is Caudalie's anti-aging Premier Cru. "The brand recently reformulated this — it's such a good cream packed with antioxidants and resveratrol," Garrette says. It's made with TET8 technology, which is said to target aging. According to Garrette, the cream reduces the appearance of fine lines.
The second cream he keeps in his lineup is a cult favorite: Charlotte Tilbury's Magic Cream, a must-have product of Garrette's for years, beloved for the way it plumps the skin like no other.
Garrette is serious about sunscreen. It's vital for everyone — especially those with darker skin tones. His favorite, Supergoop!'s Glowscreen sunscreen, is a clear and weightless formula with SPF 40.
The final step in Garrette's morning routine? An eye serum. He prefers Dior's Capture Totale because of its lightweight texture. "It helps to lift and depuff, then I add eye patches and cryo-roll them." Cryo rolling is a popular process that has many benefits including flushing out toxins and boosting the skin's collagen.
Garrette's elaborate nighttime routine:
In the evenings, Garrette gives his skin the red-carpet treatment and pulls out fancy devices like LED masks. He has tried countless skin-care tools, and his current favorite is the CurrentBody LED Light Therapy Mask. "It's one of the best ones I've tried," Garrette says. LED-light therapy has multiple skin benefits including reducing inflammation, wrinkles, and other signs of aging. When he's at the spa, Garrette uses a professional-grade device. At home, he reaches for this one, because it delivers the same results.
Next, Garrette likes to tighten and lift his skin — especially around the eyes, which he calls a "problem area." He says that his Ziip device makes a noticeable difference: "When I'm using it consistently, which is at least three to four times a week, the skin in my eye area looks so much tighter and more lifted."
Retinol, an ingredient Garrette tests frequently, is a must in his nighttime routine. He has recently turned to Naturium's new retinol serum. "I'm really loving this — I use it about three times a week, and it helps smooth my texture, fight pigmentation, and stimulate elasticity and collagen in the skin," he says.
Mandelic acid is an ingredient Garrette incorporates into his nightly routine for its exfoliating properties. He's a fan of PSA Skin's Heroine exfoliating toner, which has 6 percent mandelic acid as well as lactic acid that, Garrette says, helps brighten his skin.
When Garrette's skin is in need of more active ingredients to help resurface and revitalize, he picks up another favorite: Dr. Dennis Gross daily peels. The BHA and AHA pads are his go-to for a more even skin tone and brighter complexion. "I really like to focus on my barrier-repair routine," he says of his bedtime regimen.
On getting filler:
Garrette hasn't gotten filler since 2020, because it has lasted so long, but now he's ready for a touch-up. His doctor, Dr. Jeanniton, isn't only a plastic surgeon but the founder of beloved skin-care brand epi.logic. Dr. Jeanniton calls Garrette her "problem child," because she has tried to convince him that he doesn't need anything, but the first time he made the choice to get filler was at a pivotal point in his life. "I was running my spa, I had virtual clients, and I was helping develop Fenty Skin," he recounts. "I was just stretched very thin and noticed changes in my skin because of it." He has always been insecure about his eyes, because they're naturally hooded and dark underneath, so his goal was to get a bit more volume. Dr. Jeanniton used a thick filler to build up the volume and added softer hyaluronic filler to help with skin flexibility. She takes a multilevel approach for her clients, which is why Garrette loves her: "She used what's known as the cannula method, so it was less scarring, yet she went deeper into the skin." This needle-alternative method uses a blunt-tip tube that is less painful and allows for more accurate placement of filler, so doctors are able to feel resistance and manipulate it accordingly.
On treating melanated skin:
Garrette's No. 1 rule for darker skin tones is being aware of what products we're using. "It's about inflammation, hyperpigmentation, sunscreen, and barrier repair," he says. Darker skin tones are unique, but treating our skin can be tricky — especially when we incorporate things like lasers. Garrette likes going to Ever/Body spas for the staff's knowledge of darker skin. His biggest piece of advice: "We can have the most flawless skin-care routine, but we have to protect our skin, especially because of our melanin. The No. 1 thing that you can use to fight hyperpigmentation and inflammation is sunscreen. The UV ray causes so much inflammation. When you have darker skin, it holds onto more heat, which is why we can't use certain lasers and go to every spa that is not skilled in darker skin tones. We have to be very careful."
How Garrette defines wellness:
Garrette's approach to wellness comes down to having fun. "Beauty is all about loving on myself, experimenting with different formulations, testing products and seeing how they work," he says. His tip? Don't make skin care feel like a chore, because then you're not going to want to do it.
On mastering the perfect facial:
Garrette's facial philosophy is that it should be a relaxing and transformative time. "It's a transfer of energy," he says. "If you come in having a bad day, I make it my mission to relax you and clear your mind." That's why he makes massages such a big part of his treatment. He equates taking care of the skin to being a skin therapist. It's a form of release. As for treatments, he loves a layered approach. "The biggest thing for me is exfoliation," he says. "I'll do an enzyme, then I'll layer a lactic or mandelic custom peel, add oxygen, LED, and microcurrent. You can really get a deeper treatment in a facial compared to at home."
Garrette's advice for aspiring creators of color in the beauty industry:
Garrette acknowledges that it can be super-frustrating being a Black man in the beauty industry. But his advice to other aspiring creators is to fight and advocate for yourself while finding the right team. On the creative side of things, Garrette says, "Be yourself, unique, engaging, authentic, and have fun. People can tell when you don't like what the hell you're doing!"