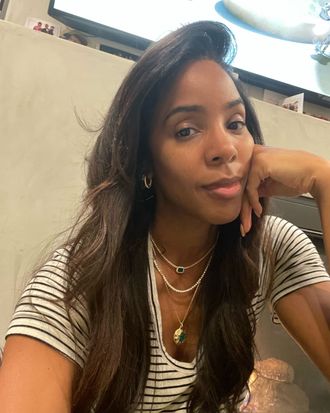 Kelly Rowland prioritizes her peace above all things. The 41-year-old actress, businesswoman, and singer has a gorgeous glow, much of which she credits to living a stress-free life. (Well, mostly.) She doesn't play about her joy at all. "Don't try me," she says when asked about her game face. "Don't try me with my family, don't try me with my career, don't try me with nothing."
Calling her glow effortless may be a stretch. Rowland admits that her skin-care routine is extensive (she uses three different face washes), but she takes pride in it. "I know it's a little excessive," she says, laughing. She also acknowledges that she gets a lot of rest (at least eight hours of sleep every night or she's not a pleasant person) and drinks tons of water.
Rowland is also a mom to two boys, Titan Jewell, 8, and Noah Jon, 1. If she had started having babies earlier, she would have five, she says. She loves all the beautiful, fleeting stages of motherhood (and even got emotional talking about them.)
For the holidays, Rowland is starring in a new film, Fantasy Football, alongside Marsai Martin and Omari Hardwick, in which she plays a mom who … also doesn't play. As she balances mothering her boys with being a wife to her husband, Tim, "who will probably tackle the crap out of you," she still finds time to tend to her skin. Here's how.
Rowland's a.m. routine
She starts with Shani Darden Cleansing Serum. Rowland is loyal to Darden's products and frequents the beloved facialist's Beverly Hills spa for treatments. This cleanser has a lightweight, serumlike texture and moisturizing ingredients like hyaluronic acid and oat-bran extract.
She follows cleansing with a serum, iS Clinical's Active Serum. This fast-acting product is both hydrating and exfoliating thanks to alpha hydroxy acids and natural exfoliants like bilberry extract and sugarcane to brighten and buff away impurities. It smooths and softens the skin.
Rowland switches up her moisturizer based on the season, which we believe in too. Lately, she has been incorporating Shani Darden's Weightless Oil-Free Moisturizer in her morning lineup. It's packed with hyaluronic acid and hydrolyzed collagen to give skin a plumper appearance.
She always finishes with SPF and says Black Girl Sunscreen is simply "incredible." This SPF is beloved by Black women for the radiant glow it leaves behind. Since it's made especially for melanin-rich complexions, you never have to worry about a white cast.
And her excessive p.m. routine
Rowland gets really serious about her skin-care routine at night, when she gets to wind down and pamper herself with lots of products and high-tech tools. "You're going to think I'm a little obsessive," she says, laughing. She more than double cleanses; she has a whole rotation, which starts with another round of her morning cleanser by Shani Darden. Then she goes in with iS Clinical's Cleansing Complex, a retexturizing gel cleanser that unclogs pores while boosting cell turnover.
The final cleanser she uses is from her own dermatologist, Dr. Pearl E. Grimes. Rowland has eczema that usually shows up behind her nose, around her mouth, and between the corners of her eyes. Over-the-counter face washes do the job to deeply cleanse and clarify her skin, while prescription products target her eczema. Rowland doesn't just use her hands or a washcloth, though. She turns to her tools: Therabody's TheraFace device deeply cleanses and performs skin-toning microcurrent therapy and rejuvenating light therapy.
She loves a lift, too (don't we all?), and reaches for Shani Darden's Facial Sculpting Wand, which uses sound-wave technology to give skin a smoother, firmer appearance. "I go up my cheekbones, across my skin and my temples with her wand — it's incredible," Rowland says.
When she's finished with her devices, Rowland goes in with either Shani Darden's Retinol Reform — a celebrity-loved and editor-favorite product — or Darden's Lactic Acid Serum, a gentle exfoliator that contains healthy AHAs to brighten and plump the skin, reduce fine lines, and reveal a brighter complexion.
Last, she locks everything in with even more moisture. Again, her go-to product depends on the time of year, but right now she has been reaching for Augustinus Bader. "Sometimes I use the Rich Cream, and sometimes I just use the Cream," she says. Either way, they make her feel like a brand-new girl. The cult-favorite Rich Cream relieves dry skin while softening it with the brand's unique stem-cell-based formula.
The Cream is similarly formulated and leaves skin with the same plumping effect, yet it's a lot more lightweight. Hence the name, which doesn't include rich.
Another Rowland favorite is Lancer's nourishing cream; she loves the way it balances her skin. The moisturizer leaves the skin dewy while targeting fine lines and wrinkles with its blend of peptides.
On the facial treatment she can't get enough of
Shani Darden's cryotherapy facial increases blood flow to the face by freezing skin while tightening it and giving it a healthy glow. "It feels freezing cold, but it's really awesome," Rowland says. She loves the treatment not only because Darden is so skilled but also because she understands all skin types. "She's at the top of her game because she understands everybody's skin," she says, "and that's what makes her a trailblazer to me."
On individual beauty
"When we try to conform to standards, it just makes things boring," says Rowland, who believes the most beautiful thing is when someone puts their authentic self forward and owns their uniqueness. She has been in the limelight for most of her life, and her beauty has always been an inspiration for Black women. But she had to learn to embrace her individuality as she got older. "When I was younger, I thought the public's perception of beauty was more important than my own," she says. "The older I get, the more I understand and know what I bring to the table as far as my beauty is concerned. But I think that we have to see that for ourselves — the world would be a boring place if everyone looked alike."
On teaching wellness as a mom
Practicing self-care starts early on in Rowland's household. The one thing her 8-year-old, Titan, can't leave the house without? Moisturizer. "That's my big thing. 'Don't you dare leave this house ashy,'" she says. Her family laughs at her for this because Titan always has moisturizer on his face. Rowland is also intentional about teaching him to take care of his body, especially when he comes out of the shower. She even posted affirmations on his mirror that he recites daily: "I am smart, I am creative, I am Black boy joy," Rowland says, naming a few. "It's really important for me to instill these things in my kid, but I want him to talk that way to himself so that if somebody says the opposite, he's like, 'No I'm not because my mirror said I was this.'" For Rowland, it's all about the conditioning of greatness.
On what quiet time looks like for her
Setting intentions is something Rowland does every morning as soon as she wakes up. "I try to have a time where I just pray and think about my day, what my goals are, how I'll make today better than yesterday, and what I won't procrastinate on, and then I'll reflect on why I procrastinated on it to begin with," she says. As a woman, mother, wife, and businessperson, she always has lots of goals, so it's necessary to establish what each of those is at the start of her day. When she's in a busy season or in the middle of filming, she admits that it's hard for her to rest because the days can be very long, but she still makes it happen.
On taking care of her body
"I am just obsessed with moisture," she says, and that includes moisturizing her body. She loves oSea's body oil — arguably one of the best on the market. She has both the regular size and the travel size for when she's on the go. One trick she has is to use oSea's anti-aging Advanced Protection Cream on her body. She believes in using specific products for different body parts. "I'm learning that you have to take just as much care of the rest of your body as you do your skin," she says. "Every body part is so different, from your neck, to your arm, to your bottom, to your legs. Everything needs a different type of product. My team is always like, 'Kelly, we ain't got that much time in the world,' but you gotta find time to take care of yourself and I make that time for myself."