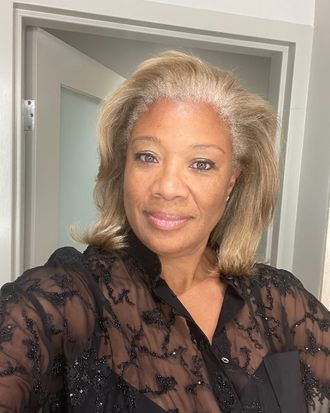 Photo: Courtesy of Dr. Elena
Dr. Elena Jones has spent the past 24 years restoring her clients' skin daily. The board-certified dermatologist has had one noteworthy client whom she first met in his 20s and at 49 years old now has been called "ageless": Pharrell Williams. Over two decades, they've built a relationship, and in November 2020 Williams started Humanrace. He knew he needed Jones's expertise, so she helped formulate his skin-care line — years before the celebrity-skin-care-line epidemic.
Dr. Jones's secret to Pharrell's ageless skin isn't as complicated as you'd think: "You don't need ten steps," she says. Dr. Jones believes in three factors: simplicity, consistency, and efficacious ingredients. "I would not be here if she didn't share her strategies and point of view on skin care with me," Pharrell said on his Naked Beauty podcast earlier this year of Dr. Jones. To him, it was a no-brainer to turn to her expertise when it was time to create Humanrace. "Look at this super-accomplished Black woman who had a dream and is really living it … she has to be celebrated at all points of this," he said. Dr. Jones recalls the initial conversations about Humanrace, which she and Williams began discussing about five years ago. He didn't want to put his name on a product that already existed — so they got to work on their own journey.
As a mom and dermatologist with a robust and busy clientele, Dr. Jones is all about efficiency and using her time wisely, which doesn't include lathering on a handful of serums and face masks. Instead, she'd much rather take that time for herself and trust that what she's using on her skin is going to work, even if it's just a two-step routine consisting of a cleanser and moisturizing sunscreen. Dr. Jones's profession is in skin care, so while many may turn to skin care as their self-care routine and use a ton of products, she does quite the opposite. Instead, she practices stillness and meditation throughout her day, which comes in many different forms. Sometimes it looks like listening to music in her car while she's sitting in traffic; other times it's taking a seven-mile walk from her house to do a bit of retail therapy at TJ Maxx. She also finds joy in traveling when she has the time. Her ideal destination? A pristine beach with white sand.
Here, Dr. Jones's two-step skin-care routine
Dr. Jones has always been keen on incorporating exfoliation into her routine, so she starts her mornings with Humanrace's rice-powder cleanser, a gentle powder-to-foam exfoliant that detoxifies the skin while boosting hydration. "The mushroom extract in it leaves my skin really moisturized," she says. Mushroom extract is becoming a popular ingredient in skin care because of its nourishing properties. Dr. Jones rinses the cleanser off her face with lukewarm water and pats her face dry with cotton flat-leaf towels that she found in South Africa. "They're soft and super-absorbent but not dry or rough on the skin," she says.
Most of the time, Dr. Jones keeps her morning routine to two key steps and jumps straight into moisturizing post-cleansing because her schedule doesn't allow for an elaborate routine, which simply isn't her thing. "I'm really not a big serum person, but if I'm being good to myself, I'll put on a vitamin-C serum," she says. This Isdin antioxidant vitamin C is her go-to on those days: a blend of vitamin C and hyaluronic acid that restores brightness and nourishment to the skin. "It's a higher percentage of vitamin C, and it gives me a bit of a glow," Dr. Jones adds.
Most days, she just lathers on sunscreen after cleansing her skin. She likes to go in with the Humanrace sunscreen, which doubles as a moisturizer. She prides herself and the brand's team on working really hard to perfect the formulation of this mineral sunscreen. The SPF 30 sunscreen contains snow-mushroom extract, which leaves the skin bouncy and hydrated. It's also made with blue-light protection, which is vital as so many people sit in front of phones and computers all day. Dr. Jones takes sunscreen seriously. In fact, one common issue she sees in her practice is patients with skin of color not wearing sunscreen. "We definitely get skin cancers," she explains. "As with everything and all disparities in health care, sadly people of color don't do well with melanomas. We are not surviving at the same rate that white patients are. We're being diagnosed at the latest stages. With all these health disparities, we have to take care of ourselves, which starts with something as simple as applying sunscreen every day."
Dr. Jones's go-to moisturizer, if she's layering it under her SPF, is Humanrace's humidifying cream: a cushiony moisturizer with snow-mushroom extract and tiger-leaf extract that soothes the skin, reduces irritation, and calms inflammation to reveal a nourished complexion.
Dr. Jones prioritizes retinol for her PM routine
She washes her face again nightly before she treats her skin with one of her favorite ingredients: retinoids. "As a woman of a certain age, the collagen in my skin is not producing as quickly as younger skin, and retinoids help skin renewal occur more rapidly," she says. Dr. Jones uses a prescription retinoid, Altreno, a lotion mostly used for adult acne, but Dr. Jones loves it because it's made with hyaluronic acid. "It's a potent moisturizer, but the hyaluronic makes it a little less irritating," she says, adding that you don't need to use a lot because of how powerful it is.
If she doesn't use that retinoid, she uses Isdin's three-in-one night serum made with bakuchiol, the natural alternative to retinol. Dr. Jones loves this plant-derived ingredient especially because it's safe for all skin types and has the same benefits as retinoids, like reducing the appearance of fine lines, wrinkles, and hyperpigmentation.
In the spirit of keeping it simple, Dr. Jones sticks to the basics. She loves CeraVe's healing ointment, a product that's beloved by Twitter's skin-care community because of its affordable price and results. The blended ointment is full of ceramides, which soothe dry skin and help to retain moisture.
On taking her sleep seriously
Dr. Jones is a firm believer in getting at least eight hours of sleep every night, and there are sleep factors that she's very analytical about, including having the right sleep conditions. "The temperature in your room should be right. For me, it really should be about 68 degrees, if not a little bit lower, and it has to be minimal or dull lighting," she says.
On her skin-care unpopular opinion
Dr. Jones is not a fan of any exfoliators with huge particles (like Ole Henriksen's transforming walnut scrub and Kylie Skin's walnut scrub) that can irritate the skin. "I've never been a fan; I've seen them cause microtears to the skin," she says. Dr. Jones adds that she's also seen abrasions on patients' skin from rubbing too hard with a washcloth or towel. Her solution? Keep it simple and use your hands.
On treating her hair just as good as her skin
Hair is just as important to Dr. Jones as skin. She sees excessive hair loss in her practice, which she chalks up to seeing clients do too much. She jokingly says that her own hair is "fried, dyed, and flip blade to the side." Her honey-blonde tresses need just as much moisture as her skin does. "I don't use heat — I use steam from the shower and minimal manipulation." The one daily product she does use in her hair is oil, specifically Moroccanoil's oil treatment, an argan-infused oil that boosts shine and improves the softness of hair. "It just works for me," she says. Dr. Jones's hair mantra is just as it is for skin and anything else: "Be simple. Simplify your life and you'll make everything easier."
On innovative treatments she's excited about
Cosmetic treatments like Botox and filler are less of a taboo these days for Dr. Jones. One of the newest treatments she's acquired is an ultrasound technology called Sofwave, a treatment that uses ultrasound waves to tighten the skin and lift the eyebrows, jaw, and neck without having to use Botox or filler. "I love the fact that this procedure is noninvasive," Dr. Jones says, adding that she thinks it's a great way to boost your skin care.
On Humanrace and two decades of treating Pharrell's skin
Dr. Jones thinks back to when Pharrell first came to see her, which was when he was in his 20s and surprisingly serious about his skin care. "I was impressed with this young man coming in for a routine," she recalls. "He wanted a routine and was going to stick with it." Now she loves seeing even more men get into skin care, including her 14-year-old son. "The world is becoming more fluid and nonconforming now, right? Why not skin care, too?"