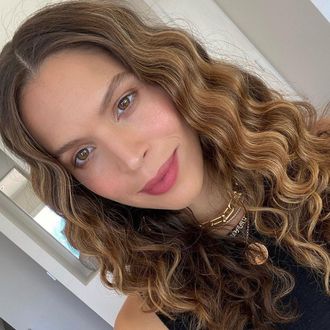 Photo: @cleowade/Instagram
"Love yourself enough to walk into only the rooms and situations that show care and love for you," writes poet and best-selling author Cleo Wade in her book Heart Talk. The activist, whose chosen art form is poetry, is often praised for written words that foster a growing community of fans and Instagram followers. Her work is rooted in community and is meant to provide a safe space to her readers. She hopes her work helps her readers embrace self-love, however that may look to them.
And self-love for Wade means allowing her body to relax. That translates to her skin care:  "Love your skin enough to take care of it," Wade says. For her, that means keeping it simple, sometimes only splashing water on her face in the morning, because she likes to let her skin breathe. "I don't do a ton of fancy stuff. Every now and then, I'll try something extra, like an exfoliator, but I'm extremely basic," she says. Wade has never been someone who spends a lot of time on her skin, but she believes in allowing your body to relax in order to have healthy skin. "You cannot have good skin if you don't calm down," she says. "You have to relax." She mentions that she has rosacea, a skin condition that causes redness and a flushed face because of visible blood vessels in the skin. She had flare-ups when she was pregnant but knows they come and go.
While her skin-care routine isn't elaborate, she still manages to have some structure in her morning even with two kids. Wade wakes up around 7 a.m. every morning and drinks something warm, usually water and green supplements. She typically doesn't have her first coffee until 9 a.m. (in the midst of getting her kids fed and dressed, of course), but she tries to hold out until 11 a.m. to have her caffeine and then cut it off for the rest of the day. Then she starts her simple regimen of splashing water on her face and applying Burt's Bees lip balm, a product she credits for getting her through high school, her 20s as a single girl in New York City, and now into her 30s as a mom of two. (She loves the brand so much she even has her own collection with them, featuring festive balms and pampering face masks.) But she dibbles and dabbles in moisturizing masks only every now and then; any product she reaches for is more of an occurrence than a daily practice.
Here are Wade's occasional skin-care products:
If she is going to cleanse her skin with anything, the rule is that the product has to be gentle. She really likes Biologique Recherche's Lait U Botanical Milk Cleanser because of how mild the formula is and how soft it makes her skin feel. This cleanser has a milky texture made with hazelnut oil to remove oils and impurities without stripping the skin of any natural nourishment.
The softer the product, the better for Wade, who loves Isla Beauty's Snow Scrub Exfoliator. She considers exfoliation one of the "fancier" parts of skin care, and during the cold months, she turns to this vitamin-rich exfoliator. The fluffy exfoliant brings Wade's skin back to life during harsh winters. With a blend of ingredients, including 5 percent glycerin, this scrub not only hydrates the skin but also improves and provides protection to the outer skin barrier.
While Wade doesn't shop for products often, there's one thing she must use everyday: vitamin C. She turns to one of two serums: True Botanicals' Vitamin C Booster or the Goop Glow serum. When she uses the True Botanicals powder blend — which is formulated with ferulic acid, an anti-inflammatory ingredient that targets discoloration — she usually blends it with Burt's Bees' day lotion, an SPF-infused moisturizer that improves the skin's firmness.
When Wade uses Glow Goop, she uses it alone. The daily glow serum includes 20 percent L-ascorbic acid (a.k.a. vitamin C) and hyaluronic acid.
In addition to vitamin C, Wade loves face mists. She uses them especially in the summer but also just as a pick-me-up spritz while sitting at her writing desk. Her facial mists are propped up right next to her lip balms. She loves Dr. Barbara Sturm's mist, a hyaluronic acid–based mist that boosts and soothes the skin with actives such as prickly pear.
When she's not dousing her skin in her Dr. Barbara Sturm mist, she opts for 100 percent rose water, which is famous for its anti-inflammatory properties. Rose water can reduce redness and puffiness in the skin, so it's ideal for calming her rosacea.
And because SPF is so important, Wade opts for Dr. Barbara Sturm's Sun Drops with SPF 50. Not only does it provide sun protection, but it's also moisturizing with hyaluronic acid and protects the skin from aging with ingredients such as cassia extract.
Wade's rosacea was very active when she was pregnant, so much so that she could barely wear makeup. "If I wore makeup, I would spend the next two days with a rash," she says. She heals her flare-ups by steaming her face, which restores natural moisture in the skin.
On the one product every mom needs
"Sleep," Wade says. "I incorporate sleep into how I view everything. If I'm thinking about my workday, I'll think about how much I slept as a part of that workday," she says. Wade always needs at least nine hours of sleep to feel high functioning. Ten is a dream that she tries to get in sometimes. "I'm always like, Beyoncé just must sleep ten hours a night, and that's why she's her," Wade laughs. While she hates to brag about it, her kids sleep pretty late, so she normally gets those coveted nine hours. She looks at sleep as a part of her being a good friend, daughter, mom, and everything else in the world that's important to her. And, of course, it helps with her skin. "When you sleep, your skin is ten times better," she says.
On establishing boundaries as a writer
Wade views her writing as she treats her skin care: "Just show up" is her mantra. What does showing up look like while writing? Not opening apps or secretly shopping a Net-a-Porter sale when she's in the zone. "I think a lot of where we get overwhelmed or feel like we don't have time to do things is in trying to do too many things at once. You can only do something well if you do one thing at a time. And you can only do something efficiently if you do one thing at a time." There's a "myth of multitasking" she says, which drives her crazy. When she's with her kids, she's with her kids; when she's writing, she writes; and when she takes time for herself, she does so guilt free. This is how she masters the art of balancing and boundaries. "I enjoy my 30 minutes to myself because it could be the only 30 minutes I have alone with my thoughts where I'm not either having to get something done or finish something. I really bask in those moments."
On loving your skin
"Skin is your largest organ, and for many of us, it's the biggest identifier and separator for who we are in the world. It's worthy of a lot of care and pride because I think all of our skin journeys say so much about who we are and our ancestry."
On beauty affirmations
Wade is keen on people using tools that work for them: "Any tool that helps anybody love themselves more deeply is a worthy tool to have. I think that if a beauty affirmation is going to help you know that love of yourself is your birthright, then it's a worthy tool to use," Wade says. One thing she has done is focus on loving a part of herself she's struggling with, especially postpartum. "You've got to fake it until you make it," she says. She remembers not being able to connect with her normal way of loving herself because she felt so different, and the best advice she can give to anyone on their hardest day is just to love yourself through it. "You have to be a drill sergeant almost and tell yourself, I'm going to love you to the other side of this."