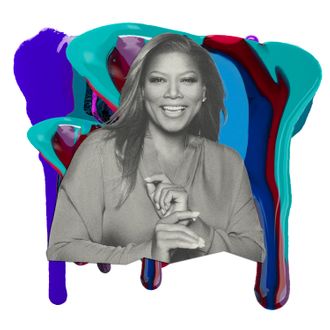 Illustration: The Cut; Photo: Courtesy of Queen Latifah
Queen Latifah is a 20-year CoverGirl ambassador, three-time author, Academy Award–nominated actor, Grammy winner, and producer — and she does it all rather excellently, we might add. Right now, she's laser-focused on helping small businesses grow. "I've been a small business, and I know how hard it can be to keep the lights on sometimes," she says. "I can relate to how difficult it can be as someone who started out as a young entrepreneur." That's why she's making time in her busy schedule that includes filming her hit television show, The Equalizer, and executive producing two forthcoming projects to partner with Lenovo on its Evolve Small Initiative. "Small businesses are the lifeblood of this country, and there's nothing like having a relationship with the people who run the businesses in your community," Queen Latifah says. So she's working with the company to provide entrepreneurs with financial and technological resources as well as personalized mentorship sessions. It's all in a day's work for the Grammy- and Emmy-winner.
Longevity is the word that comes to mind when thinking about Queen Latifah and her career, which has spanned more than three decades. From releasing her first single, "Wrath of My Madness," in 1988 to starring in the cult-classic sitcom Living Single in the '90s to winning a Golden Globe for her role in Life Support in 2008, her reign is showing no signs of slowing down. But at this stage in her evolution, she's making sure she rests and takes care of herself as much as she takes on professional challenges. On a Friday afternoon, while in her hometown of Newark, New Jersey, Queen Latifah took some time to share with us how she gets it done.
On her morning routine: 
I am not a morning person. I never have been, and I don't think I ever will be. It may have been all those years being a rap artist and having to perform at clubs at a moment's notice — including staying up really late. I'm a night owl. When we're on set filming at 7 p.m., that's when I turn on. Everyone else is ready to pass out, but I'm hyped.
I'm spoiled, because my mother woke me up very gently when I was growing up. I don't like the alarm blaring or phone calls waking me. Earlier in my career, when I had assistants who would wake me up in a frantic way like the building was on fire, I didn't respond well to that. I don't want to be in fight-or-flight for no reason. I like to get up, sit still for a moment, and breathe deeply. I put on something soothing or that has positive lyrics, so I can wake up feeling good even if I haven't had a lot of sleep. No matter how I'm feeling, I like to be aware of my body. Then I'll get a cup of coffee or tea with no sugar to get me going, and I won't eat until lunchtime. Fennel, hibiscus, and chai are my favorite tea flavors. I also drink a lot of water. Then I'm on my way. I don't like to overritualize.
On how she chooses her projects:
I choose projects that I feel passionate about. I have other things going on in my life, so to take time away from my personal endeavors, it has to be worth it. It has to be something I love or that's giving me the chance to work with people I admire and respect. Or it could involve me doing something I haven't done before. It can't just be about money, and it never really was for me. I have to be challenged in some way. If it's just going to be a lot of fun, that works too. Because fun is important.
On '90s nostalgia:
I think it's great and so cool that Gen Z is rediscovering the '90s and my work from that time — including Living Single. We put so much effort into being creative, and I think Gen Z does that as well, so they connect with being imaginative and coming up with new things. People are building their own brands and defining their own identities, which was important to us in the '90s. With hip-hop being a burgeoning form of music, we just had to prove it wasn't a fad first. We knew it wasn't, but we had to prove that to the world. It's inspiring to young people to see how we hustled, and it gives them something to look back to, because we were teenagers and in our early 20s when we made it happen.
On resilience:
Anyone who thinks my achievements have come without bumps, bruises, and scars along the way would be highly mistaken. It's just not possible. I work really hard, and fame is something to adjust to. I just wanted to get a record on the radio at first, and I did that. Then I wanted to open up a business and manage my friends with my partner and my mom, and I did that. Then it was all about asking myself what the next goal was. Conquering your fears and naysayers are a constant. Quieting those fears enough to take the leap every time was hard, and sometimes, I took leaps into things that people had never done before. There's a point at which your desire to achieve your goals has to be more powerful than your fears. I know a lot of people who have a lot of talent and a lot they're capable of, but they won't take that step. They have a fear of failure, fear of being embarrassed, fear of speaking publicly, and they get blocked by those fears, so they can't move forward. You have to learn how to fall on your face and get back up, because it builds your perseverance and lets you know you'll be okay even if you fail. Once you've gotten comfortable with that, you can do what you want. But some people don't even get out the starting blocks, and it's a sad thing to see.
On the power of saying no:
I used to say yes to everything, because I thought everything would be over if I didn't. But I realized that was too much for me — too much pressure. So at one point, I just said, "Screw it," and I would go to where my brother is buried, and I'd sit next to his grave where no one could find me. I wouldn't call anyone, answer any phone calls, or respond to any texts. I would call my mom and tell her that I'm not speaking to anyone, and I'd cancel my interviews and anything else on my schedule. I was under such pressure at that point, and I realized that's not the right approach. When I say, "I'm tired, and I can't do it," everyone around me is going to need to learn how to hear me, because I'm not superhuman.
I've learned that self-care is really important. For me, that includes getting massages and taking a bath to let myself soak for a moment. And these things work the same way when you're younger. The earlier you learn about self-care, the better. And that it's okay to ask for help.
On staying young no matter her age:
I never stop dreaming or turn my mind off. I always stay open, and I pray to stay that way so I can learn new things and stay fresh. I love to listen to new records, and I never want to approach that process by saying, "What are those kids talking about?" A couple of my friends think these kids are not hustling like we hustled, and I tell them they sound old. They're in their 50s, and they're saying the same thing the older generation said to us when we were young. I want to be 90 years old, still feeling like I can connect to the youth. I want to stay open to learning from them and to seeing what they're doing. Everyone has their own lingo, and we have to catch up. The rapper in me thinks some of the ways they put things together are kind of fly. At some point, we'll be following their lead.
On the myth of work-life balance:
Balance is a target that's constantly moving. I don't chase balance, because there's no one way of doing things that always works for me. Life is constantly changing, so I have to stay loose to be prepared for whatever there is to come.
On enjoying her success:
I've started following the advice of my friends abroad who take a month off in the summer. Once I started doing that, I decided I was never going back to working year-round again.
That month-off life is the life we all deserve, because regeneration is important. That time is precious, and everlasting memories are created. You just have to take it. It won't be given to you otherwise, because companies can never make enough money. There are never enough hours of the day for work, but that isn't what life is about for me. Life is about living and not just making money. Part of it is accomplishing the goals that allow me to earn, but what is it all for if you're not spending it with the people you care about? What's it all for if you can't share it with them?
On looking forward to retirement:
There's a big, beautiful world out there, and I don't want to be the person who doesn't know how to live without work. I'm going to travel the world and spend more time with my family. We're going places and doing things, and it doesn't have to cost a lot of money. We'll rent a Winnebago and park by some beach. There's a lot of beauty to see, and I have a lot of family members I don't get to see enough, so there's a lot to do.
This interview has been edited and condensed for length and clarity.