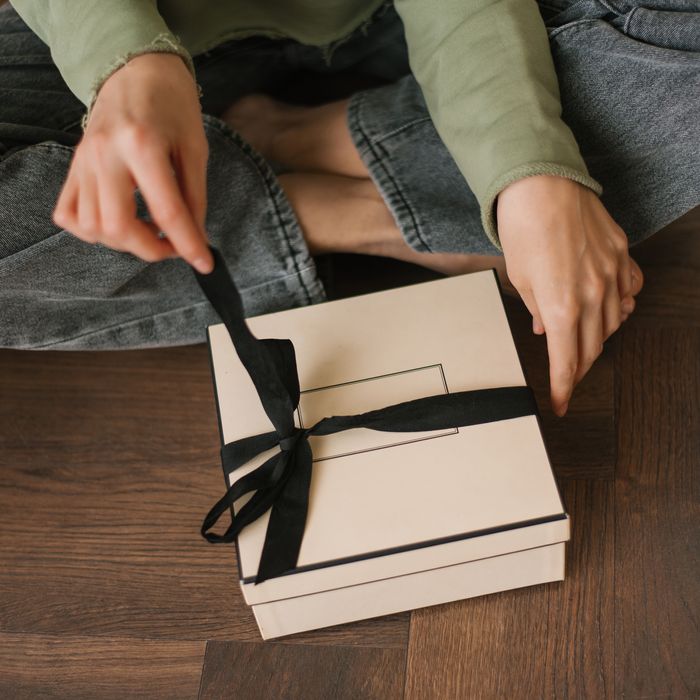 Photo: Shutterstock / Chamomile_Olya
It's a truth universally acknowledged that both good and bad gifts exist in the world. But it's the latter we're all hoping to avoid. Even the best intentions can go awry, especially during the holiday season, but that doesn't make giving (or getting) the perfect gift impossible. Here, three anonymous gifters and giftees share their holiday gifting grievances in search of sound advice. 
Dear Pinterest,
My grandfather is a beloved guy. He's been a teacher at the local middle school for over 30 years and everyone loves him. Because he's so popular, it's not uncommon for some of his students (by proxy, their parents) to give him gifts around the holiday season. One year, he must've received a ceramic ornament that read, "Best Teacher Ever!" I say "must've" because, that same year, my grandfather gave that exact ornament to me. I'm an optometrist. How can I show him that he's better than regifting?
Teacher v. Optometrist 
Dear Teacher v. Optometrist,
We hear you: You need a gift that screams, "I get you!" Redirect grandpa away from his unwanted gifts and toward your Pinterest boards instead. It's the easiest way to share the passions that inspire you and, by extension, the gifts you actually want. Planning a trip in the new year? Show him the board you've been building to inspire your upcoming vacation. Backpacking the Tetons. Camping in the Rockies. Beautiful? Yes. But we bet aesthetically-pleasing landscape photos aren't the only thing occupying those boards. Now that you think of it, you could use a new pair of hiking boots.
Yours truly,
Pinterest
Dear Pinterest,
My fiancé has returned almost every gift I've given him. Last year, it was a vacuum. The year before that, it was a bathrobe. And the year before that, it was a gift card. He told me, while all perfectly decent gifts, each one felt like it could've been for a stranger. (In my defense, the gift card was during our first year of dating.) Between his Friday night book club and monthly dinner parties, I think I have enough ideas, but don't know how to get the search started. Can I get an assist?
Needs to Get a Clue Before the Wedding Day
Dear Needs to Get a Clue,
Your fiancé isn't wrong; we've seen those gifts a hundred times. They're good, but you can do better. You mentioned he has hobbies; he's a bibliophile and loves playing host. So, use what you know to search for the perfect gift on Pinterest. Not entirely sure if he's jumped ship from Le Creuset to Our Place? Pinterest searches don't need to be overly specific, so you can easily find something up his alley even if you only know a few keywords. When in doubt: A simple search for "cute book lover gifts" will get you far, believe us. No gift receipt required.
Yours truly,
Pinterest
Dear Pinterest,
My department does a team-wide Secret Santa every year. While I'm great at keeping secrets, my office BFF has a horrible poker face, so I knew she chose me the second she slyly peeked at the name on the slip of paper she pulled out of the hat. No one could've been more prepared to get me the perfect gift — or so I thought. Turns out, she's a procrastinator of the highest order. My gift: A jar of jam. Based on the 2021 expiration date, I'm pretty sure it came from the back of her cupboard (I wish I was joking). This year, she owes me. How can I help her get it right and in a timely manner?
Not Another Jam Christmas
Dear Not Another Jam Christmas,
Jam is a great pantry staple, but not a Secret Santa gift. If it had been homemade jam… nevermind, not important. What is important: Your perfect gift. Clue her in with a Pinterest board. She may not be an arbiter of time management, but a board makes gift giving easy — even for procrastinators. If her inbox is overflowing with Q4 emails, consider "accidentally" leaving a board open in a tab on her laptop — it'll be hard to miss. Whether it's one dedicated to your apartment greenhouse ("What to Expect When You're Expecting Plant Babies") or your new kitten ("Purrrfect Pet Essentials"), she'll discover the right gift for you — even in the eleventh hour.
Yours truly,
Pinterest
This advertising content was produced in collaboration between Vox Creative and our sponsor, without involvement from Vox Media editorial staff.