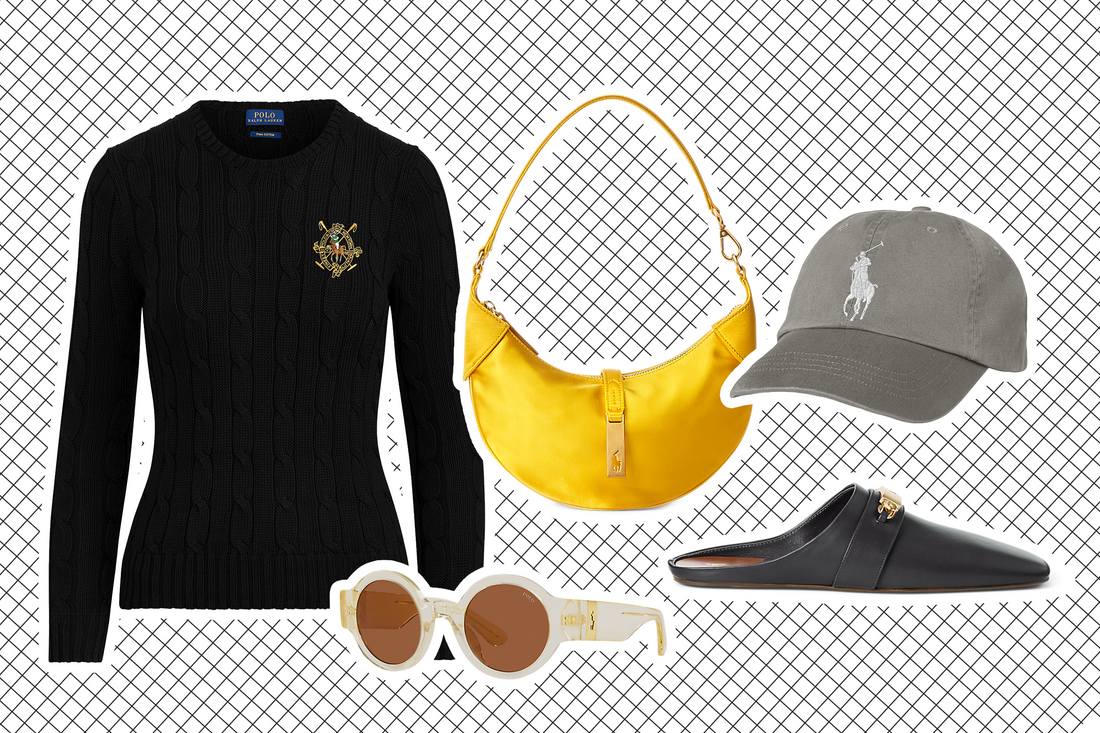 With the most anticipated events and get-togethers right around the corner, the time to curate a feel-good holiday wardrobe is now. Whether you're attending a glitzy cocktail party or throwing a low-key potluck, the best way to make your mark this season is to own your individuality. Because the hottest holiday trend this year isn't feathers, sequins, or crushed velvet — it's confidence.
Nothing makes more of a statement than adding your own personal touch to an item. With the Create Your Own shop at Ralph Lauren, you can customize all sorts of things from puffer jackets to baseball caps to sweaters. You pick the colors, the embroidery, the material, and the logo for a look that's completely unique and completely you.
DJ, music producer, podcaster, and philanthropist Lauren Abedini, better known as KITTENS, strongly believes in prioritizing confidence and letting her originality shine through every time she gets dressed, which is why some of her favorite holiday pieces this year are the ones she customized from Ralph Lauren herself to wear across a variety of events.
"There's always an extra element of luxury and coziness with holiday fashion that I love," KITTENS tells The Cut. "Being able to personalize such tiny details on staple pieces is so special. I'm also really sentimental so I love customizing pieces I can attach memories to for years to come."
The Trend-Forward Friendsgiving
KITTENS describes her style as a balancing act. "I'm always pairing masculine pieces with feminine ones; oversized items with more fitted ones," she says. Above all, she keeps comfort at the forefront of her mind. "Feeling comfortable is definitely the vibe at a friendsgiving," KITTENS says. "But of course you want to look really cool and elevated, too."
This look is exactly what KITTENS has in mind when she thinks of going to a friend's dinner party. She built it around the tank and shrug sweater and designed a custom baseball cap to give the outfit a fun, sporty feel. "I thought the gray color would pair well with the sneakers, and then I added white embroidery with my initials on the back — LA — which also happens to stand for my city of Los Angeles."
1) Create Your Own Cotton Chino Baseball Cap, $49.50; 2) Polo ID Satin Mini Shoulder Bag, $498; 3) Cable-Knit Wool-Cashmere Shrug, $298; 4) Cable-Knit Wool-Cashmere Bralette, $128; 5) Logo Tech Sneaker, $298; 6) Satin Wide-Leg Pant, $348
The Cozy Gift Exchange
Big knit energy is real, and wrapping yourself in a cable-knit sweater guarantees warm and cozy vibes during a relaxed get-together. "It's important for me to prioritize styling that makes me feel confident in my identity and body," KITTENS says. "If I feel uncomfortable, that energy ruins the entire outfit for me."
This classic cashmere-blend sweater provides KITTENS with that soft, comforting feeling she loves, while the leather pants give the entire look a fashion-forward edge. For her, it's the perfect outfit for a friend's gift exchange or for making her holiday rounds — hence the jacket to keep her warm on the go.
"A classic puffer jacket is always necessary this time of year (yes, even in LA!)," KITTENS says. She customized this one (which is available in hundreds of combinations) to make it feel more fun than just a plain black option. She wanted a cropped style, one that incorporated black but also had an extra element to it. "I added that little block of cream at the bottom to break things up," she says. "Any chance I get to add some gold sparkle to something, I will, so I put the Polo pony on the sleeve in gold."
1) Custom Outerwear, Made to Order, $298; 2) Cable-Knit Wool-Cashmere V-Neck Sweater, $498; 3. Leather Legging, $998; 4) Round Sunglasses, $149; 5) Grayson Calf-Suede Zip Sneaker, $248
The Statement-Making Soiree
KITTENS believes that your outfit sets the tone for your energy. So when she's getting dressed for a big night out, she makes sure to select items that empower and inspire her. "Fashion is an extension of my inner self and feelings more than anything," she says. "It gives me a chance to express or alter how I'm feeling every single day, which is really powerful."
This outfit is her ideal show-stopping look for a special holiday party. "The leather blazer and cut of these pants is just to-die-for," she says. "I feel like they'd be flattering on every body type; the perfect outfit for people who want to feel sexy in something that's not a dress."
To make this look really feel like her own, she customized the cropped polo by adding a gold crest to the top of it. That way, if she wants to take the jacket off at any point, her outfit still has a touch of glam.
1) Create Your Own Polo Shirt, $130; 2) Double-Breasted Lambskin Blazer, $1,298; 3) Pleated Wool Wide-Leg Tuxedo Pant, $398; 4) Metallic Calfskin Knotted Sandal, $398; 5) Polo ID Suede Envelope Bag, $598
The Polished Work Party
KITTENS's best style advice is to ignore the trends and wear whatever makes you feel the most like you. "There's always a pressure (especially with social media) to dress or present yourself in certain ways," she says. "But nothing is more stylish than someone who's authentic."
Choosing an outfit for a work party can feel especially intimidating because you most likely want to impress whoever's there. Keeping comfort in mind, KITTENS styled this outfit for a solid night of socializing — note the flats instead of heels. She went for an effortless vibe that's still very sharp.
"The knit sweater paired with this cut of tuxedo pants feels really modern and chic," she says. "A black sweater like this is super versatile, which I love, but to make it feel more like me, I added that crest stitching. The stitching gives the sweater a little something extra to make it feel more festive, which is perfect for the holidays."
1) Custom Crewneck Sweater, $198; 2) Polo ID Suede Envelope Bag, $598; 3) Polo ID Lambskin Mule, $428; 4) Knit Cotton Oxford Shirt, $98.50; 5) Pleated Wool Wide-Leg Tuxedo Pant, $398
*To receive custom outerwear items by Friday, December 23, 2022, please order by November 28th. All other custom orders must be ordered by Friday, December 16th, 2022
This advertising content was produced in collaboration between Vox Creative and our sponsor, without involvement from Vox Media editorial staff.