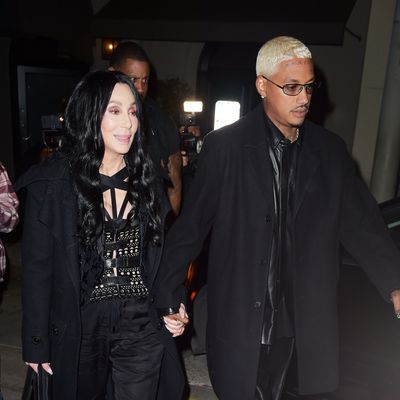 Photo: zerojack/Star Max/GC Images
Temperatures are dropping and respiratory infections are spreading, meaning one thing — cuffing season is back. And some recent reports have me wondering, Will Cher be participating? After multiple outlets published photos of the icon looking cozy with music producer Alexander Edwards, one can't help but wonder. And her recent Twitter activity seems to suggest she's getting ready to spend the colder months bundled up with her new man.
Rumors of a romance began after Cher, 76, was photographed going to dinner with Edwards, 36, and rapper Tyga at Craig's in West Hollywood last week. Possibly a trio of platonic buddies, but then, TMZ reported that Edwards left the restaurant to escort Cher in and has pictures of the two holding hands as they went inside. The group is said to have had "more fun" at the Nice Guy after dinner, after which Edwards and Cher got into a car together, with Edwards pictured kissing Cher's hand in the back seat. TMZ also claimed this trio all "spent time together" at Cher's Malibu mansion the week before. Hmmm!
After the photos went viral, Cher confirmed the romance on Twitter, first by hosting an impromptu Q&A session with fans. When a fan noted that she had "a new boyfriendddd," Cher answered in the affirmative. Others immediately congratulated her on dating a younger man, pointing out their 40-year age difference. "LOVE DOESN'T KNOW MATH, IT SEES [heart emojis]," Cher replied.
A day later, she posted a very pixelated image of her new man, writing, "Alexander [heart emoji]." In a follow-up tweet, she added, "That was Then,This is now [sic]." I honestly have no idea what that means, but the pop icon didn't stop there, essentially deciding to host a Twitter AMA ("ask me anything") on her love life. Cher confirmed that she and Edwards met at Paris Fashion Week (presumably in October), that he treats her "like a [queen]," and that "everyone" in her family has met him.
Cher's confirmation of the relationship also came with a fair share of people doubting Edwards's intentions, with some worrying that he could be trying to take advantage of her. Cher did not respond kindly to these less-than-helpful concerns, telling one fan, "As we All Know … I WASNT BORN YESTERDAY,& What I Know For Sure … There Are No Guarantees. Anytime you make a Choice You Take a Chance. I've Always Taken Chances … It's WHO I Am." When someone else noted that Edwards might be a "player," Cher said that she was "IN [heart emoji] NOT BLINDED BY IT." Despite her initial openness about her relationship, Cher quickly seemed to grow tired of fans criticizing her new beau. She's now encouraging fans to vote in the midterm elections.
Cher was last linked to former Hell's Angel Tim Medvetz, whom she reportedly dated on and off until the two separated in 2013. Previously, Edwards was in a relationship with model Amber Rose, with whom he shares a son, 2-year-old Slash Electric Alexander Edwards. Last year, Rose publicly accused Edwards of cheating on her with at least 12 different people. Edwards admitted to the accusations on Instagram Live: "I thought, shit, I got caught," he said. "I love [Rose], though. That's like, my best friend, the mother of my son … But I like women." I can't say I like that energy for our legendary queen, but, as she's made clear, Cher can take care of herself.
This post has been updated.