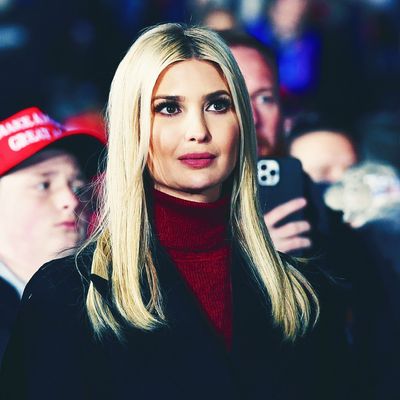 She plans to support her father in a nonpolitical fashion.
Photo: Mandel Ngan/AFP via Getty Images
Donald Trump is re-running for president in 2024, a concept I don't think deserves more space than those eight words. No surprises in this decision. But! What is maybe more interesting to you than the prospect of renewed Trump rule is the prospect of renewed Trump family drama, and there will almost certainly be some of that going around today. Mere hours after her dad's Tuesday night announcement, the former First Daughter — absent from Mar-a-Lago as Trump made his rambling remarks — posted a statement to her Instagram Stories:
I love my father very much.




This time around, I am choosing to prioritize my young children and the private life we are creating together as a family.




I do not plan to be involved in politics. While I will always love and support my father, going forward I will do so outside the political arena.




I am grateful to have had the honor of serving the American people and I will always be proud of many of our Administration's accomplishments.
Many, but not all? What might she be referring to there, forcing her Secret Service agents to go way out of their way to find bathrooms at taxpayers' expense? What about all that late-2020 buzz about Ivanka gearing up for a political career? What about her once-rumored desire to eventually become the "first female president"?
According to assorted unnamed sources, Ivanka and the haunted doll to whom she is wed, Jared Kushner, have been working to distance themselves from Trump's political realm — despite his repeated pleas for their backing. Jared and Ivanka also gave damaging testimony to the January 6 committee over the summer, taking care to emphasize that they personally accepted the results of the 2020 election. So there's the Capitol insurrection potentially coming between dad and daughter, and then there is the assertion by a New York Post "insider" that Jared and Ivanka "both feel they got burned in Washington and don't want to go back and expose themselves and their children to another bitter campaign." After Trump left office, Ivanka reportedly found herself iced out by old friends, fashion brands, and even museum boards in New York City, because — as one former pal put it — "everyone with self-respect, a career, morals, respect for democracy, or who doesn't want their friends to shame them both in private and public will steer clear." She and Jared ultimately moved to New Jersey.
And so, for whatever combination of personal reasons, Ivanka — like Fox News owner Rupert Murdoch and much of Trump's own party — would prefer not to participate this time around. Arguably the one smart call she's made since 2015.