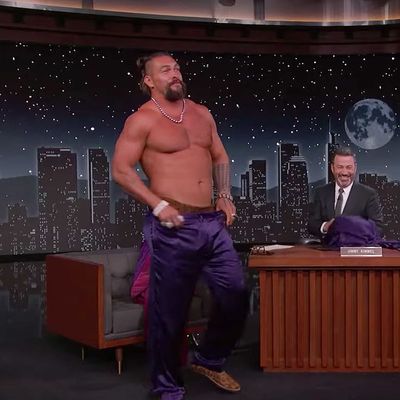 Photo: Jimmy Kimmel Live/Youtube
I never thought the promotion of a new kids' movie on Netflix would involve so much nudity. Jason Momoa stripped down during an appearance on Jimmy Kimmel Live! while promoting his new movie, Slumberland, which he says "babies absolutely love." Sure, why not?
Momoa's striptease was sparked by the actor's eye-catching October Instagram post that showed him fishing in a loincloth while surrounded by fully dressed friends. After Kimmel asked Momoa about the viral clip, which gave fans a, uh, whole new view of the actor, the Aquaman star provided some context. The loincloth, called a malo, was for work. Sort of. "I'm doing this show — I'm a creator and writer and director and producer and actor on this Apple series called Chief of War — and it's all 1780s-1790s Hawaii. That's what I wear every day. And I was just getting ready for the role, because I like getting into character," he said. "So I was tanning my white ass.
"I actually don't even like wearing clothes anymore," he told Kimmel, saying the malo is extremely comfortable. "I wear it all the time." Kimmel pressed, asking if the actor would wear a malo to the supermarket or the movies. "I don't want to catch something," he quipped. "Are you wearing this under your clothes right now?" Kimmel asked, prompting Momoa to get up and take off his pink coat and purple silk pajamas to reveal the malo underneath. He even did a quick 360 for the camera, making sure we saw his malo from every angle.
It's just like the old saying "Once you go fishing in a traditional Hawaiian loincloth, you never go back." Even if you're selling your own line of boxer briefs.