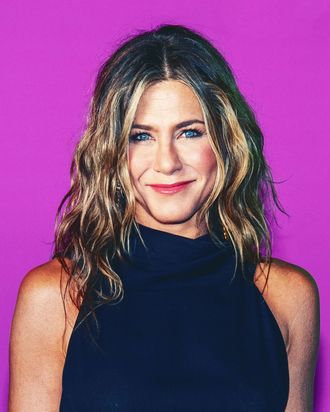 Photo: Roy Rochlin/WireImage
Jennifer Aniston has spent decades being hounded by one very personal question: Are you going to have kids? Aniston's potential offspring have been tabloid fodder ever since the early aughts, but for the most part she's kept her personal desires on motherhood to herself. In a new interview with Allure, Aniston revealed that while the world speculated on her desire to have children, she was actually going through IVF.
"All the years and years and years of speculation," she said. "It was really hard. I was going through IVF, drinking Chinese teas, you name it. I was throwing everything at it." The Friends star continued, "I would've given anything if someone had said to me, 'Freeze your eggs. Do yourself a favor.' You just don't think about it. So here I am today. The ship has sailed." The actor didn't go into any more specifics about her experience with IVF or trying to get pregnant, but did say that her late 30s and 40s were full of "really hard shit."
She also made clear that, no, Brad Pitt did not leave her because she "wouldn't give him a kid." The two were married for five years before they famously split, with Pitt then going on to have a family with Angelina Jolie. Aniston admitted that the "narrative that I was just selfish" was painful for her, adding, "It was absolute lies." And while she may wish someone had told her to freeze her eggs, the actor said she had "zero regrets." Now, at 53, she's more than happy to close that chapter of her life. "I actually feel a little relief now because there is no more, 'Can I? Maybe. Maybe. Maybe.' I don't have to think about that anymore." Of course, that doesn't mean the tabloid speculation will stop. Even after the publication of her 2016 op-ed in the Huffington Post — in which she called out the idea that "women are somehow incomplete, unsuccessful, or unhappy if they're not married with children" — rumors Aniston was expecting have continued to pop up.
The constant speculation about her life seems to have inspired Aniston to take control of her own narrative. She told Allure that she's considering writing a book one day. "I've spent so many years protecting my story about IVF. I'm so protective of these parts because I feel like there's so little that I get to keep to myself. The [world] creates narratives that aren't true, so I might as well tell the truth," she said. "I've got nothing to hide."