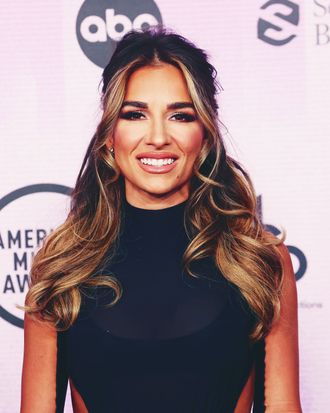 Jessie James Decker
Photo: Taylor Hill/FilmMagic
Hello, how did you spend your holiday weekend? Did you enjoy some Spam Figgy Pudding on the couch? Take in a flirty Knicks game with your fellow celebs? Chug four to eight caffeine-free Diet Cokes and leave their empty husks scattered across your bedside table like a freak? Hmmm. That's nice. Meanwhile, some people spent their time critiquing the bodies of three naturally ripped children, which is less nice. Apparently, some people became so outraged over photos that country singer Jessie James Decker (the voice behind hits such as "Flip My Hair" and "My Cowboy") posted from her beach vacation that they accused Decker of Photoshopping abs onto her kids' torsos. Which, yeah, that would be a weird thing to do, and now Decker feels she has no choice but to defend herself and her offspring against these scurrilous claims.
"I didn't plan on addressing this because it's bonkers," Decker wrote in an Instagram post Monday, referring to some of the comments that piled up under a photo she shared Saturday. In that pic, Decker's daughter (Vivianne Rose, 8) and her two sons (Forrest Bradley, 4, and Eric "Bubby" Thomas II, 7) posed in their swimsuits at a resort in Mexico. They do look very strong for being so small — "These abs on these babies, tho!!!" Kelly Rowland wrote with love — but Decker insists their definition comes from natural sources. Their father is a football player, and the kids are sporty: "Vivi" is a gymnast, Eric wants "to be like dad as an NFL receiver," Forrest loves to dance. The fuss over their muscle tone, Decker said in her latest post, made her realize "how bizarre our world has gotten regarding the body and what's normal and what's not."
"I want to raise my kids to feel proud of their bodies and hard work," she said. "Let's not pick and choose what we normalize regarding bodies and be accepting of all people and children. If we wanna do 'better' then do better. I'm proud of my children and encourage them to live their dreams."
How does that country song go again? Mind your own six-packs and life will be gravy.