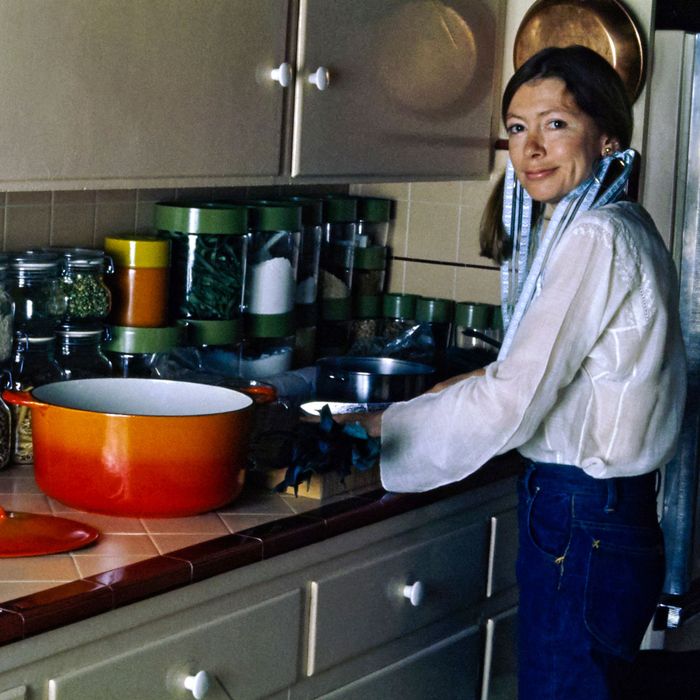 How much would
you
pay for this pot?
Photo: Henry Clarke/Conde Nast/Shutterstock
In two weeks, a horde of Joan Didion superfans will gather to bid on her belongings. Almost a year after the beloved writer and style icon died, Stair Galleries is auctioning off a wide assortment of wares from her homes in California and New York, and I have a feeling the competition will be fierce. The items are on view in Hudson, New York, until the November 16 auction.
In case you can't make it, Stair published the exhibition catalogue online, so you can salivate at Didion's assortment of quirky kitchen tools from afar. There are books, furniture, art, desk accessories, dishware, and more than a few antique serving utensils. Upon laying eyes on the catalog, I was immediately consumed by the impulse to throw a dinner party in my tastefully decorated beachside California home (which definitely exists). In other words, give me this stuff immediately. Here are the highlights in order of just how urgently I need them:
I would build my own plate room to house the many elaborate sets of porcelain dishware on offer here. I'm a big fan of this antique-looking plate bearing iconic California locales.
Should I ever need to serve dessert to 12 people in my 500-square-foot home, I'll be prepared.
Table napkins: fussy, old-fashioned, pretty unsanitary if you think about it too hard. Table napkins embroidered with Joan Didion's initials, on the other hand? I can't think of any other piece of linen worth buying.
… Which will surely not join the graveyard of unused notebooks I've amassed in my lifetime. No, these I will fill with all the brilliant thoughts that will occur to me now that I own something Joan Didion (maybe) touched.
I stopped picking up shit at the beach a long time ago after someone convinced me it was really just trash, but these 26 shells and pebbles have swayed me back in the other direction. Since I'm not going to the beach soon, I might as well use Joan's collection, which, according to the catalogue, sat on the fireplace mantle in her living room. Not that I have a mantle or a fireplace.
These are not the same shades Didion wore in her 2015 Celine ad, but no matter. Somewhere, Anna Delvey and her marginally less-famous Celine glasses are hard at work gathering the funds to bid on these.
There are several pairs of glasses on offer, but I believe I'd get the most bang for my buck from this "Miscellaneous Group of Eyewear," which includes two Bottega Veneta pairs. I have 20-20 vision but would pop some blue-light-blocking lenses into these and wear a different one each day of the week.
Yes, this set is expected to sell for more than a brand-new Le Creuset set and is considerably more battered. But I would slash my olive-oil budget for anything that might emit the energy of this photo.
I have never been a fan of unscented candles, but the idea of adding a gothic touch to my bathtime is certainly appealing.
Ah, the things I could do with these bells. Summon my boyfriend to bring me a glass of water on the couch, summon my dog for her morning walk, ring them loudly at all hours of the night just to let my neighbors know I do indeed own Joan Didion's table bells … the possibilities are endless.
Describing anything as the 1 percent of cashmere sounds redundant, but it is truly the only way to classify Loro Piana's unspeakably soft things. Unlike the Le Creuset set, this will actually be a steal if it goes for Stair's estimated value — the throw blankets currently featured over at Loro Piana's website are upward of $2,000.
Even though I roll out dough approximately once a year, I can no longer imagine life without a marble rolling pin that sits on its own personal stand. There is also a superb collection of aprons, my favorite of which is a black one that says "Maybe Broccoli Doesn't Like You Either."
If, for some unimaginable reason, I'm unable to obtain any of these items, I would also accept the following honorable mentions: wooden goblets that come with a shekel and several loose buttons (??), a leather recycling bin, or this aspirationally cozy etching of a sleeping kitten.