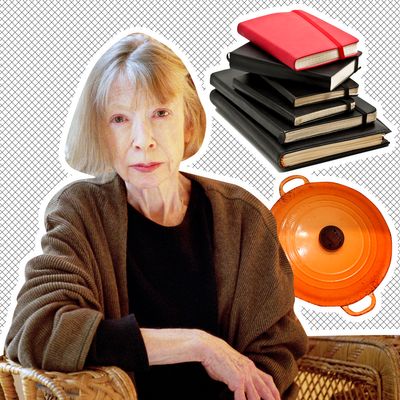 Photo-Illustration: by The Cut; Photos: Getty Images
There are two types of women in the world: those who spent this week glued to the line for Taylor Swift concert tickets and those who tuned into the clusterfuck of bidding madness that was Joan Didion's estate sale. While Swifties were busy calling for the demise of Ticketmaster, the Stair Galleries website was home to another highly competitive fan event — an auction of largely arbitrary items from the late writer's California and New York homes, ranging from furniture and art to desk accessories, sunglasses, and an abundance of kitchenware. Those of us not stuck in the Ticketmaster queue watched in morbid fascination as a horde of Didion superfans drove the prices on her ephemera up to ten times their estimated value.
I've already admitted that the largely useless and well-worn contents lifted from Didion's stylish homes are bizarrely appealing — in the same way you're briefly compelled to buy a tchotchke you see on vacation before you actually try to imagine it in your home. And yes, I may have been tempted to put down $50 on the off chance I could nab a trio of reading glasses that once adorned Didion's face. However, the higher the prices got, the sillier I felt.
Didion's Céline sunglasses went for $27,000, which I guess is understandable given her brief but iconic connection to the brand. An admittedly beautiful photo of Didion leaning against a Stingray went for $26,000. Other sums are simply impossible to rationalize no matter how you slice it. Two sets of blank (blank!) notebooks went for $11,000 each. A stained pair of leather trash baskets were auctioned off for $5,500. One lucky (?) soul coughed up $7,000 for the collection of beach trash that once sat on Didion's mantel.
That said, the auction's nearly $2 million in proceeds are going toward medical research and a scholarship for women in literature, which seem like pretty good causes. Still, it is hard to imagine paying the equivalent of a year's rent for a pair of used sunglasses. I hope they're polarized, at least?