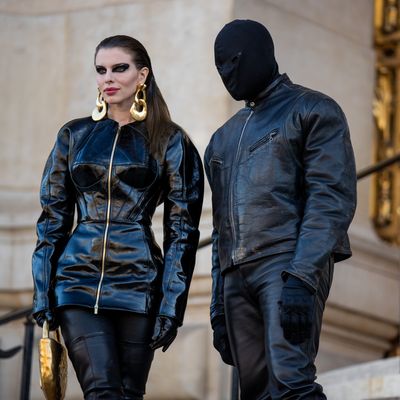 Photo: Christian Vierig/Getty Images
Feminism can take many forms, including, apparently, dating a woman's ex to get him off her case and maybe even give a woman a little peace. This is the logic that led Julia Fox to dating Ye (formerly known as Kanye West) in January. At least, that's what she's telling fans in a new TikTok video.
Since Fox and Ye's short-lived, but very public relationship, the actor has received near constant questions from fans on her decision to date Ye, and what she thinks of his recent controversial behavior, which included anti-Semitic social media posts and, as many have speculated, could be symptoms of mania. So, early on Monday morning — 10 months after their relationship — Fox finally decided to explain. "I was just going to write about it in my book and then have 'yall buy it, but I'll just tell you guys for free," she began, settling in bed for a little TikTok storytime. (I do love a generous celeb.)
"First of all, the man was being normal around me," Fox said, adding that she also considered herself a fan of the Kardashians, particularly "the Big Three — Khloé, Kim, and Kourtney," and that Ye's erratic behavior post-divorce hadn't been "really out there yet." According to Fox, Ye pursued her with constant text message. "I was like, 'I don't want to hook up with a celebrity again.' You know what I mean? Nothing ever comes of it, it's kind of boring," she said. Yes, Julia Fox, I know exactly what that's like. At first, she was happy to leave him on read, but then she had an epiphany. "Maybe I can get him off Kim's case. Maybe I can distract him and get him to like me," she realized. "If anyone can do it, it's me."
In her TikTok, Fox noted that during the month they were dating "he wasn't on Twitter, he wasn't on any forms of social media." (It's true that his more disturbing social media usage took off after their relationship, but in January he did use the Hollywood Unlocked account to accuse Kim of keeping him from his daughter's birthday party.) Fox also revealed that Ye never talked about Kim with her, and instead their conversations were focused on "clothes, and weird ideas, and our hopes and dreams, and education."
"The moment he started tweeting, I was out," she continued, though she admitted she had initially hoped that she might be able to "fix" him. "I was delusional, and I wanted to help him," she admitted. And while she "deeply respects" Ye as an artist, she said, "I stand with the Jewish community. PERIOD."
Fox's video, while illuminating, didn't seem to quell the backlash she's experienced for dating Ye. She returned to TikTok a few hours later, defending herself more clearly. "If women really didn't date men that upheld patriarchal values, or didn't date men that were misogynistic, or had problems with abuse, or said problematic things in the past, there would be no men left to date," she said in her follow-up video. She then defended her reasoning for dating Ye, adding, "Believe it or not, there are a lot of really good things about Kanye West. And if you don't think so, you're probably fucking racist." Fox concluded, "I can't point the finger at him and say he's the reason this world is so fucked up because that's white people." And there you have it!