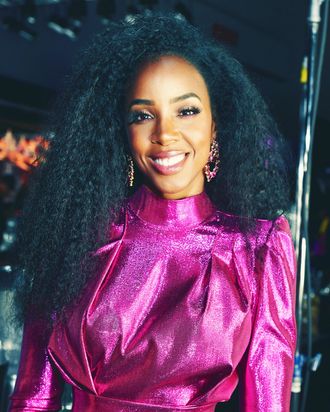 Photo: Amy Sussman/Getty Images for Beautycon
On a visit to Hot 97's "Ebro in the Morning" this week, Kelly Rowland once again had to address comparisons to Beyoncé, her former Destiny's Child bandmate — something she has been forced to do in interviews for more than two decades. Peter Rosenberg, a co-host on the show, asked Rowland about playing "second to Beyoncé" and performing next to "the brightest light on planet Earth."
Thankfully, Rowland had the best response: "Light attracts light," she said. "I am light. I am a beautiful brown shining light, so I don't think anybody's light dims anyone else's."
After Rosenberg pushed the matter a little more, asking about being beside the "biggest star in the world," Rowland added: "Don't be so limited. I feel like people who compare are limited in their minds. And they limit themselves, and so, do not do that to other people."
Although Rowland has said in the past that the comparisons to Beyoncé, one of her oldest and closest friends, bothered her and affected decisions she made about her own music and style — she once said she would "torture" herself about the comparisons — growing up and being in her own space has helped her realize her own power and what she brings to the table. In Wednesday's interview, she praised Beyoncé for opening professional doors for other Black women.
"My sister has knocked down doors and made positions for so many women that look like her — that are deeper shades than her or brighter or whatever — but specifically for Black women," she said.
It's really past time we stopped comparing these two.