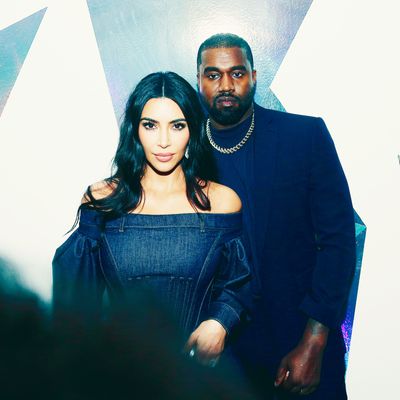 Photo: Lars Niki/Getty Images for WSJ. Magazine Innovators Awards
Kim Kardashian and Ye (formerly Kanye West) are finally, officially divorced, TMZ reports, marking the end of a generational saga.
Their love began with her convinced he was a genius and with him wanting to "dip her ass in gold" and it ended like most modern love stories: with a court finalizing the rules for custody and child support.
According to documents obtained by TMZ, the couple will share custody of their four children, North, Saint, Chicago, and Psalm (though TMZ sources note that Kardashian will have the children a "lion's share" of the time). Though both Kardashian and West waived spousal support, West will have to pay Kardashian $200,000 per month in child support. He will also have to pay for half of the children's medical, educational, and security expenses.
The two agreed that going forward they will settle any disputes relating to their children by participating in mediation and if either of them fails to participate, the other will be allowed to make a decision in a dispute by default. Their assets, including their homes, will be divided based on their prenup.
Kardashian filed for divorce in February 2021 after seven years of marriage. Since then, we've endured rumors that the couple might get back together and numerous declarations of love from Kanye and attempts to get Kardashian back. The divorce became increasingly tense as time went on, escalating to the point of West targeting Kardashian's boyfriend at the time, Pete Davidson. West, who has been diagnosed with bipolar disorder, has been at the center of many recent controversies, including multiple antisemitic tirades that led to his agency dropping him as a client and several brands distancing themselves from him.
Kardashian's divorce lawyer was Laura Wasser, known as the "Disso Queen" in reference to her ability to dissolve marriages. (She represented Britney Spears during her divorce from Kevin Federline, Angelina Jolie during her split from Brad Pitt, and Johnny Depp during his divorce from Amber Heard.) Ye cycled through at least five lawyers throughout the divorce.