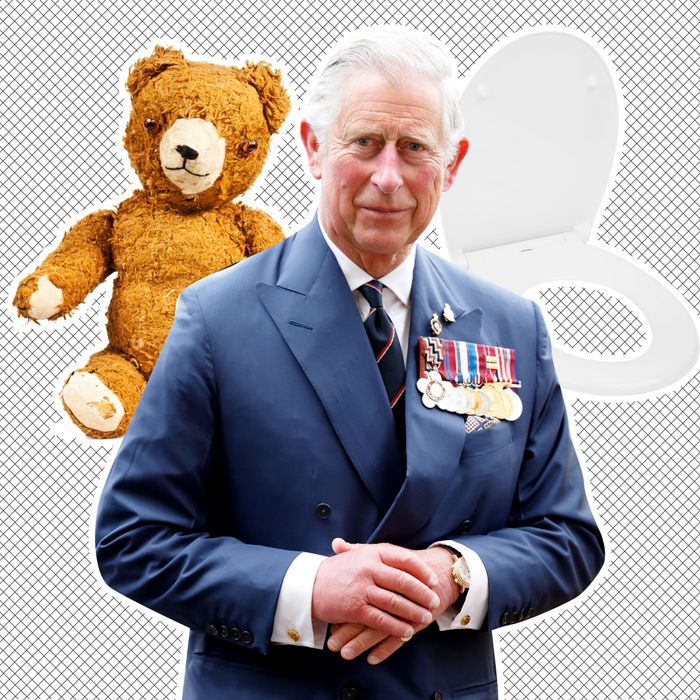 Just a few of the king's most treasured possessions, if I am reading all this correctly
Photo-Illustration: by The Cut; Photos: Getty Images
I don't know if you know this, but: Queen Elizabeth II is said to have carried a meathook on her person for much of her adult life, concealed inside her omnipresent handbag on the advice of her husband, Prince Philip, who (I imagine) did not fear so much for her safety as for her looking uncouth were she to stow her house-purse beneath her seat rather than dangling it daintily from the table on a stabby perch — a gesture guaranteed to make her appear hygienic and commanding, I think we can all agree. The meathook was but one of the weird tchotchkes the old queen loved to haul around, and in that respect the new queen, King Charles III, is apparently no different. According to royal expert and Charles biographer Christopher Andersen, His Maj always travels with a collection of highly personal affects, including but not limited to a custom-made toilet seat. Like mother, like son, sort of!
Discussing his forthcoming book, The King, with Entertainment Tonight, Andersen did not expand on the reasons why Charles might require, or feel comforted by, his own personal loo cover, though this is not the first time the lavatory seat has come up: Tina Brown made mention of it in April's The Palace Papers, alongside an orthopedic bed, two Scottish landscape paintings, and his preferred Kleenex Velvet lavatory paper — allegedly all items on the royal packing list. Charles's former top aide told Brown that Charles used to have all of this crap trucked over to his friends' country houses before he came to stay. In the context of the king's highly specific tastes, maybe you will not be surprised to learn that, per Andersen, Charles also always packs his childhood teddy bear, a personal chef, and his own ice trays. But maybe you still have questions: Does he bring his own chef even when he's going to someone's house for dinner? Why does he need his own ice tray when lots of fridges have an ice feature built in? Why are the Windsor boys so obsessed with teddy bears?
All any of us can really do in this situation is guess, but with respect to the first one, Andersen said that, although Charles has denied the allegation, "people who work in the palace, people who have worked for him, say that … when he goes to dinner parties at other people's homes he often brings his own chef, so they can prepare a meal for him that he'll eat separately at the table." Charles gets to do this because, Andersen explains, "he wants what he wants when he wants it," and getting to have it is one obvious perk of being the monarch.
Sometimes what Charles wants are ice cubes not in cube form, thus the need for special trays. You see: One of the king's "funniest quirks," according to his biographer, is not being able to stand the distinctive "clinking sound that square cubes make." This may be an inherited trait, shared by a number of his family members. The teddy-bear thing may also fall into that category — recall: Prince Andrew reportedly has like 50 of them meticulously arrayed on his bed — though Andersen attributes some of the king's eccentricities to his allegedly very lonely youth. With a supposedly distant mother busy queening, and a purported "bully who hectored him" for a father, Charles became "very moody, very temperamental," in Andersen's estimation. "He has a volcanic temper, in fact. … He's very capable of flying into rages." But you already knew that.