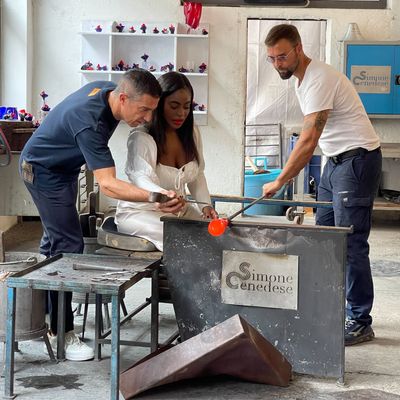 Making a glass bottle for LV's perfume Symphony.
Photo: Maya Allen
The skill set for a perfumer is surprisingly unique, the training takes years, and there are so few in the world. For Louis Vuitton's master perfumer, Jacques Cavallier-Belletrud, it was a generational trade: His father and grandparents were perfumers, and his mom worked for a perfumer. "So for me, it was natural," he said recently while showing a group of beauty editors in Murano, Italy, a limited-edition bottle of Symphony, a perfume he'd created. He was about 8 years old when his father started giving him blotters to identify the difference between scents like rose and jasmine. (Fun fact: Olfactory memory is built between the ages of 1 to 18.) "I learned perfumery, like a language, at the same time I was learning to speak French," he said.
It makes sense given that Cavallier-Belletrud was born in the world's fragrance capital of Grasse, France. After years of training as a child, he went on to work on some of the most famous fragrances of our time — like Givenchy's Hot Couture, Calvin Klein's Truth, and, most recently, Rihanna's best-selling Fenty Eau de Parfum. In 2012, he was appointed as Louis Vuitton's first in-house perfumer and has since created more than 33 scents.
But we weren't there to talk about perfume, per say. In October, Cavallier-Belletrud traveled to Venice to hear about the container of the perfume: a Murano Art Edition bottle. The bottle resembles a sculptural, flowy flower with blooming petals designed by renowned architect Frank Gehry. "I love Frank, because he's 93 years old but in his mind he's 15 years old — like me," said Cavallier-Belletrud with a laugh. The bottle is made by hand in collaboration with Simone Cenedese, a master glassmaker based in Murano with more than 30 years of experience.
We visited Cenedese's glass factory, which is equipped with a furnace that's heated at more than 900 degrees, towering chandeliers, and life-size sculptures. It took Cenedese and three assistants to make each Symphony bottle cap. As for the scent itself? Cavallier-Belletrud describes it as "endless freshness" with top notes of spicy ginger, bergamot, and grapefruit.
You grew up training for this job. What's the first scent you vividly remember smelling? 
Rose. Because it was the perfume my mother wore. She applied rose water on my face every morning until I was about 10 years old. She just turned 90. I consider all of the notes coming from nature as a gift we must preserve and take care of, because they really are emotional and linked to our history. Immediately when we're smelling something, we're connected to our memories of childhood. The smell of fruit like peach, banana, or coconut influences our mood and makes us happier.
When you are creating a new scent, are mistakes just a part of the journey? 
Of course, you have to make mistakes to be successful. Each time you're doing something new, you always have doubts. At the same time, to create is to decide. But you learn that with experience, and the experience is what? It's a lot of mistakes. You have to come to a decision, but you're never sure with the final product. Never.
The world of scents has turned into an oversaturated market. There are so many fragrances. How do you continue to create standout scents? 
Today, it's clear that especially the younger generation is much more interested in experiences and personalization. Personalization is not only engraving a bottle. It's in what you want to smell like. My mission is specifically to bring an element of surprise to each scent so you discover something new. I'm not working to please everyone. If you're seeking out universal scents, you're compromising. That's the border between luxury and mass market, and we're delivering a level of quality that doesn't exist anywhere else.
What do you honestly think of all the celebrity fragrance brands? Do you think they're any good?
It depends. I created the Fenty Eau de Parfum with Rihanna. It was clear that we wanted to make the best quality fragrance together and something unusual. So I can tell you that she's in the bottle. Her story is in the scent. I paid a lot of attention to what she expressed, and she has a lot of strength. I adore her, because she symbolizes a lot of things: freedom, energy, creativity. She's worked hard for that — life wasn't easy for her. Lots of times, you just put a name on a perfume developed for any project. It's a very big trend. The collaboration is very interesting between brands and people. The strong creators are bringing their history and humanity — something that no one else can produce. Virgil Abloh was like that. We didn't have the chance to work on something together. He was supposed to come to Grasse, but I admire him. I love people who are bringing a specific point of view.
Is there a certain fragrance note that brings you the most joy?
Mandarin orange. It reminds me of teatime at home with my brother. Those were happy days.
This interview has been edited and condensed.