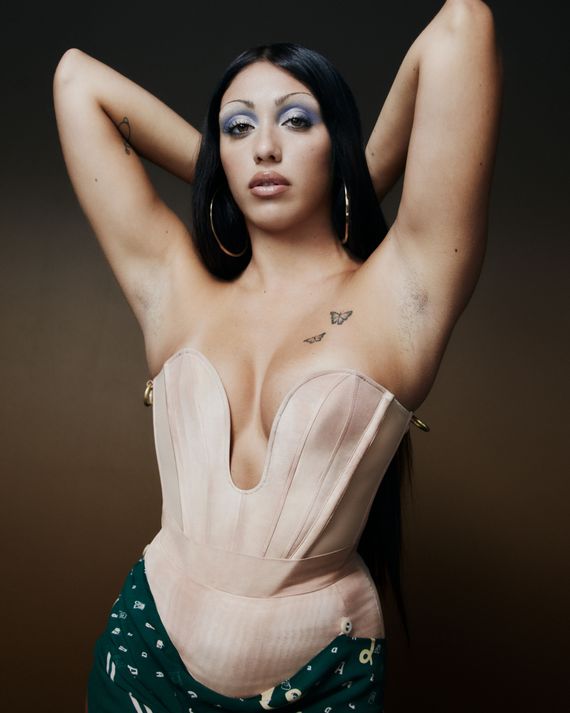 Andreas Kronthaler for Vivienne Westwood
dress,
available at Vivienne Westwood New York, 14 E. 55th St. NYC, NY 10022.
Jennifer Fisher
Shane Hoop Earrings,
available at jenniferfisherjewelry.com.
Photo: Sarah Piantadosi
Lourdes Leon, who likes to go by Lola, has gotten three separate "Wassup?"s from passing skaters in the hour we've been sitting by the open window of Kiki's, a Greek restaurant frequented by downtown kids and tourists in the Chinatown-adjacent wedge known as Dimes Square. (Heard of it?) "Oh my God, this area," she says, flashing a peace sign at the latest one and rolling her eyes. "I keep seeing people I know. Ugh!" She looks over at a gentleman clutching a hardcover book like a Greek dramatist at a nearby table of three. "Is that guy reading aloud?" she mutters. "I'm gonna throw up."
The model-choreographer-dancer and, more recently, singer — she just released her first EP, Go, under the name Lolahol — spent the past weekend in the Cayman Islands at a Halloween ball for the fashion set, where she performed her first-ever single, a moody drum-and-bass number called "Lock&Key." Today, she arrived via subway. Our table is buried in plates of chicken and potatoes, eggplant dip, tzatziki, and a glass of sauvignon blanc.
Leon scoops up dip with pita, three nails missing from her set of silver acrylics. She used to live around here, but she much prefers Bushwick, where she lives now: It's chill, there are no influencers or paparazzi, and everyone leaves her alone. "There's, like, trash everywhere. I don't mind that it's disgusting," she says brightly between bites. "I can go on vacation, you know what I mean? I'm privileged enough that I can do that."
The reason she would say this is the subtext to everything: Leon is Madonna's eldest child. As an adult, Leon has attempted to keep her life private. Her father, Carlos Leon, is a celebrity personal trainer turned actor from the Bronx with whom she likes to work out on days off. She has done some other gigs: a co-directing credit for an Adidas by Stella McCartney campaign, a starring role in an artfully sleazy Victor Barragán look book, and choreography for her friend Eartheater's video for the song "Joyride." She insists she's financially independent. Last year, it was reported that her mother had dropped $19.3 million on a California house previously owned by the Weeknd, adding to a portfolio of mansions and estates on the Upper East Side and in the Hamptons and Portugal. Leon says she shares a rental apartment with a longtime friend and imagines they'll die together. ("It's giving Grey Gardens.") Throughout our time at Kiki's, she returns often to how pricey it is to live in New York, how "you live in a shoe box," and how she studied dance at SUNY Purchase in part because it was "way less expensive" than other schools. In a conversation with her mother's close friend Debi Mazar for Interview magazine last year, Leon shrugged off questions about her pursuits: Modeling was a means to pay rent, actors annoyed her, and music was too close to home.
"I still don't like actors. They don't know how to dress," she tells me. As for music, she stresses, "I always felt like, Never, never, never." Then, earlier this year, as a joke, she played a track she'd once made while killing time on a plane for Eartheater, the dancer and musician formerly known as Alexandra Drewchin. "She was like, 'We're fucking laying this down. Bitch, get your ass to the studio,'" Leon remembers. That became the first Lolahol song, "Giovanni's Room"— '90s lounge-y, sexy, weirdly nerve-racking. (Her artist name is pronounced Lola hole: "I don't know, there's something about the word hole that makes people uncomfortable," she says.) Her album could soundtrack the chill-out room of a subterranean rave, with steamy lyrics about conflicting desires sung in an airy trill. It dropped on Eartheater's Chemical X label on November 8, and not a moment too soon for Leon: "Otherwise, I might start to think about it too much and then I might start to hate it."
As the daughter of maybe the most iconic woman in pop history, she describes her proximity to greatness as a source of extreme self-doubt. For as long as she can remember, Leon has been hard on herself. "I have such a high standard for visuals, audio, character, humor, style — everything — because that's what I've been exposed to my whole life," she says.
She aspires not to think about it, though: "People that are doing well are not worried about other people." When I ask if she ever rebelled by being her mom's opposite, she becomes guarded, having seen her quotes about her upbringing — no parties, no TV, dance lessons daily — get blown up into hysterics (like the Vanity Fair headline about that Interview story: "Lourdes Leon Says Mom Madonna Is a 'Control Freak' Who Controlled Her 'Whole Life' "). Aside from this, she speaks freely, punctuating her tangents with punch lines, though the act of talking about herself at length seems to cause her psychic pain. When I finally turn off my recorder at the end of our interview, she breathes a sigh of relief.
Leon's childhood was never what she would call "normal," not for anyone's lack of trying. Whenever Madonna was doing Madonna things, an assistant of hers — now Leon's manager — was tasked with making Lourdes's life feel as un-weird as possible, to occasionally ridiculous effect. She was used to hearing her mother's music on the radio; around the time OutKast's "Hey Ya!" was everywhere, the assistant tried to relate, telling Lourdes that André 3000 was her dad. "I was like, 'Oh, cool!'" Leon says, cracking up. "She's literally white."
Lourdes wanted her life to be like other people's. After graduating from La Guardia High School (where she met her first boyfriend, Timothée Chalamet), she had to get out of the city; she felt like her every move was watched. In the reverse of your usual Midwest-to-coastal-elite pipeline, she shipped out to Ann Arbor, paying tuition at her mother's alma mater, the University of Michigan, with what she says was her own money. (It's been reported that this came in part from the Macy's Material Girl clothing line she launched with her mom when she was 13.) She lasted a year there. "It was absolute torture," Leon goes off, still mortified. "Like, I can't even believe I ever went to a frat party. So scary. Greek life is disgusting and should really be abolished. I couldn't get over the ignorance. I was just like, These bitches are so basic I'm gonna die." She transferred to the dance conservatory at SUNY Purchase, which she liked, and accepted the idea that normal is relative.
In recent years, she has fronted campaigns for Savage X Fenty and Marc Jacobs and walked runways for Mugler and Marine Serre. I ask how she feels about the fashion world taking itself so seriously. "Oh my God, don't even get me started on this. Literally, the dick-sucking that goes on …" she begins. "Fashion is an art, and I really respect that, but I can only play the game up to a certain point. If you're a model, you go in and do what you're told." This didn't jibe with her mother's advice to never let anyone tell you what to do. "Then everyone was like, This bitch is so annoying. I think they took it as a sign of disrespect when, really, I was just trying to have a voice." To hack the system, she explains, you have to identify yourself as an artist, not a model; then you can talk your shit.
Having a famous parent has made it harder for her to identify decisively as anything. "I want to feel like I deserve things and not just like I've been given things," Leon says. "And, yes, there's undeniable privilege that I'd be stupid to not realize. Nepotism babies are pretty awful usually, and my mom and my father raised me to be so much smarter than that." (She thinks she might have turned out worse if they had raised her in L.A., a city she says is "lacking in character.") But Eartheater, who met Leon through mutual acquaintances, sees her friend's life experience as a source of unique insight. "Culture has compounded into this girl from the moment she was conceived," she says. "She's coming at the music world from a completely different angle that no one else can understand."
There's a tenderness to Eartheater's bond with Leon. Both create work that balances eroticism with something headier. In the Grand Theft Auto–inspired "Joyride" video, their first collaboration, the pair move with the choppiness of the sex workers who populate that universe, writhing on windshields and spilling out of back seats. Eartheater was the creative director for the first two Lolahol videos, which have a similar aesthetic: sexually forward and surreal with dance moves evoking an '80s video vixen on quaaludes. Eartheater put her own music on pause to co-produce Leon's EP, and she's fiercely protective of her friend, saying, "She'll tell you — the fangs come out."
The first track they did together, "Giovanni's Room," was named after a James Baldwin novel. It led to a series of slinky trip-hop and drum-and-bass burners full of dark corners and lyrical paradoxes. Leon has always loved the '90s London sound of Portishead, Goldie, and especially Massive Attack's Tricky; she describes it as "groovy, sad, sexy but still 'I'll fuck you up.'" Before our meeting, I read a recent interview with Goldie, one of drum-and-bass's founding fathers, in which he mentions Lolahol's debut single while talking about how people "gentrify" the genre: "I don't think Madonna is feeding drum-and-bass to the kids, do you know what I mean?"
"That's weird because we're supposed to do a song together," Leon says dryly when I show her the quote. "Like, sorry. People are gonna make this music whether you like it or not. Whatever. He's a London lad. What do you expect?"
There is an expectation that celebrities accept confrontation calmly, but that's not really Leon's vibe. "I don't disrespect people, but if you come at me wrong, you better pray," she says with a devious laugh. She got physical over a comment about her mother just once: "I was at a club spot and some dumb little bitch wanted to come up and talk some shit to me. The second my mom's name popped out of her mouth — I don't condone violence, but she … left."
At Kiki's, the late-lunch crowd is shifting to the early-dinner crowd, and Leon is becoming preoccupied with her chicken. "Can you please try this and tell me?" she says. "Yo, like, I'm not even joking; it actually tastes like feces. Am I crazy?" (She's not.) She watches, vindicated, as the table of literature enjoyers sends their plates back untouched.
Recently, an older man asked Leon about "her plan" — as in, for life — in a way that rattled her. "I get that it might seem important, but I'm just trying to process this right now," she says. "Obviously, I should probably, like, 'invest in an apartment' or, like, 'buy property' — that dumb shit." Somewhere down the line, she would like to foster someone else's art the way her friends have done for her. On the train ride to our interview, she listened to Go on her headphones and admits to getting emotional. She has never worked so hard on anything before. "Oh my God," she says, recalling her own reaction. "Is this feeling … is this pride?"