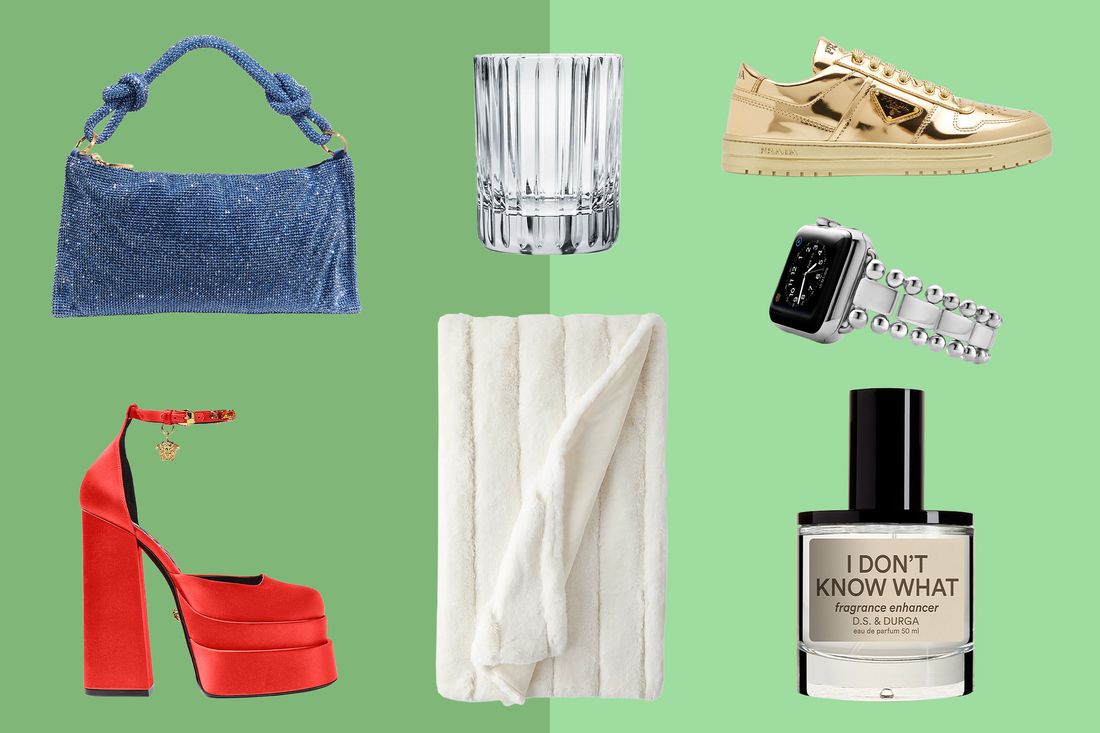 If you think back to your favorite holiday gift you've ever received, chances are it's not the trendy item that everybody else has but that doesn't quite feel like you. It's more likely to be the funky special-occasion bag that's become your go-to even for not-so-special occasions, or the sculptural candlestick holders intended for fancy dinner parties that now have a permanent spot on your coffee table. In other words, it's those items that allow you to unapologetically express the best version of yourself all day, everyday.
This season, Neiman Marcus is all about gifts that are intended to imbue every moment with luxury. Think: The crystal tumblers they can break out for dinner with the in-laws — and use on weeknights to make every meal feel indulgent, or the season's It bag in an unexpected color meant to boldly punctuate any outfit.
Statement Sneakers
If their style skews toward "extra," you can't go wrong with these sneakers upgraded with all-over golden shine (yes, even the laces). There's no doubt these shoes will turn heads when worn with trousers or jeans, but maybe especially with sweatpants. Because why not?
Caviar Earrings
These drop earrings are dripping in decadence — and they don't even feature any diamonds. Instead, they're adorned with sterling silver caviar beading that sparkle with every turn of the head.
Signature Scent
Impress the fragrance-phile in your life with something that's so much better — and more unexpected — than a new perfume: A perfume enhancer. It's intended to be layered over traditional fragrance products like oils or perfumes to highlight the notes for maximum olfactory effect. They'll wonder how their signature scent ever lived without it.
Forever Necklace
True everyday luxury is an effortless 18-karat gold chain necklace they can wear everywhere from the beach to the ballroom. This one is more subtle than statement, which is actually all the more reason they'll never take it off — it can be worn alone or layered with other necklaces for added impact, and then passed down to future generations as an heirloom (that they'll actually want).
Sparkly Bag
Too good to be reserved for just parties, this crystal-embellished shoulder bag will bring major glam to any outfit. Whether worn with a knit dress on a quick coffee run or to punctuate a sharp suit, it serves as the reminder they need to create their own celebrations anytime, anywhere
Stylish Velvet Top
For mom, sis, or your BFF, this universally appealing top is simple and fuss-free in silhouette, but with a plush velvet texture that's a total upgrade from more basic tees. Versatile enough for any occasion, there's no limit to how they can style it, and they'll think fondly of you each time they wear it.
Elevated Glassware
Perhaps nothing evokes a sense of indulgent pleasure more than using delicate, special-occasion barware just because. These crystal tumblers feature a beautiful fluted design that makes any drink, from an old fashioned to water, feel like an experience.
Iconic Watch
This isn't a simple add-to-cart item, but a reminder that if you're going to splurge on a gift — like, really splurge — you've got to go big or go home. Case in point: This iconic spiral watch made of stainless steel and 18-karat rose gold.
Bold Heels
For the daring one, the glamorous one, or the one who just loves a pair of designer shoes, these heels are irresistible. Between the towering platform silhouette and bold red hue, they're impactful to the hundredth degree. Yes, they're perfect for holiday party outfits, but even better for jazzing up a pair of jeans.
Artsy Picture Frame
The framed photo gift is a classic for a reason, but this season, take it one step further with an ornate picture frame that's a work of art in and of itself. The intricately handcrafted piece features a vintage-inspired design that will add a touch of nostalgia to any space. Bonus points for including an equally nostalgic photo. Cue the sentimentality!
Ultimate Cold Weather Jacket
Someone somewhere has committed themselves to the nice list for eternity solely for this jacket. The cropped leather silhouette is trimmed in bold shearling and will make anyone look and feel like they regularly holiday in the Swiss Alps — even when they're just nipping to the corner store. It's a true forever staple they'll be excited to pull out year after year.
Plush Throw Blanket
All it takes is one lusciously soft and fluffy faux-fur throw to make anyone feel like they're living out their ultimate hygge fantasy. Keep them feeling cozy — and positively regal — all winter long with this (machine-washable!) blanket perfect for those chilly nights. Twinkle lights and spiced cider not included but highly encouraged.
Decadent Body Oil
Give the gift of expensive skin in the form of a shimmering body oil infused with actual 24-carat gold powder and the iconic Baccarat Rouge 540 scent, defined by floral, amber, and woody notes. Best used on days when the goal is to exude confidence — in other words, every day.
Elegant Apple Watch Bracelet
For the person who can't live without their Apple watch but wants a little more of a luxe look, this stainless steel bracelet ensures they can have their watch and stylishly wear it, too. Not to mention, the sleek design unlocks a whole new level of jewelry stacking possibilities.
This advertising content was produced in collaboration between Vox Creative and our sponsor, without involvement from Vox Media editorial staff.