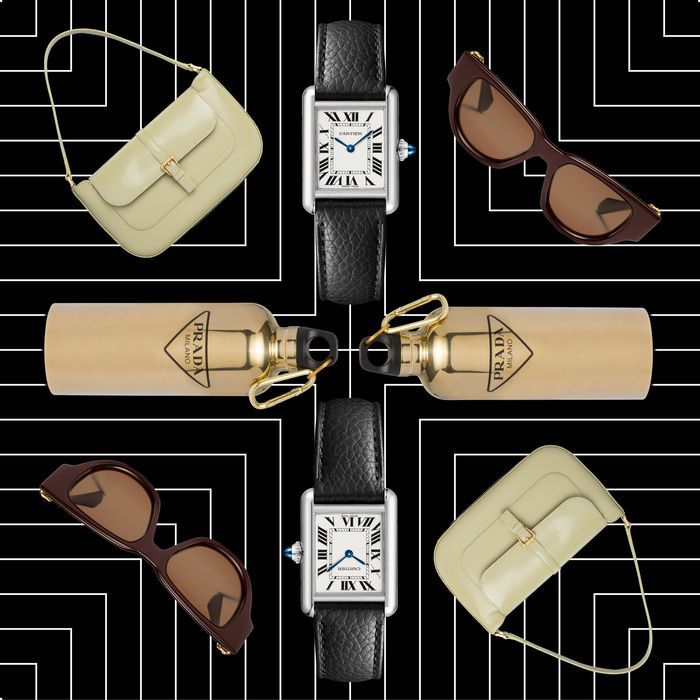 Photo-Illustration: by The Cut; Photos: Retailers
The following gifts are all in the luxury category, meaning their price point is, well, high. If you're looking for presents that won't break the bank, like ones under $50, we have plenty of options for you. But this guide is for the aspirational shopper, the disposable-income consumer looking for gifts that will become heirlooms or hoping to seriously impress a hard-to-please mother-in-law. In that spirit, below you'll find timeless pieces that are worth the investment.
Twenty-nine-year-old Jamaican-born Edvin Thompson of Theophilio has had a big couple of years. In 2021 he won the CFDA's American Emerging Designer of the Year Award for designs like this printed tank dress that look great on all body types. Give it to a friend who's not afraid to show some skin.
A Cartier Tank watch doesn't scream, it whispers. And what it says is "the girls that get it, get it," in the way that only a piece made in 1917 can. Princess Diana wore one in 1995. Andy Warhol did in 1973. Kim Kardashian reportedly bought a vintage version once owned by Jacqueline Kennedy Onassis in 2017. Naturally it's on our "one day" wish list too.
For the friend who loves luxury and sustainability (and has everything else), buy this Prada water bottle. The metallic gold finish will make it easy for them to find at the bottom of their bag.
Designed by Virgil Abloh, Louis Vuitton's men's artistic director from 2018 to 2021, this bracelet will make any hype beast in your life happy. The padlock, chain and charm are all made from titanium, set on an adjustable cord. Plus: with each purchase, $100 is donated to Unicef.
Photo: T|Tiffany & Co. Studio
With this hand-polished Tiffany & Co. 18-karat-gold knot ring, your giftee will join the ranks of iconic women who have worn pieces from the beloved legacy brand: Beyoncé, who wore the iconic Tiffany yellow diamond while playing the piano at the Orum House in Los Angeles earlier this year; Audrey Hepburn perusing the windows in Breakfast at Tiffany's; and Elle Woods accessorizing in Legally Blonde. Who doesn't dream of getting that little blue box?
This Hermès blanket designed by Nicola Aguzzi will immediately transform any old living room into an après-ski chalet. It's robust — 55.1 by 70.9 inches and weighty — and the jacquard woven wool and cashmere blend will keep you warm while cozying up in front of reruns of Sex and the City. 
This YSL embroidered cap, made in collaboration with New Era, is the perfect gift for a trendy-but-low-maintenance man.
After years of searching, I think I found the ideal hoop earring: the Agmes medium Celia. Handmade in New York City, the hoop is the perfect size and shape (one inch in diameter), which makes it the ideal gift for anyone with holes in their ears.
Lola Mayeras's ceramic hoodie vase is a conversation starter. Is that a hoodie vase? Why yes, it is, and it was commissioned by Ssense specifically for Ceramics week.
Photo: Rolex/©Rolex
We found the perfect shade of green, and it's the color of this mint green Rolex dial. The 31-mm Oyster case makes it a great gift for all wearers. The Datejust 31 is something they will have forever and won't go out of style. Plus its fluted bezel makes it even more chic.
When in doubt, think pink! The silver-finished handle, adorned with Swarovski-encrusted rings, makes it easy to carry. It also comes with a detachable chain to wear crossbody, if that's what you prefer.
Gift this Gucci tea set to your rather particular mother-in-law. The cups and saucer are made from white Richard Ginori porcelain, and the print is inspired by a vintage fabric: Gucci's Herbarium motif.
Burberry's answer to the going-out-bag conundrum is this silver quilted runway bag crafted from Italian leather. The party girl in your life will get a lot of use out of it.
This 18-karat-gold serpent ring from Bulgari is great for the Scorpio in your life — it's chic and mysterious, just like them.
We declared it earlier this year: Big sunglasses are back, baby. These Valentino cat-eyes, crafted in Japan, are just the right size: big enough that they cover dark circles and under-eye bags, but not so big that you look like you just had Lasik.
Anna Jewsbury of Completedworks is making jewelry that women want to wear. All my quote-unquote "fashion friends" have these scrunchie earrings.
Speaking of the CFDAs, Luar designer Raul Lopez won this year for his accessories. Support an independent designer by buying this fitted hoodie from the same brand.
Usually gifted candles seem like an afterthought. Not this one, which smells of ylang-ylang, pimento, and vanilla; is made of glass; and will make a nice objet after it's done burning.
Finding a great scarf is surprisingly hard. This wool-and-mohair Loewe number is a sure crowd-pleaser. It's long enough that it will keep you warm and tuck nicely into your coat, but not so bulky that you end up looking like Lenny Kravitz. (No shade, Lenny. We love you.)
We recently wrote about the new cocooning collection from Loro Piana — an Italian brand founded almost 100 years ago that is known for producing some of the highest-quality cashmere garments and accessories in the world. These 100 percent cashmere gloves will keep your hands warm while allowing you to scroll on your phone.
More green! This olive semi-patent-leather Byfar bag will complement the earrings.
Not only does Frank Ocean give us bangers, but he also makes incredibly beautiful and well-made jewelry. For example, this rhodium-plated recycled 925-silver link bracelet.
Make any errand high fashion with this Brandon Blackwood tote.
For years, Laila Gohar has created conceptual art pieces using finger foods. Earlier this year, she and her sister created a line of housewares called Gohar World, which they extended into a collection with Byredo that includes this ceramic potato candle holder. Another great gift for a downtown friend who likes to play hostess.
Founded in 1830, Christofle has perfected the art of silver objects. This 24-piece flatware set is a great gift for the friend who loves to host dinner parties.
Shrooms are so hot right now. So much so that Bernard James made a necklace dedicated to them. Handcrafted in New York City from yellow and rose gold, this one's for your sibling who recently got into psychedelics and can't stop talking about it.
From Miu Miu, this is a great everyday bag. It's roomy enough to fit a laptop, keys, your phone, and maybe a change of clothes (because you never know). Maybe it can be a work bag for your favorite cousin who just graduated college?
A lunchbox designed by Demna? Chic. This chrome-finished set, complete with utensils, will seriously elevate anyone's sad-desk-salad lunch.
Founded by Saskia Dijkstra in 2016, Dutch label Extreme Cashmere has a minimalist approach to a maximalist fabric. These 100 percent cashmere pants are one size fits all, so buy a pair and give them to the person you inevitably forget about until the last minute.
Photo: JONATHAN KOZOWYK
Peter Do continues to be one of the most exciting collections during New York Fashion Week. These hand-stitched leather boots prove why.
Established in 2020 by Amy Zurek, a former accessories designer for labels the Row and Khaite, Savette bags are quickly becoming known in the fashion world for their signature oval gold clasp. Gift one to a special someone before everyone and their uncle starts carrying them.
Artist and designer Jameel Mohammed started Khiry in 2016 while he was still in university. Over the years the brand has attracted fans like Solange and Tessa Thompson. This 18-karat-gold pendant necklace is inspired by longhorn cattle, a symbol of wealth.
These guilloché rhodium plated 18-karat-white-gold Van Cleef earrings are meant to be passed down generations. Buy them for yourself now knowing that you'll give them to your daughter or granddaughter one day.
For more from the Cut Shop team, follow us on Instagram and Twitter, where we share our best new finds, favorite styling tricks, and more.