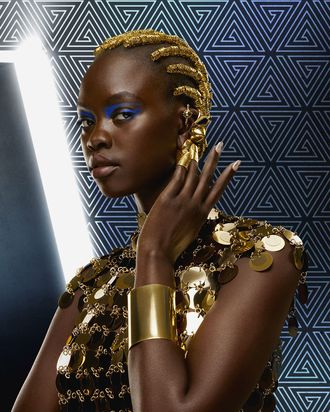 It feels as though we've been waiting a really long time for Black Panther: Wakanda Forever, the second film in the Marvel series. Alas, the time has finally come for the highly anticipated film to hit the big screen. To celebrate the sequel, Marvel teamed up with MAC Cosmetics for a makeup collection directly inspired by each character. If you saw the first Black Panther in 2018 (how could you have missed it?), then you know that the striking beauty looks are one of a kind. From tribal marks to royal, glowing skin, the glam was the perfect complement to the power each character displayed onscreen. The film and this makeup launch are a celebration of Black culture.
What is it?
An 18-piece capsule collection that includes an eye-shadow palette with vibrant mattes and rich metallic shades, a chocolate-bronze highlighter in the shape of a Black Panther helmet, a makeup bag adorned with T'Challa armor, and various lip products including a bright fuchsia that's fairly similar to the OG MAC shade, Heroine. The pieces are unique while paying homage to the film and MAC's brand heritage.
Do I need this?
Yes. MAC is the OG brand for beauty girls, so it's kind of iconic that it's joining forces with a Marvel movie that is so culturally significant. Out of all of the pieces in the collection, I'd advocate for the eye-shadow palette. Even if they are not your colors, per se, there's something about MAC collaborations that hold a special place in culture, and they can be collector's items. I still remember my very first one: a Hello Kitty x MAC palette with bright-pink and blue eye shadow (which, by the way, I had no idea how to blend at 15 years old). There's nostalgia attached to owning beauty products that are aligned with a specific time in history, especially a barrier-breaking film like this one.
If you want to splurge on more products, some that are really good include the rich lipstick hues, the shimmering lip gloss, and the face brushes with Black Panther illustrations adorned on them. My favorite element of the capsule is that the bright shades make brown skin look like royalty, which is at the heart of Wakanda. If you're a beauty-obsessed Marvel fan, or if you just want to add new rich shades to your makeup collection, then yes, you absolutely need this new collaboration.
How do I get it?
The collection is available today, November 1, on maccosmetics.com, so you can get your hands on it right now. My prediction? We'll be seeing loads of Wakanda-inspired makeup on TikTok this month as everyone runs to the theater to see the Marvel film. The biggest flex would be to create looks with products inspired by Wakanda. So walk, don't run, to get your hands on this regal collection.
For more from the Cut Shop team, follow us on Instagram and Twitter, where we share our best new finds, favorite styling tricks, and more.