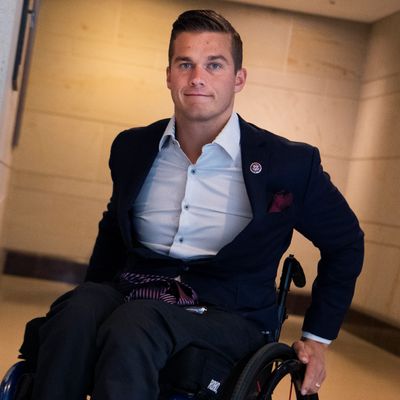 Photo: Tom Williams/CQ-Roll Call, Inc via Getty Images
After a busy two years, far-right darling and outgoing North Carolina representative Madison Cawthorn has apparently decided to exit Washington on his own terms. A month and a half before his two years as the state's 11th Congressional District representative actually ends, and following several scandals and over 30 allegations of sexual misconduct, the congressman has reportedly vacated his office with the energy of a grinch fleeing Whoville.
According to the Asheville Citizen-Times, Cawthorn's office in Washington, D.C., has been cleaned out and his name removed from the sign outside the door. Photos taken Wednesday morning show a staff member taking measurements in the gutted room, which is dotted with paint smears and disconnected wires.
Meanwhile, Cawthorn's office in North Carolina still bears his name but is totally dark, locked, and devoid of furniture, save for some cleaning products sitting on a counter. No one seems to be picking up any of the available phone numbers where Cawthorn's constituents can reach him for help navigating federal agencies. One voice-mail message claims that the office is not picking up because they're "beginning to close for the term." Sounds like they may have already finished, though.
Cawthorn's eventful run as representative included a racist campaign website, spreading misinformation about the 2020 election, supporting the January 6 insurrection at the Capitol, two attempts to bring a loaded gun onto an airplane, and a profoundly unsubstantiated claim that other D.C. politicians had invited him to an orgy. Cawthorn was also accused of sexual misconduct by over 30 women, which allegedly had nothing to do with the fact that he and his wife, Cristina Bayardelle, got divorced last year after eight months of marriage. In the end, his most recent antics proved too much for North Carolina's conservative voters: This spring, Cawthorn lost the Republican primary to Chuck Edwards, who went on to win the midterms and was supposed to take over Cawthorn's seat on January 3. Edwards has apparently stepped in early to, um, do Cawthorn's job for him over the next month and a half, answering constituents' calls while Cawthorn's phones remain disconnected.
Where could Cawthorn be? Perhaps at the Florida house he recently bought for $1.1 million despite still being registered to vote in North Carolina? Or maybe three hours away at Mar-a-Lago, where he attended Donald Trump's announcement that he's running for president again in 2024? Until he reappears, I am content to bid adieu to a man Trump once dubbed "one of the greats."