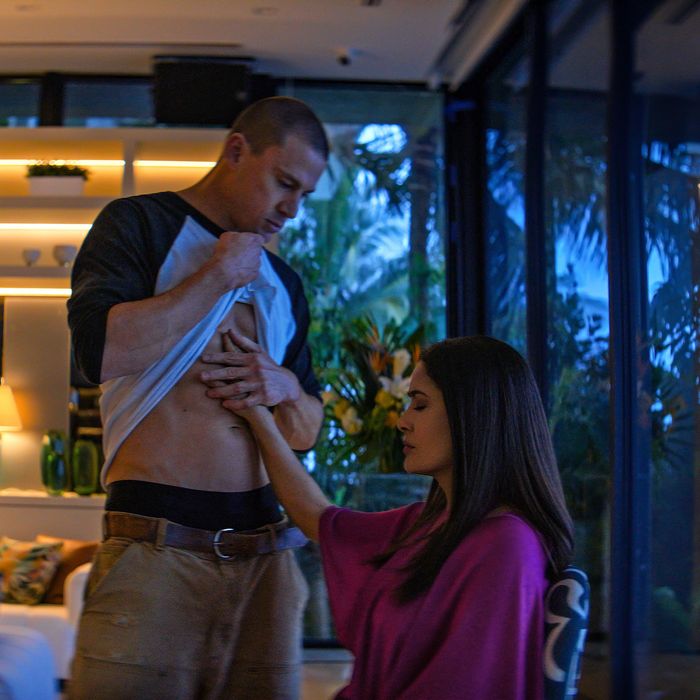 This looks … promising.
Photo: Courtesy of Warner Bros. Picture
It is nearly time for Magic Mike to do his last dance, which will happen in the movie Magic Mike's Last Dance. The third and (allegedly) final chapter of Channing Tatum's male-stripper franchise arrives February 10, but for now, we have been honored with a brief sampling of its steamy contents by way of a trailer. Gone are the suspenders and shirtless tuxedos, and in their place, a much more glamorous overseas setting for Tatum's abs. Let's just say things are looking … magical.
In this installment, the titular Magic Mike will travel to the sexiest place of all, according to no one: London. Based on the trailer, the plot goes something like this: After an erotic mutual lap dance, Salma Hayek and her fuchsia jumpsuit whisk Mike off to the U.K. to put on, in his words, "a show at this famous theater." Hayek seems to be playing some sort of big-name performer intent on giving Mike and his creative stripping dreams a major platform (hence the "famous theater"). Despite its cloudy locale, the many skin-heavy shots suggest this movie will achieve what even Taylor Swift could not: making London seem like a pretty sexy city.
Other offerings teased in the trailer include Hayek serenely stroking Tatum's abs as if she's in deep meditation, Tatum saying "'Sup" to a group of dancers, at least three backflips, and a Flashdance-style wet pole-dance duet involving knee pads. Cheers, mate!