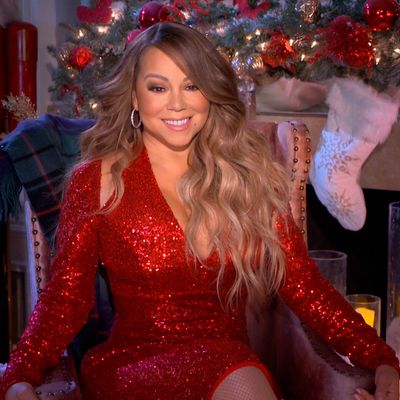 Photo: NBCU Photo Bank via Getty Images
The U.S. Patent and Trademark Office has spoken: the title of "Queen of Christmas" belongs to no man, woman, or Grammy-winner. Months after filing a trademark application for "Queen of Christmas," Mariah Carey has officially lost her case. And just in time for the holidays!
The battle of the Christmas queens, began in March of 2021, when the "All I Want For Christmas Is You" singer-songwriter filed to trademark "Queen of Christmas" along with a handful of other related phrases. It turns out, all she really wants for Christmas is the sole right to sell merch with the phrases "Queen of Christmas," "QOC," "Princess of Christmas," and "Christmas Princess." But, her demands didn't sit right with at least two fellow members of the musical Christmas court, one of whom voiced objections in court.
Earlier this year, Christmas songstress Elizabeth Chan filed a declaration to the trademark appeals board in an effort to block it from going through. For the last ten years, Chan has made a career out of writing and releasing Christmas music. After a 2018 profile in the New Yorker declared her "the Queen of Christmas," she used the moniker as the title of her 2021 album. Just how much does Chan love Christmas? She created a label called Merry Bright Music and named her first daughter Noelle. Needless to say, she was less than impressed with Carey's trademark application.
"I feel very strongly that no one person should hold onto anything around Christmas or monopolize it in the way that Mariah seeks to in perpetuity," Chan said in an interview with Variety in August. "Christmas is for everyone. It's meant to be shared; it's not meant to be owned." Chan wants to keep the "Queen of Christmas" name open and available to anyone who wants to use it, from singers to Etsy shop owners, and, yes, even Carey, just without the trademark. The declaration, filed by Chan's lawyer, Louis W. Tompros, also noted that Carey herself has previously rejected the "Queen of Christmas" title. "That was other people, and I just want to humbly say that I don't consider myself that," she said in a 2021 interview on The Zoe Ball Breakfast Show. "I'm someone that loves Christmas, that happened to be blessed to write 'All I Want for Christmas Is You,'" she said, adding that she believed "Mary is the Queen of Christmas."
Carey's mention of the "other people" known as the queen of Christmas is presumably a reference to Darlene Love — of "Christmas (Baby Please Come Home)" fame — who was crowned the queen of Christmas by David Letterman three decades ago, and Brenda Lee ("Rockin' Around the Christmas Tree"), who has also earned the title, per Variety. After Chan filed her declaration, Love actually responded to the news on Facebook. "Is it true that Mariah Carey trademarked 'Queen of Christmas'? What does that mean that I can't use that title?" she wrote, tagging Carey's official Facebook page. "David Letterman officially declared me the Queen of Christmas 29 years ago, a year before she released 'All I Want for Christmas Is You,' and at 81 years of age I'm NOT changing anything." Love concluded her message with a direct challenge to Carey, saying, "If Mariah has a problem call David or my lawyer!" She later joked that she should trademark her name, Love, "so that you all can't use it." It turns out, that won't be necessary.
On Tuesday, the US Trademark Trial and Appeals Board ruled in Chan's favor and denied Carey's trademark request after Carey reportedly chose not to respond to Chan's fillings. "This was a classic case of trademark bullying," Tompros, Chan's attorney, said in a statement. "We are pleased with the victory and delighted that we were able to help Elizabeth fight back against Carey's overreaching trademark registrations." Chan also spoke out after the decision, telling "Page Six" that "it was difficult to be the one to stand up" against Carey, but that she did it "to protect and save Christmas." She added, "Christmas isn't about one single person — it's about everybody."
Carey has not responded to the decision, but she did recently offer the "Queen of Christmas" title to Dolly Parton, so it sounds like she's willing to share her crown. Of course, neither Parton, nor Chan, nor Carey need to own the "Queen of Christmas" trademark to act like, well, queens of Christmas. Carey has already made it her duty to formally kick off Christmas season as soon as Halloween is over. Meanwhile, Chan just released her twelfth Christmas album, 12 Months of Christmas, and Parton launched a new holiday collection of her Doggy Parton dog accessories. Queens, each and every one of them.
This post has been updated.