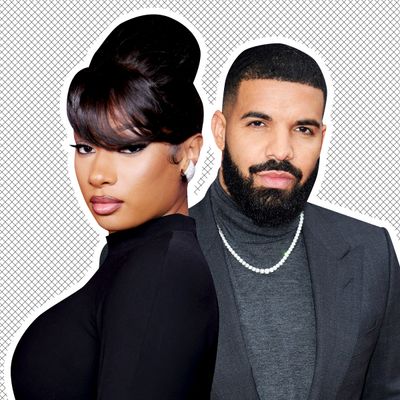 Photo-Illustration: by The Cut; Photos: Getty Images
After Photoshopping himself on the cover of Vogue to promote his new album with 21 Savage, Drake finally dropped Her Loss on Friday. To say that some of the lyrics are not going over well is an understatement. For some reason, Drake decided now was a good time to claim that Megan Thee Stallion was lying when she accused Tory Lanez of shooting her back in 2020. Lanez is facing formal charges in connection with the shooting and is currently on house arrest and awaiting trial, but nevertheless, the track "Circo Loco" includes the line: "This bitch lie about getting shots, but she still a stallion / She don't even get the joke but she's still smiling."
Needless to say, Megan was not impressed. "I know I'm very popular but y'all gotta stop attaching weak ass conspiracy theories in bars to my name lol," Megan tweeted in response. "Stop using my shooting for clout … Since when tf is it cool to joke abt women getting shot? You … ready to boycott shoes and clothes but dog pile on a black woman when she say one of your homeboys abused her." In the past, Megan has alleged that she, Lanez, his bodyguard, and her friend were arguing in Lanez's car in the Hollywood Hills in July 2020; after she got out of the car, she says Lanez began firing shots at her feet while telling her to "dance, bitch." In an April interview with Gayle King, Megan — who says she still has bullet fragments in her feet from the incident — explained she initially told police she'd stepped on broken glass to "protect all of us" from potential police violence. After Megan went public with her allegations, Lanez denied them and repeatedly attempted to cast doubt on her narrative. In October 2020, he was officially charged with felony assault and the unregistered carrying of a firearm, and he faces up to 22 years in prison if convicted.
In recent months, Megan has opened up about her experience being undermined in press coverage of the shooting, telling Rolling Stone she feels as if she's been cast as "the villain" in the story.  "I don't know if people don't take it seriously because I seem strong. I wonder if it's because of the way I look," the rapper told the outlet this summer. "Is it because I'm not light enough? Is it that I'm not white enough? Am I not the shape?  The height? Because I'm not petite? Do I not seem like I'm worth being treated like a woman?"
That wasn't the only lyric on Drake's album that had fans shaking their heads. In the track "Middle of the Ocean," Drake came for Serena Williams's husband, Alexis Ohanian, rapping, "Sidebar, Serena, your husband a groupie." Ohanian seemed to take it in stride, responding on Twitter that he's "the best groupie" for his wife and daughter.