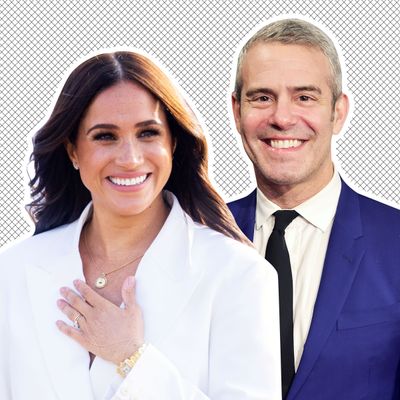 Photo-Illustration: by The Cut; Photos: Getty Images
To the disappointment of Bravo stans and Meghan Markle fans alike, the duchess will not be joining The Real Housewives of Beverly Hills. Nor will she be the first Housewife of Montecito, she told Andy Cohen on Tuesday's episode of her podcast, Archetypes.
Ever since she and Prince Harry stepped back from their duties as royals and moved to Montecito, Housewives fans have joked that she would be a good addition — especially to the Beverly Hills franchise. Now that Jenna Lyons is joining The Real Housewives of New York, could Meghan be next? Unfortunately, she claims to be oblivious to the speculation.
"You mean really that this is my audition for Real Housewives of Montecito? Is this the moment?" she asked Cohen, laughing.
Cohen responded, "You don't have to audition. We'll build the show around you. How about that?"
Meghan clarified, "There will be no reality show."
But while she might not be going on Bravo anytime soon, she and Harry have invited cameras into their lives as part of their Netflix deal — their highly anticipated "docuseries" is set to premiere on December 8. So it sounds like she might be doing a reality show after all.
Meghan did at least admit to being a Housewives fan — but said she stopped watching when her own life became filled with drama. She said she wanted to be a guest on Cohen's show, Watch What Happens Live, years ago, but it never happened.
"I was so eager to be on your show, because I was such a Housewives fan at the time, and I just couldn't get booked, Andy," she said. "So thanks for being here with me."