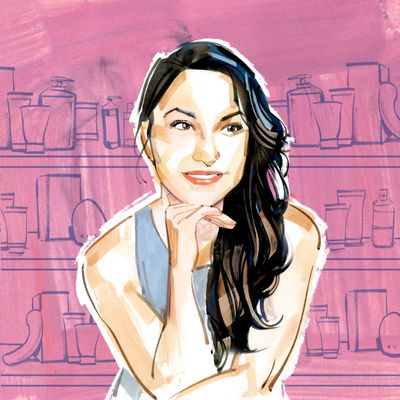 Illustration: Kagan McLeod
Minding Our Business: A series on what it takes to work for yourself.
Rebecca Alvarez has always had an entrepreneurial spirit. As a child, she'd take books from the library in her home and pitch them to her cousins to check out for the mere price of 25 cents apiece (she kindly gave the profits back to the rightful owners of the books, her parents). That spirit followed her into adulthood through the founding of Bloomi, a comprehensive sexual-wellness space she launched as an antidote to the abstinence-only education she received throughout her schooling.
Alvarez, a certified sexologist and the first sexual-wellness major UC-Berkeley ever had, has built her company from the ground up. What started as a multi-brand marketplace slowly morphed into a one-stop shop for education and advice on intimacy, culminating in Bloomi launching its own line of sexual-wellness products. But when the line was set to debut at Target in April 2022, Alvarez fell short on fundraising. She realized she needed to pivot to stay on track and launch smoothly. She spoke to us about this setback and how her community helps keep her vision alive.
What was your career goal when you were starting out? 
I was always drawn to the human body. I thought I was going to go to medical school and do OB/GYN, maybe sexual medicine. But the one thing I did not like is you do not get a lot of sex education in medical school. It's ridiculous. I was like, That's not what I want. I really, really want to go deep into this, and so I was okay letting go of the medicine track and doing a more research track.
What has been your biggest setback so far? 
We were fundraising, knowing we were launching in Target, and we still didn't get the funding we needed. We went to investors saying, "We have high growth potential. We're launching basically nationwide. Here's what I've been able to do with very limited resources," and we still didn't get the funding we needed. That was very frustrating because I knew that meant we were going to have a very small team. For the stage we were at, most people have 15 people on their team. We had four. We were just going to have to be super-resourceful. We just do more with less. And we were the first Latina-led brand to launch in Target in that aisle.
It's hard to be the first. I'm exhausted from being the first. Being the first means you're going to encounter a lot of barriers. Less than one percent of funding is going to Latina founders, and I knew it would be hard, but once I actually fundraised, I realized it was ridiculous. Sometimes I feel like I have to not let my jaw drop from the things that people say to me. I've even had people ask me, "Why don't you just hire a white interim CEO to go raise for you?"
How did you deal with that?
I found alternative forms of capital that I think other people are afraid to do sometimes. I cashed out retirement, took out personal loans, took out a line of credit. I put a lot of personal assets on the line. It was terrifying. Now seeing the growth of the company, and where we're heading and the retailers that have reached out to us, I know that it's still the right decision. It's just scary. We also turned to crowd-equity funding, so community has really been part of the growth story. I actually really love that, and, moving forward, I plan to continue to make that part of our story.
Did you ever consider quitting altogether?
All the time, but the thing that's different is I now have developed this "figure it out" muscle. Before, when I started the company, I would be like, Can I figure that out? What do I do? Now I'm like, I know I'm going to figure out the problem. So it feels like I have more confidence in myself.
How do you feel about that setback now?
I feel like not having what we needed to go into such an exciting opportunity like that made me have thicker skin. It also made me value my time differently. I knew that if I was going to invest so much of myself into this to fix it, I wanted to make sure I still spent quality time with my girls. Since we launched at Target, I said, "No more, this has to change." The last straw for me was missing my 3-year-old's birthday. Also, I feel like it made me more empathetic and realize that I have this super-high drive to help other Latina and Black founders with whatever I can. I've shared my blueprint to how I'm doing this so many times with other founders now. I just can relate to people in a lot of different ways that white male founders cannot.