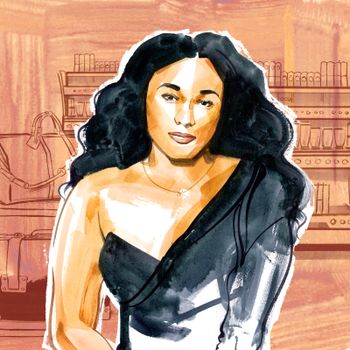 Illustration: Kagan McLeod
Minding Our Business: A series on what it takes to work for yourself.
Growing up in Detroit, Mia Ray didn't see anyone doing what she wanted to do — be an entrepreneur, specifically a glamorous one. So at 26, after working as a sales associate at a fashion boutique, she started a fashion and lifestyle blog to do just that. Within about three years, she'd amassed a little under 5,000 followers — today, she has hundreds of thousands on her personal Instagram alone. Her page isn't only to market her products, though; she uses her platform as a tool to inspire other women, posting clips of herself discussing generational wealth and sharing old videos of the start of her entrepreneurship journey, all with captions like "Stay focused on YOUR vision; no one else has to understand it."
A year after starting her blog, Ray launched Glam-aholic Lifestyle, a luxury and affordable accessories brand, as an extension of her online content. Her designs are monogrammed metallic tote bags, spacious toiletry bags, passport covers, and travel sets for the glamorous girl on-the-go — and they sell out in seconds. In 2019, her brand had what she calls its "overnight-success moment," though it took 13 hard years to get there. Suddenly, the brand's metallic duffel bags were seen everywhere at airports throughout the country and shoppers were setting alarms to get their hands on travel sets before they sold out, but there was no press, celebrities, or television — it was just the year all of her hard work started to pay off, and her community made viral moments out of her products. This year, Ray is on track to bring in $25 million in revenue. As a college dropout and single mom to two boys, she's had many setbacks, but little did she know each one was setting her up for success and teaching her how to lean into her power.
What was your career goal when you were starting out?
To be a big brand like Baby Phat. For as long as I can remember Kimora Lee Simmons has been my role model, and I remember how I felt when I made Baby Phat purchases, the winter coats with the fur and the feeling of being the around-the-way girl full of glamour. I wanted to be big and glamorous, a lifestyle brand that set the world on fire. So what I'm currently doing was actually on my map of things to accomplish.
What was your biggest setback along the way?
Just the unknown, not knowing what I was doing. I'm a college dropout, so technically I only have a high-school education. No one from where I'm from or that I knew was an entrepreneur, so trying to figure everything out on my own can be looked at as a setback, but it really made me superstrong. It made me be so powerful in figuring things out. Another "setback" was my business exploding overnight after ten years in business. Imagine going a decade trying to figure things out and wondering why things aren't working out, then one day it's just like, Boom. Not really knowing how to handle the high demand that came all of a sudden was a setback but also something that helped me gain so much strength in where I am today.
How did you deal with it?
Those setbacks made me dig deep into thinking outside the box. Business is one of the hardest things I've ever had to do in my life. It's a lot of stress and anxiety, and it takes an emotional toll, but it really helped me to build my brand into the powerhouse that I wanted it to be. Not only what my customers see but everything behind the scenes that has been done in my business. I've done it all — from shipping to marketing to photography. It has all shaped me into a really bomb-ass business woman.
Did you ever consider giving up?
Oh my God, yes. I remember one time being on my knees crying looking at my PayPal account; I probably had like $200, and I remember praying like, What am I doing wrong? I remember asking my son's father if I should get a job, and he said yes. I took a nap, woke up, and I said, No, I'm not getting a job. I'm going to figure this out. Every time I'm asking myself what I should do, I just collect my thoughts, gather myself, and get back to work.
What have the setbacks taught you now?
That I can do anything that I put my mind to. If you would've told me when I graduated from high school that this would be my life 20 years later, I would be like, Girl, are you crazy? But now I feel like those setbacks taught me how to pivot and how to reassess. Sometimes people are afraid to rearrange their goals and sometimes life happens and it's okay to change, move around, and then come back. I feel like that's what my setbacks did for me. They taught me how to help others who have experienced the same thing, and it's taught me how powerful I really am.
You use social media as a tool now to help other women on their own career journeys. What inspired you to use your platform for that?
I wish I had someone like me. I didn't have a mentor in my earlier days. I always say it was just me, God, and Google trying to figure this thing out, and if I can share or keep a woman from experiencing the things that I've experienced, why not share it? Because I want to be what I wish I had.