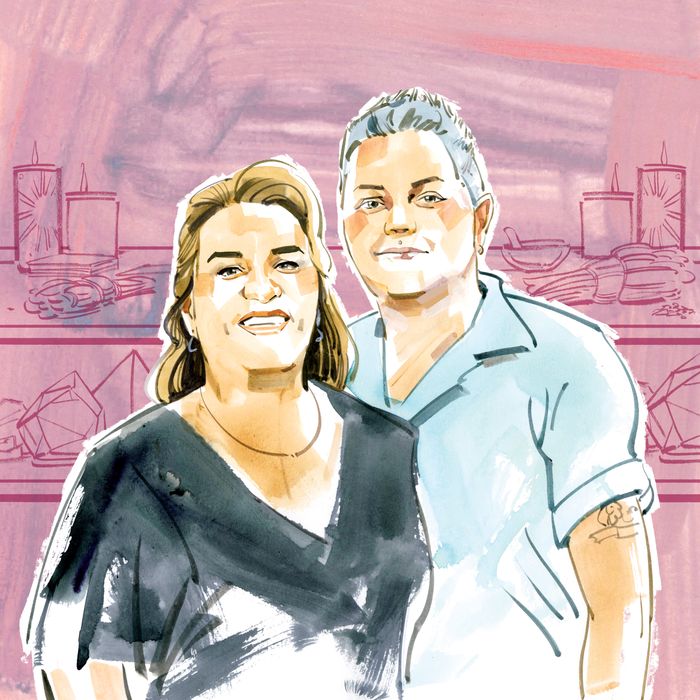 Illustration: Kagan McLeod. Photo reference: Holland Clement.
Minding Our Business: A series on what it takes to work for yourself.
If you live in or around Los Angeles, you may have stepped into a shop — there are nine of them, for the record — with a minimalistic black-and-white interior, glossy checkered floors, and an abundance of magical, ritualistic, and otherwise sacred offerings. Founded by Alex Naranjo and Marlene Vargas, who are partners in business and in life, House of Intuition started with a small shop in Echo Park offering psychic readings and a make-your-own incense station. Today, the brand has become an L.A. staple with a growing national customer base; in addition to their hometown locations, Naranjo and Vargas have opened a location in Miami, written a book, and expanded their online presence. "Before COVID, we had no marketing team; we didn't even do a lot of social media," says Vargas. "It was more word of mouth than anything. We had a very small online store — we filled the orders ourselves."
Both Vargas and Naranjo come from business backgrounds; Vargas started her career as an office manager in medical offices before starting her first business, a company that managed medical billing. She then opened a paintball store — "I have a son who loved paintballing, so I was like, Oh, sure. I'm gonna open up a paintball store" — and eventually got into real estate. Naranjo, who went to school for sociology, was a social worker with a side job running a flower shop out of her garage with her neighbor, who was a florist, and spent her spare time and money on VHS real-estate flipping lessons; she eventually made real estate her full-time pursuit.
And then the 2008 financial crisis hit. Both Naranjo and Vargas quickly lost all their properties and went into bankruptcy. Somehow, in the recession years that followed, they found each other, a shared spiritual practice, and a business idea they felt genuinely passionate about. And yes, they relied heavily on — what else? — their intuition.
When did you last pull tarot cards, and what did the cards say?
Marlene: For every large business decision we make, we will pull the cards just to get our confirmation on, like, is this the right location? Is this the right person that we're working with? Is it even a good idea? Miami has one location right now, and we are looking to expand. We had like three different locations, and so we pulled cards to see which location was good. It's really good insight when you're doing business, because you kind of get out of your head and out of your own fear. Our business is very unconventional for sure.
Alex: The way the cards read, there are a couple of options, and both are good. So we just kind of have to let time pass a little bit and then we'll revisit the situation.
M: But sometimes it's a hard no.
How did you get the idea for your business? 
M: It was 2010 during the recession, and I had lost a very close family member to cancer. That put me in a pretty deep depression. Also, I had been married and was going through a divorce. I had a lot of properties, and those all went upside down. Alex was pretty much in the same situation because she also had real estate, and those went upside down, so she was also going through bankruptcy. This was all around the time we first met.
I was more geared toward religion back then, but never really fit in a religious box per se because I was a single mother and I was gay. So I just didn't feel comfortable. Alex felt the same way, but she was doing candle magic. When she started to show me, I was seeing things actually happening. I opened up to it, and it changed my life. I had a tarot reading and I was like, Whoa, this isn't opening up portals to hell. This is opening up my mind; there's actually a light at the end of the tunnel. Things are going to fall in place. How did this woman even know everything that I just went through?
A: She was very much a seeker — as was I. I was raised Catholic, as she was, and I love Catholicism, but there's a lot about it that I don't agree with. I don't feel like I need to sit in a room with this person to tell him my sins — why can't I have my own relationship? I started questioning all of that. That's what sparked my interest in candle burning, and the moon, and this and that. I shared all that stuff with her, and she just took off with it.
M: We had a temple in our house, and we prayed and built altars. For about a year, I was really heavy into building my house into this temple, and I felt safe in a world where I was losing everything. And then I went to a reader and I was like, "What's going to happen to my life?" She asked if we were thinking about something, and I told her I wanted a spiritual detox center, because I know I'm not the only one out there who isn't conforming to just one form of religion, and they feel lost. And I wanted to show them the experience that I had received. She pulled the cards, and she says, "Yes, absolutely. This is your destiny. This is where you guys are supposed to be." And I just felt it. Twelve years later, we have ten stores and are looking for the 11th, and we have our online store.
Tell me about the setbacks before House of Intuition and how those experiences informed your current one.
A: We were both in this on the same boat, like she said, losing everything. We're both entrepreneurs. We were like, Oh my god, I really don't want to go back to the nine-to-five. We need to figure this out. We were in the beginning of getting to know each other, and we'd get scratchers — that was our date night. And then we'd sit there and do scratchers, but we would talk about, like, "If we win the lottery, what would you do?" We were manifesting, and we didn't know it. We were both like, we would love to have something that could at least bring some sort of peace to people that are feeling the way we did, because I'm sure there's people out there that feel the same way.
How do your skill sets and mindsets complement each other? Have you had moments of tension or conflict?
M: In the beginning, Alex and I thought we were going to work at the shop in Echo Park for the rest of our lives, sit on rocking chairs on that porch, and greet all our customers and ring them up and everything. It didn't pan out that way. We had to bring other people in, and I handled that. I work very much in the heart center. This is why I think it works really well for us; I tend to get lost in my feelings for the business and for others, and I get to connect to the emotional side of the business. I'm very passionate, where Alex is making sure that we're not spending money in a way that doesn't make sense. I'm a dreamer, I'm an Aquarius. So I'm like, everything's going to be fine. She's like, "Hold on, come back to reality. Let me reel you in." She's a Gemini.
A: She's flying, and I'm grounded. I'm bringing her down. But she does the same for me, because sometimes I can be too grounded and too in the brain and structured.
M: She does all the technology stuff. She does all the real estate. I'm more into the magic; I do a lot of the potions and things. Once I create she comes in with feedback, but she lets me create.
What were your start-up costs, and how did you fund them?
M: I shared with you that we were bankrupt when we first opened up the store. I used my son's college-education money, and Alex and I sold everything we owned. We had yard sales for the first year and a half. I sold everything that was of value to open up. We let all the houses go into foreclosure. We only kept one property, but we stopped paying the mortgage to keep the House of Intuition, to pay that rent.
A: Even down to our first location — the lady that was renting it, she's a property manager. We didn't have much money, both of our credit was shot. And here we are trying to rent a commercial space. We were like, "Let's just give it a shot." What the heck would we have to lose? We went, and we were just open and honest, and we let her know what we wanted to do and where we were at. And they didn't even look at our credit.
M: We burned a lot of magic candles that night. We also started having yard sales. Let me tell you, used clothes are worth more money than new clothes. It's also a really good business because there's hardly any overhead. So we would go and pick up clothes from anybody that wanted to get rid of them from Craigslist, wash them, and hang them — we had a whole garage full of housing and housewares. It looked like a store. We'd have people knocking on the door, asking us to open up. I remember we had a $1,700 day — I was like, Holy shit, that's a lot of money. But the money only helped pay for living expenses. So then Alex sold her car and we bought a little 1994 Lexus. We sold her Acura, and my cars got repoed. We sold everything you could think of. And that money is what helped support House of Intuition.
Did you have any mentors when getting started? Where did you find support?
M: Our intuition. That is why the house is really about intuition.
A: We didn't have mentors. It's just been trial and error; she's had businesses before, I've had businesses before, and mistakes that we made — those were our mentors. It was really just our own experience. I took a few business classes at school, but what you learn in school is not what happens in real life.
M: Alex is really good with money. She taught me the value of the dollar, for sure. If I put my cheese in a Ziploc bag, after the cheese is done, that girl will wash that Ziploc. I call her frugal. She goes, "No, I'm just money conscious." We don't need much, we just really want to grow the House of Intuition. The more that we grow the business, the more we can help people. That's our goal. We don't have investors, we don't even have a loan — we put everything back into the company.
Tell me about some of your most meaningful setbacks. 
M: COVID was probably the biggest setback. We had just opened up in Miami — it was only in business for four months — and bam, COVID shut it down. Seven stores were doors shut down for about three and a half months, and we had to let go of, like, 40 employees. That was devastating. I bawled for a week. I felt very responsible. We were able to sustain the company with company savings, but that was a scary time. We were also writing a book, we had deadlines, and how do you write a book when your whole entire business is falling apart? But it was the same kind of energy we had when we were opening up the store. So it was easy for us to go back into that energy and feel and write to be able to come from that space and share the story on those pages.
Eventually we had to go to the online store, and we had to get a marketing team together. Before, we had a very small online store — we filled the orders ourselves. Out of the darkness came something beautiful, because our online store is really servicing a lot now. But that was the biggest setback. And we're still in it, honey.
Talk to me about burnout. How do you think about work-life balance?
M: Burnout? Yes.
A: We work from home — we have our little potion room, which is on our property. It's a separate building, but it's on our property.
M: Our potion room is where we make everything. We still make everything in house. So like all the incense you see, our sprays, we pour here in our house.
A: Yeah, so that makes it really difficult to have a work life and personal life balance. That's kind of nonexistent. And then our stores, you know, our stores are open from 11 to 7. So that's kind of right smack in the middle of the day. There really isn't that much of a balance. I mean, we try to be a little more strict about it, and we are for maybe like a week or so and then we just fall back into overworking.
M: I get burned out. But I will tell you what keeps me going: the feedback I get from my clients, especially when I am down and feel defeated. Or I'm scared. This is bigger than I ever thought it would ever be. It's a lot on your shoulders. I have a lot of employees and a lot of people who depend on us, and I get overwhelmed with it. What I do is I go on my website and I read my reviews — people say, "You changed my life." I get emails like that. I have more than I need in this lifetime. I could have stopped at four stores, one store, but something in me wants to help others and something in us is just like that mission of like, it's beyond us. It's bigger than us — we are chosen to do this, and it's a mission that I want to accomplish.